Free up oven space when preparing your Thanksgiving dinner with this delicious Slow Cooker Stuffing. Making stuffing in your crock pot will delight every stuffing lover sitting at your table with its tender and fragrant flavors.
Need even more oven space and have other slow cookers? Try our Slow Cooker Brussels Sprouts, Slow Cooker Pineapple Casserole, and Slow Cooker Green Bean Casserole.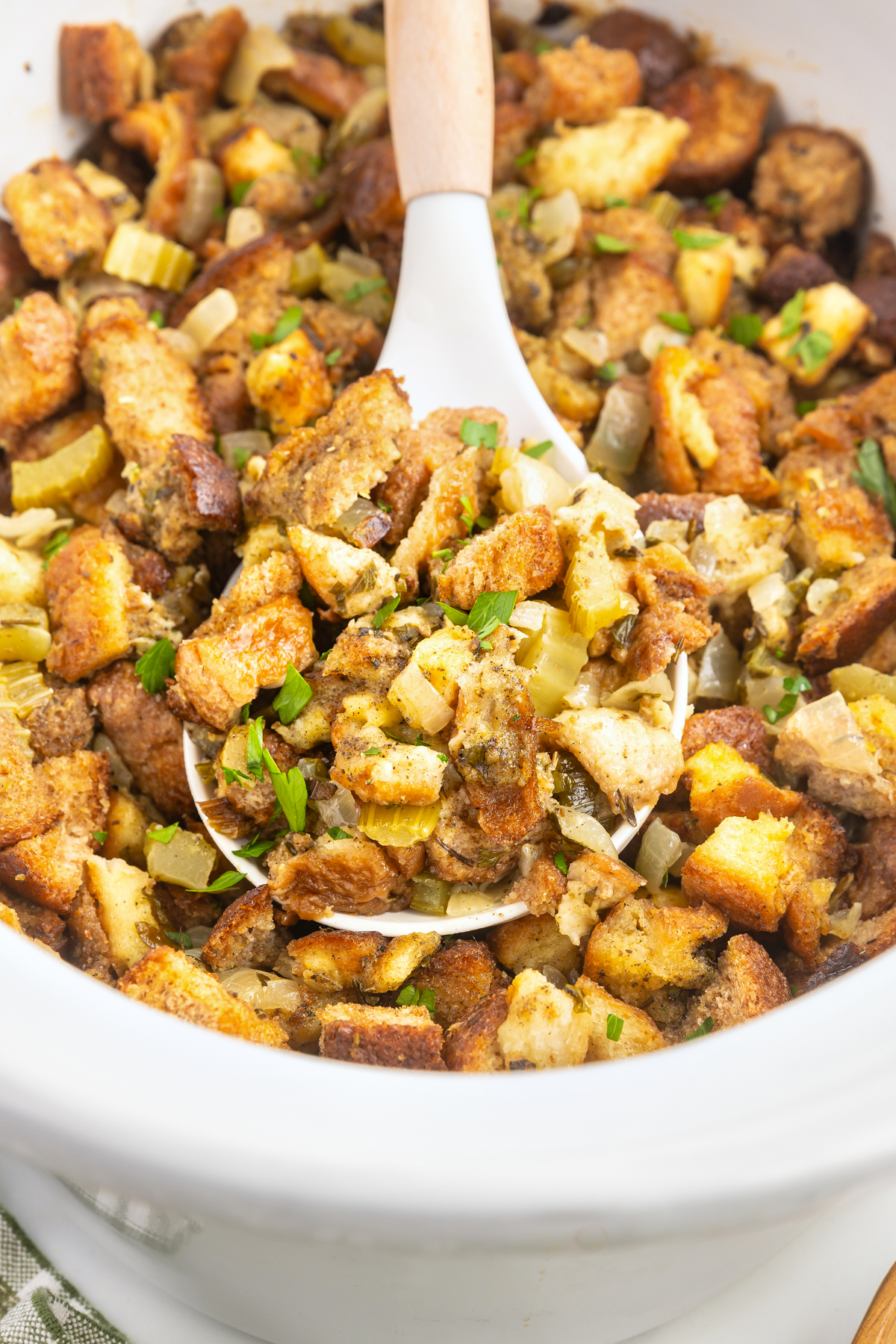 Can I make stuffing in a crockpot?
Preparing your holiday feast, particularly if you're making the whole turkey and all the trimmings, could require a schedule with precision timing. And if you factor in the lack of real estate inside the oven, getting dinner on the table can be quite a feat. That's where your trusty crockpot comes in. If you are looking for a short cut recipe see my easy recipe for slow cooker stove top stuffing.
Do the prep work for this great dressing recipe ahead of time and then on the day of, toss it in the crock and let the slow cooker do all the work for you. The end result is a delicious stuffing your family and friends will love.
What's the difference between stuffing and dressing?
The biggest difference between stuffing and dressing is not their ingredients. In fact, they're the exact same ingredients. It turns out location is the biggest difference between the two.
And what we mean by location is both the location the recipe is being cooked in relation to the turkey (or any other entree) and in terms of geography in which the recipe is being made.
The savory bread recipe stuffed inside the turkey (or similar), is simply stuffing and when that same savory bread recipe is baked in a large casserole dish outside the turkey, is dressing.
Now as to geography, turns out Southerners are more apt to use the term dressing, whereas the rest of the nation generally uses the word stuffing.
Recipe Ingredients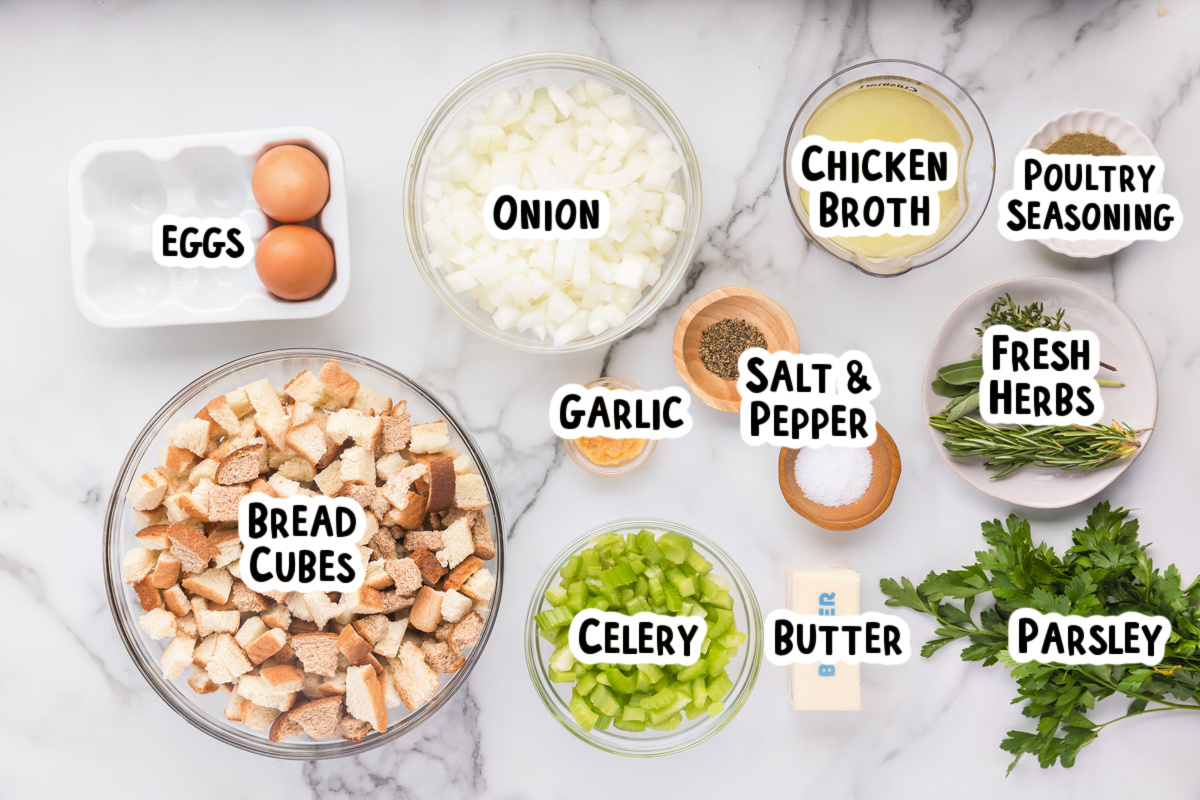 Bread — You'll need a loaf of both white and wheat bread turned into dried bread cubes.
Broth — Low sodium turkey or chicken broth (or chicken stock) is best, but vegetable broth could be used as well. Homemade chicken broth is also a wonderful option. You can use leftover slow cooker chicken stock.
Eggs — Two large eggs, beaten, will act as a binder.
Butter — To control the salt content and taste, we used unsalted butter.
Produce — fresh celery, onions, and garlic provide the aromatic base of flavor.
Herbs and seasonings — Fresh rosemary, sage, thyme, and parsley along with salt, black pepper, and poultry seasoning are what will bring the recipe together giving this homemade stuffing the rich, comforting taste everyone loves.
How do you dry out bread for stuffing?
Dry, day old bread will make the best dressing. Getting the bread ready can be done days in advance. There's a couple of different methods for preparing the bread.
Method One — Cut the bread into cubes. Place the fresh bread cubes on a sheet pan or if possible on a cooling rack on a sheet pan (to catch any crumbs and allow air to circulate better.) Dry bread cubes for at least 24 hours.
Method Two — Cut the bread into cubes. Place them on a sheet pan like in method one, and place in a preheated 275°F oven. Bake for 25-30 minutes, stirring occasionally to ensure even drying. Watch closely so the bread does not toast. Allow to cool completely on the counter, then store in an airtight container until ready to make the recipe.
Step-by-Step Directions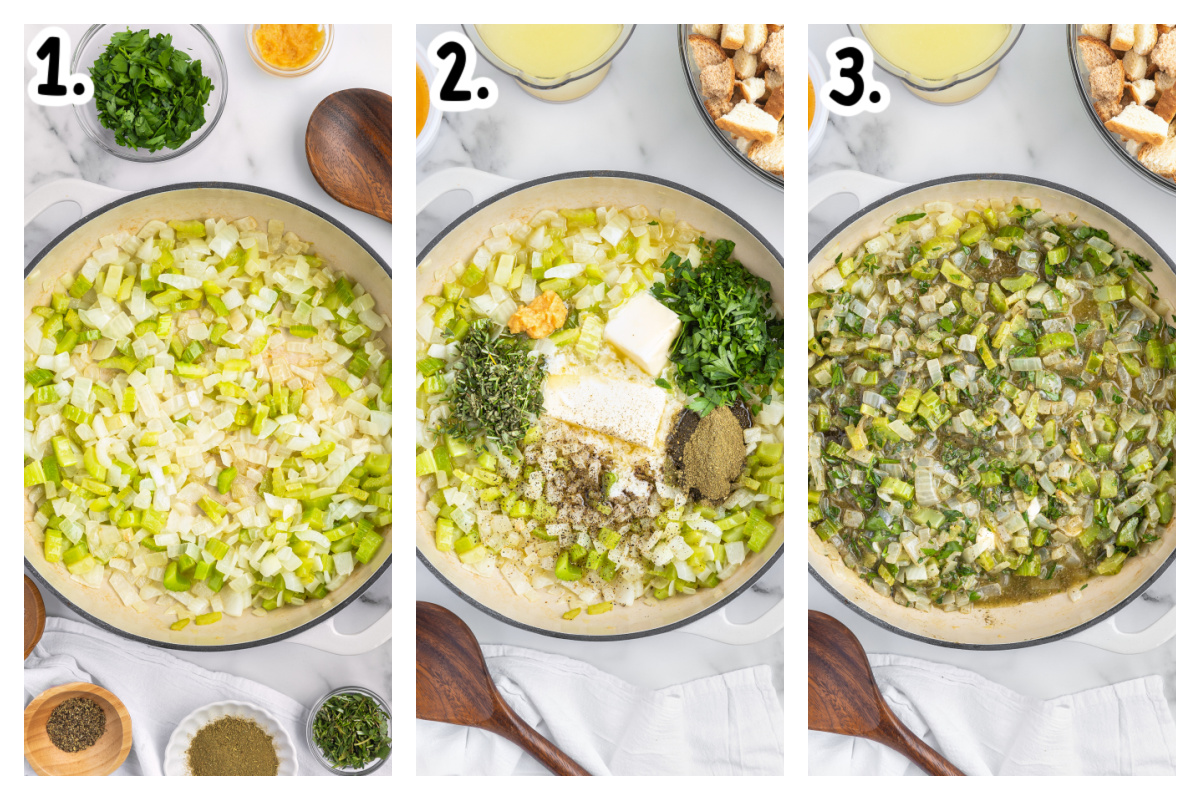 Step One – Heat a pan or large skillet over medium heat, melt butter (4 tablespoons), increase to medium high heat and add the chopped celery and onions until they begin to soften, about 3 minutes.
Step Two – Add the rest of the butter, garlic, salt, black pepper, poultry seasoning, and finely chopped fresh thyme, fresh sage, fresh rosemary, and fresh parsley.
Step Three – Mix everything well and cook for another minute or two or until the celery and onions have softened.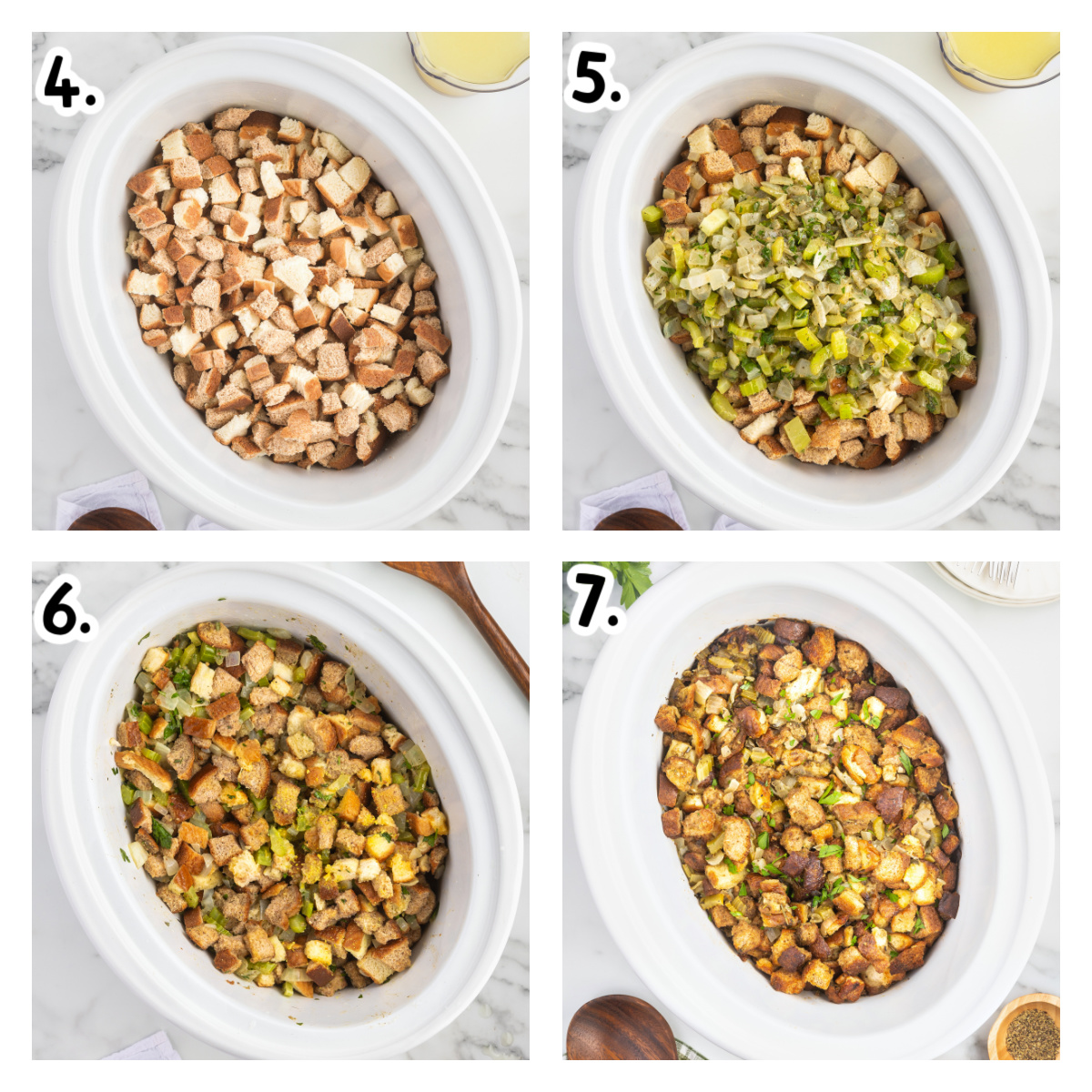 Step Four – Place bread cubes in a 6 quart slow cooker.
Step Five – Pour in two cups of broth, the beaten eggs, and add celery and onion mixture. Gently stir with a large spatula until everything is well combined.
Step Six – Cook on high for 30 minutes. Then reduce heat to low and cook for an additional 3-4 hours. After 2 hours, check to see if the stuffing needs additional broth. If so, add more, slowly, one cup at a time. Use the spatula to pull the dressing away from the sides to prevent it from over-browning. Taste for seasoning, making any needed adjustments.
Step Seven – Once cooked, leave on warm until you're ready to serve. We love to serve this with Slow Cooker Turkey Breast, Slow Cooker Cranberry Sauce and Slow Cooker Candied Yams.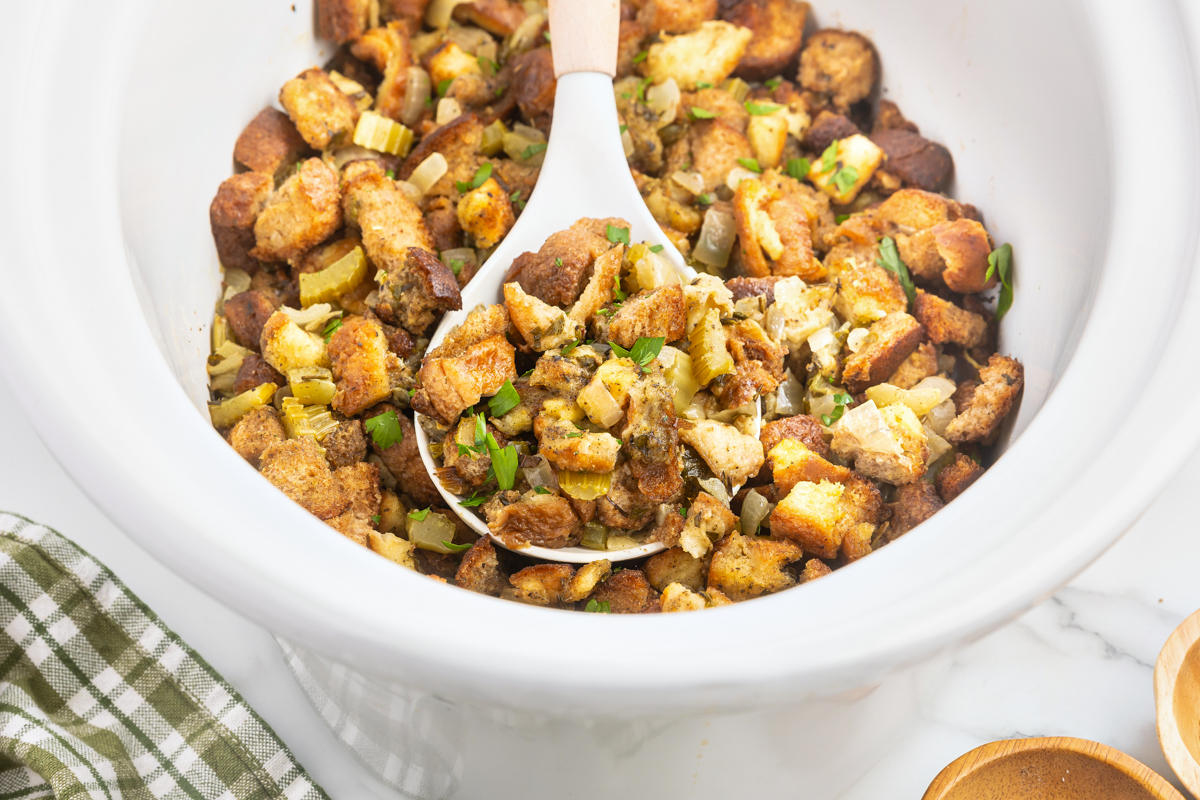 Recipe notes and tips for crock pot stuffing
Everyday sliced sandwich loaf bread is best for this recipe. Use one loaf of white and one loaf of wheat bread. The wheat bread increases the depth of flavor in the overall recipe.
Reserve some bread cubes from step 4 in case you add too much broth during either step 5 or 6. The additional bread will soak up the excess liquid.
Add more broth and melted butter if the stuffing is a tad too dry.
You know your slow cooker best. If your appliance runs a bit hotter on the low setting, every hour or so check to make sure the sides of the stuffing are not burning. Use a spatula to pull the dressing away from the sides.
If you don't have enough broth, bouillon cubes could be used, but you may need to adjust the amount of salt in the recipe.
Check for salt during every step of the cooking process. Between the butter (if not using unsalted), the broth, and the added salt during seasoning, the dish could get salty quickly, and more so if you used broth made from bouillon cubes or granules.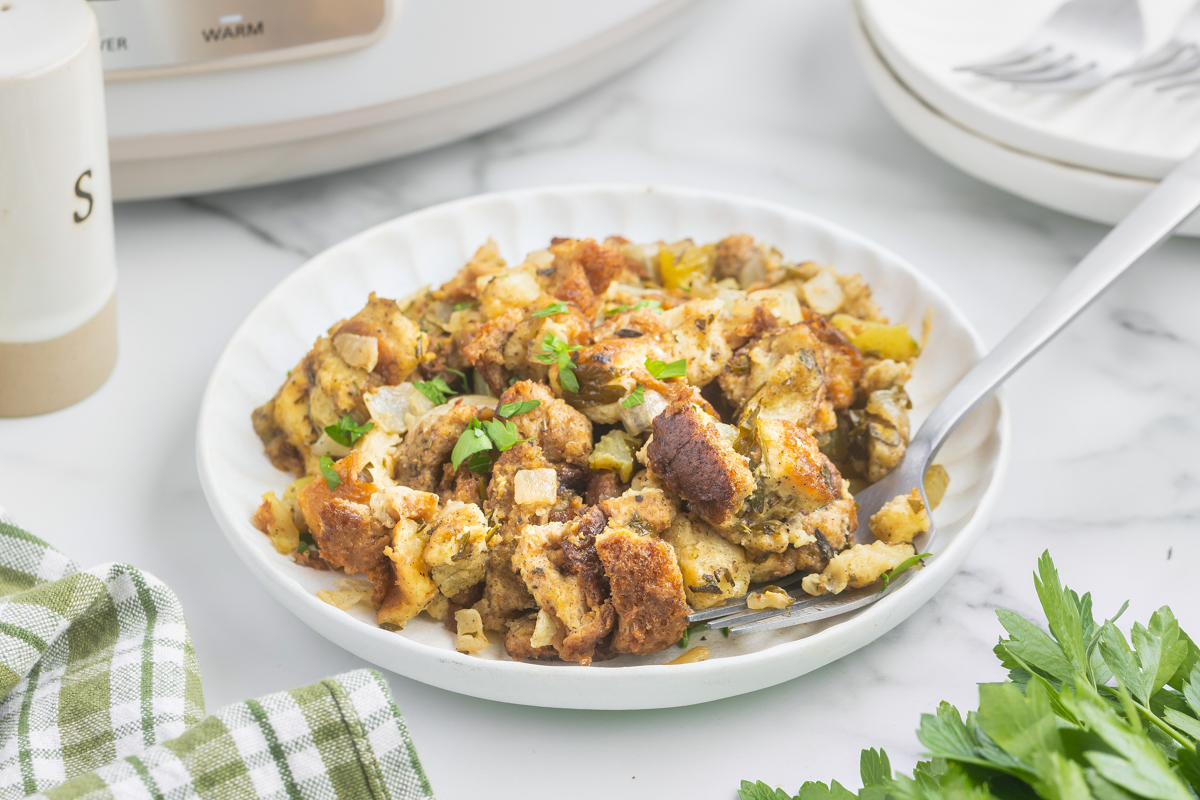 Recipe FAQs
Can I add sausage to this?
Yes, add 1 pound of crumbled, cooked sausage, like Jimmy Dean into the crockpot with the bread mixture. You could also use Italian sausage.
Can I use dried herbs instead of fresh herbs?
Yes you can. Fresh is our recommendation but dried will work well too. Start with a teaspoon of dried thyme, sage, and/or rosemary, adding more as it melds with the sautéing onions and celery.
Can I use store bought dried cubed bread?
Yes you can. You'll want approximately 14 cups of dry bread cubes. Look for a bread cube mixture containing both wheat and white bread.
How can I make this stuffing recipe a bit more fancy?
There are a lot of ways you can jazz up this simple, yet delicious slow cooker dressing. You can add mushrooms, leeks, dried cranberries, and roasted chestnuts.
How do I store the leftovers?
Add any leftovers to an airtight container and place in the refrigerator for up to 4 days.
What is the best way to reheat the leftovers.

Place any leftovers in a baking dish (or casserole dish) and drizzle with a bit of melted butter or a few tablespoons of broth. Cover and bake in the a 325°F oven for 20 minutes or until heated through.
More stuffing recipes
Want to make more magic in your crockpot? Stay up to date and subscribe to my newsletter and follow along on Facebook, Instagram, Pinterest, Tik Tok, and YouTube.
Ingredients:
14

cups

cubed bread

(see recipe notes below on kind of bread0

1

cup

unsalted butter

3

cups

diced onion

approximately 2 large onions

2

cups

diced celery

4

cloves

of garlic

minced or pressed through a garlic press

1 ½

tsp.

salt

plus more to taste

1

tsp.

black pepper

1

Tbsp.

poultry seasoning

2

Tbsp.

fresh herbs

use a mixture of fresh thyme, rosemary and sage

¼

cup

fresh parsley

2 ½ – 3 ½

cups

of chicken or turkey broth

2

large eggs

beaten
Instructions:
Prepare cubed Bread:
Start the day before by cutting the bread into cubes. You can do either of the following methods to dry them out:

Method One: Lay them on sheet pans and let them dry overnight. Be sure not to overcrowd the pans so that the bread gets dry. You want the bread to dry out for a full 24 hours.

Method Two: Heat oven to 275 degrees F. Place the bread on sheet pans in a single layer and cook for 25 – 30 minutes. Mix the bread around on the sheet pans to ensure everything dries evenly. Check the bread oven to ensure it does not toast and is just drying out. Remove from the oven. You can either use this right away or do it the day before and allow them to cool and store in an airtight container.
Make the stuffing:
Heat 4 tablespoons of butter over medium heat until melted.

Add the celery and onions to the pan and cook on medium-high heat until they are softened.

Next add the rest of the butter, garlic, salt, pepper, poultry seasoning, fresh herbs, and parsley to the pan and cook for 1 minute.

To a 6-quart slow cooker, add all the bread cubes. Add two cups of broth, beaten eggs, and the celery/onion mixture to the slow cooker. With a large spatula carefully combine everything in the slow cooker.

Cook on high for 30 minutes. After 30 minutes switch to the low setting and cook for another 3 -4 hours. I recommend checking on the mixture after about 2 hours to see if it needs additional broth. Add more broth as needed if you want a moister texture. Try only adding ½ cup at a time.

Once cooked you can leave the stuffing on warm until you are ready to serve. Check seasonings and add additional salt and pepper if needed
Sarah's Notes:
Recommendations on bread: I highly suggest using good old sliced sandwich bread.
Also, this recipe uses a mixture of wheat and white bread. You can use all white if
you want, but the wheat bread helps build an extra depth of flavor and earthiness to
the taste. You can also play with the ratios and use a higher amount of white bread
than wheat bread.
Two loaves of bread are used. You will have more than enough bread cubes. I
recommend reserving the extra just in case you add too much broth, then you mix in
the extra cubed-up bread to help create the texture you are looking for in your
stuffing.
If your slow cooker runs a little on the warmer side during the low setting, be sure to
check the sides of the slow cooker to ensure your stuffing isn't burning. You can run
a spatula around the sides of it every so often to help it not stick to your slow cooker.
You can also make the celery/onion mixture the day before. Store in a container
overnight. Reheat the mixture slightly the next day so it is easier to stir in and
combine with the bread cubes.
Check for salt: At the end of the cooking, I recommend checking the seasoning for
salt and pepper. Every chicken broth is different and I would recommend adding a
bit more salt at the end if needed
Stuffing too dry?
Melt more butter and drizzle over the stuffing.
Stir gently.
Stuffing too wet?
Cube up a few slices of sandwich bread and stir gently into stuffing mixture.
Let the extra bread soak up the extra moisture
Can I add sausage?
Yes, add 1 pound of crumbled, cooked sausage, like Jimmy Dean into the crockpot with the bread mixture. You could also use Italian sausage.
Nutrition Information:
Calories:
349
kcal
|
Carbohydrates:
36
g
|
Protein:
9
g
|
Fat:
19
g
|
Saturated Fat:
10
g
|
Polyunsaturated Fat:
2
g
|
Monounsaturated Fat:
5
g
|
Trans Fat:
1
g
|
Cholesterol:
69
mg
|
Sodium:
810
mg
|
Potassium:
233
mg
|
Fiber:
4
g
|
Sugar:
6
g
|
Vitamin A:
762
IU
|
Vitamin C:
6
mg
|
Calcium:
115
mg
|
Iron:
3
mg
Nutrition info is auto-generated. This information is an estimate; if you are on a special diet, please use your own calculations.