I have a fun recipe for you this week- Slow Cooker Roasted Garlic Beef Sandwiches. I joined a fun group where we all get assigned to try a recipe from a fellow blogger, and it is all kept secret until today. I got to pick a recipe from Aunt Bee's Recipes. Brandi from Aunt Bee's Recipes is a dear friend, and she also loves her Crock Pot as much as I do!
I chose these Slow Cooker Roasted Garlic Beef Sandwiches from Brandi's blog. How could you go wrong with beef, roasted garlic and beer? There is a small amount of prep work with roasting the garlic, but really is simple once you get started.
If you haven't roasted a whole head of garlic before, you won't believe how easy it is, and oh the possibilities, I often stir roasted garlic into mashed red potatoes with sour cream. To roast the head of garlic, I preheat my oven to 350 degrees. Cut the top end off the garlic (see the photo below). I place that cut garlic on a sheet of foil, drizzle with oil, cover tightly with foil. I cooked it for 1 hour. When the garlic is done, I then put the rest of the roast ingredients in the slow cooker, and then squeezed these beautiful roasted garlic cloves on top. Oh man did my house smell good while this roast cooked. Great recipe Brandi! I have my eye on another recipe of Brandi's I want to try, Slow Cooker Apple Butter Pork Chops– doesn't that sound awesome!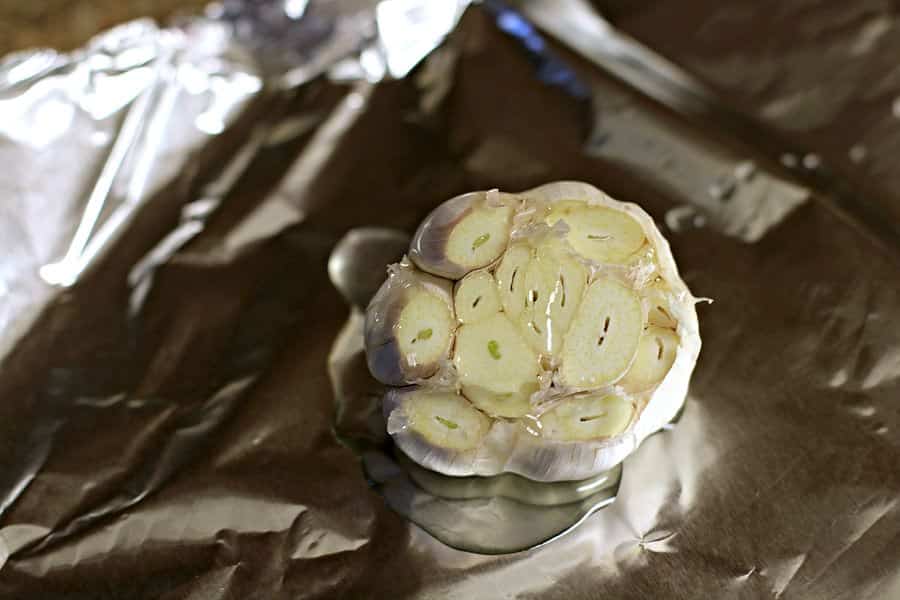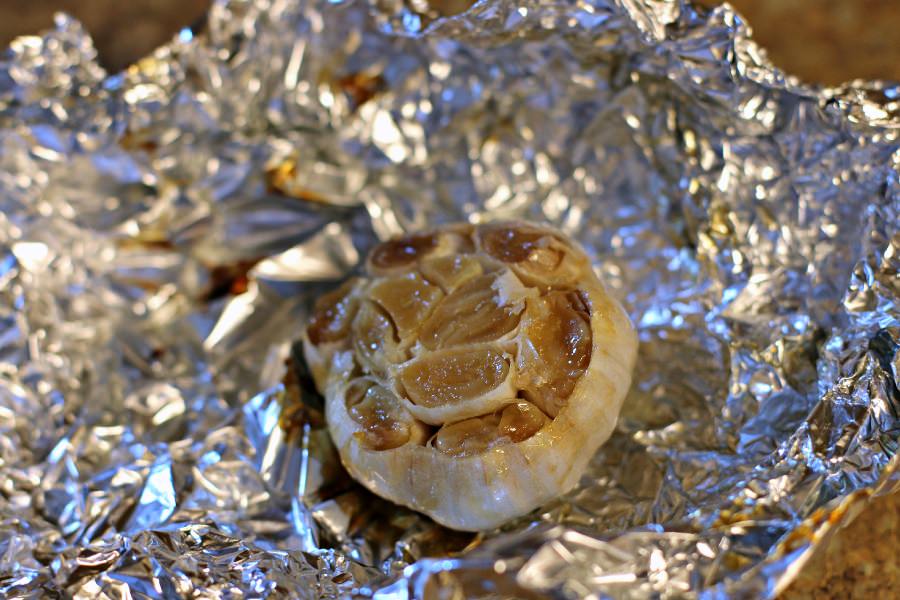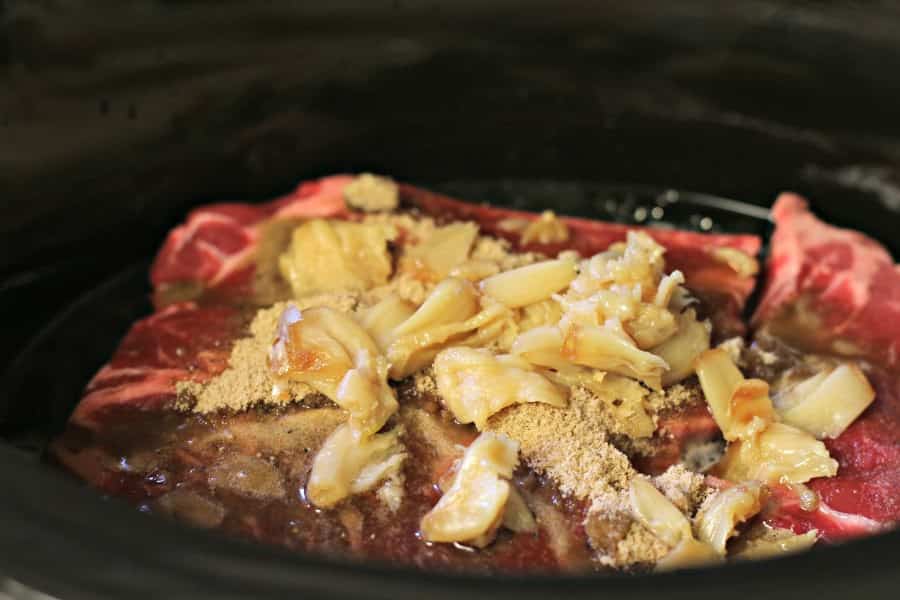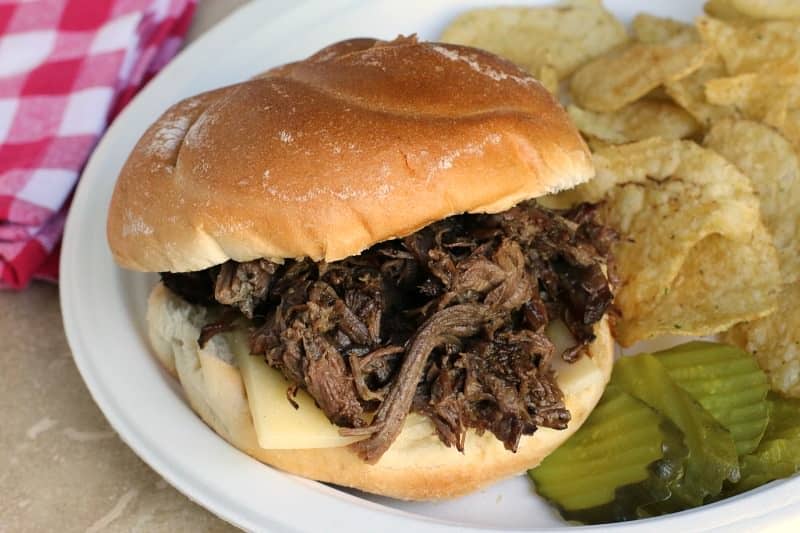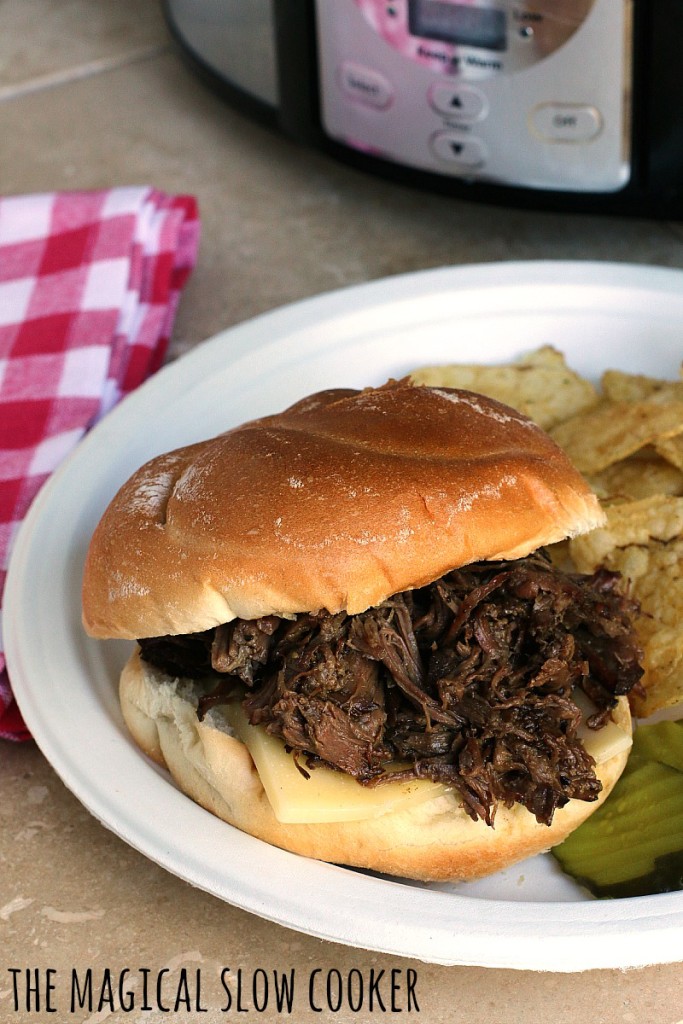 See Brandi's version of this wonderful recipe here: Slow Cooker Roasted Garlic Pulled Beef Sandwiches. You can follow Brandi on Facebook, Twitter, Instagram or Pinterest.

Slow Cooker Roasted Garlic Beef Sandwiches
Ingredients
1 head garlic (roasted see below)
2 tsp. cooking oil
3 lbs. beef chuck roast
½ tsp. salt
½ tsp. onion powder
¼ tsp. pepper
⅓ cup brown sugar
1 tsp. hickory liquid smoke
1 cup beer or beef broth
For Serving
Rolls
White Cheddar Cheese Slices
Instructions
The head of garlic need to be roasted first, this will take 1 hour in the oven. Preheat the oven to 350 degrees. Cut off the end of the head of garlic, exposing all the cloves. Place it on a square of foil, drizzle each with a teaspoon of oil. Wrap tightly in the foil. Place in the oven and cook for 1 hour. Remove from oven, open and let cool off a bit while you start putting the other roast ingredients in the crock pot.
Sprinkle the roast with the salt, pepper, and onion powder. Place the roast in the slow cooker. Pat the brown sugar on top of the roast, add the liquid smoke and beer (or beef broth) around the roast. Being careful not to burn yourself, squeeze the roasted garlic cloves out of the head of garlic on to the roast, I do this using the foil as like a pot holder to somewhat protect my hands.
Cover and cook on low for 8-10 hours.
Shred the meat with 2 forks, serve on toasted rolls and top with cheese.