Slow Cooker Shredded Beef Philly Cheese Steaks are a family favorite.  Cooks all-day while you're away!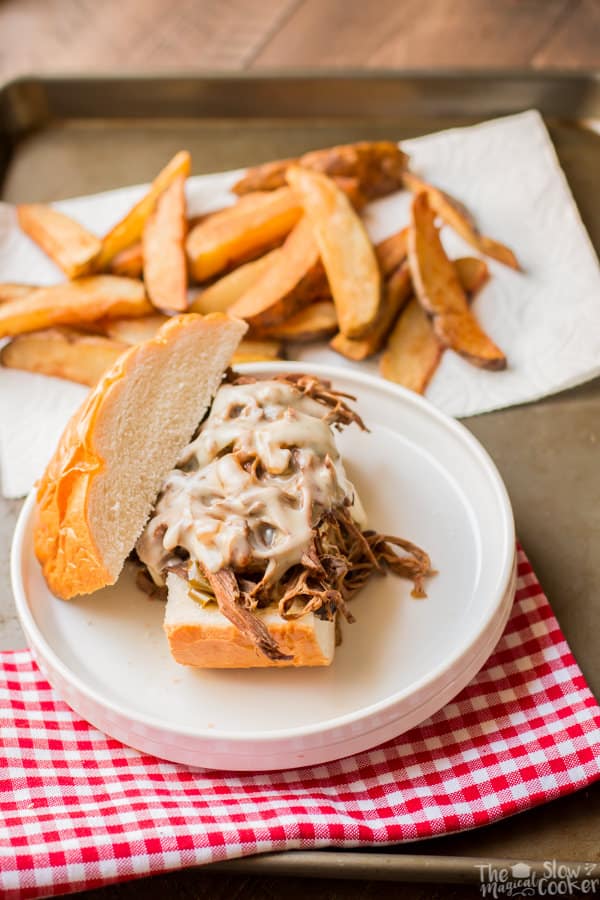 Hi all! Here is an all-day slow cooker recipe for you. I know a lot of you work away from home and are looking for meals that could be left while you are away. This beef is cooked in plenty of liquid so it won't dry out while cooked for a long period of time.
In the slow cooker goes the browned meat, minced garlic, Beefy onion soup mix, bell peppers, onions, and water.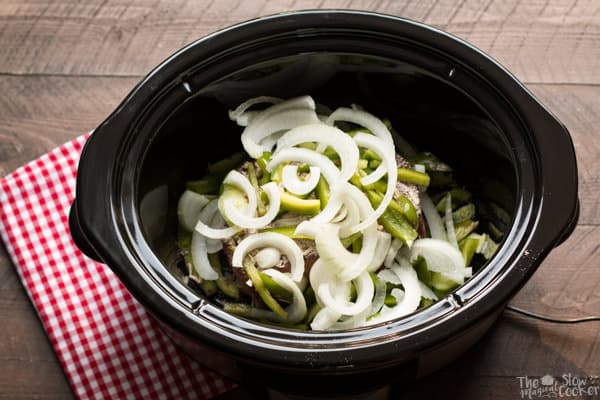 Below is the beef after it has been cooked and shredded. The Beefy onion Soup mix makes a delicious sauce for the beef.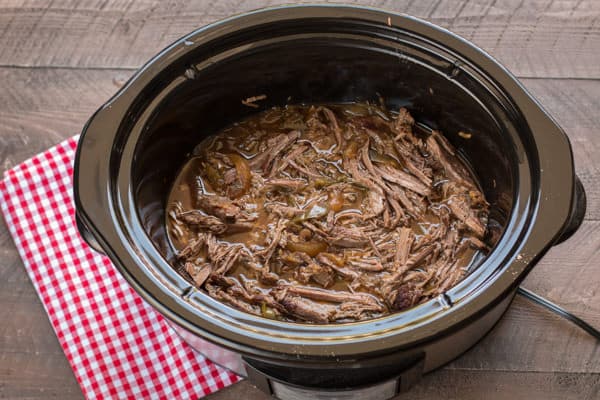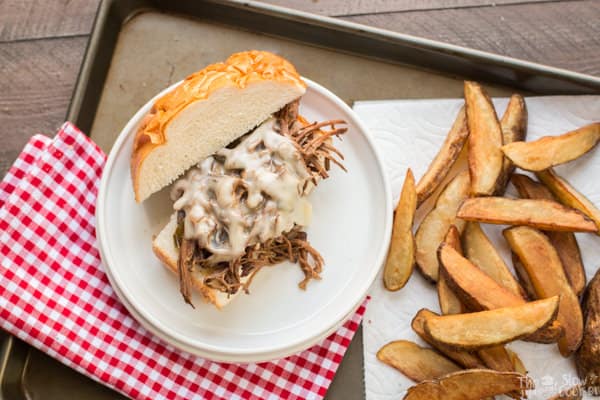 See how to make this easy meal below on my YouTube video.
I used a giant loaf of French bread for the "buns" in this recipe. I had a bit of energy for some reason the day I prepared these sandwiches so I made hand-cut fries to go with them. I hope you try this meal, you won't be disappointed. I will be back early next week with the Freezer Slow Cooker Recipe of the Month.
Slow Cooker Shredded Beef Philly Cheese Steaks
Ingredients
3-4 lb. bottom round beef roast
salt, pepper, onion powder
cooking oil
2 garlic cloves, minced
1 (1.1-oz) packet. beefy onion Lipton Soup Mix
1 bell pepper, sliced
1 white onion, sliced
1 cup water
For serving
Sliced Swiss Cheese
Hoagies or sliced French bread
Slow Cooker Size:
Instructions
Sprinkle the roast lightly with salt, pepper, and onion powder. Set a large skillet over medium-high heat. When the pan is hot add the oil. Brown the meat on all sides. Add to the slow cooker.
Add the minced garlic, beefy onion soup mix, bell peppers and onions. Pour over the water.
Cover and cook on LOW for 8 hours without opening the lid during the cooking time.
Shred the meat with 2 fork right in the slow cooker, discarding any fatty pieces. Let the meat and juices settle for a few minutes to let the grease rise to the top. Take a paper towel and lay it over the meat and remove immediately, most of the grease will be on the paper towel. Discard.
Serve on sliced French bread or hoagies, topped with swiss cheese.
If you want the cheese melted, place the cheese topped sandwiches in the oven under the broiler until the cheese melts.
I used my 6-quart oval slow cooker for this recipe, though a 5-quart will work fine.
You may also like: Slow Cooker His and Hers Cobbler