This easy Slow Cooker Pesto Mozzarella Chicken is a meal the entire family will enjoy!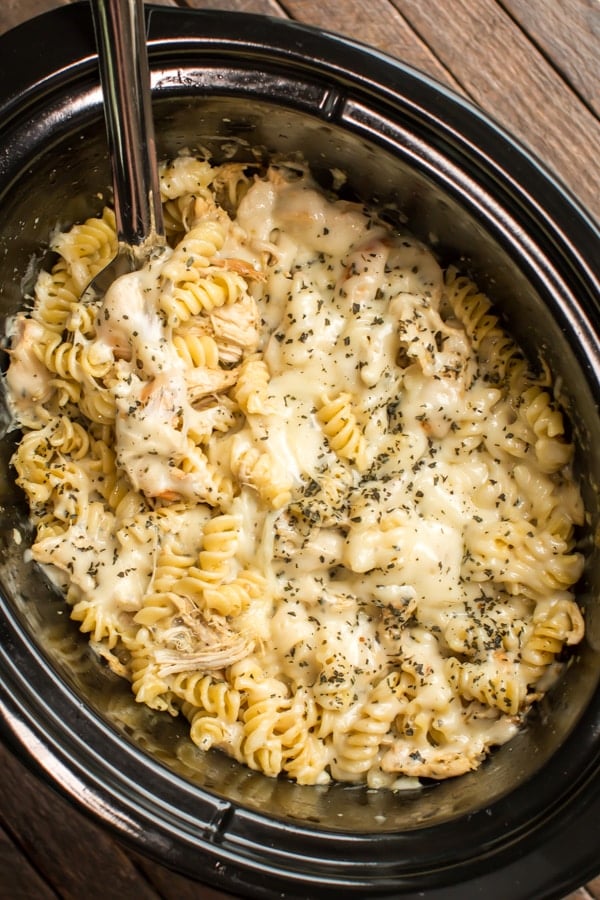 This new recipe for Slow Cooker Pesto Mozzarella Chicken is a spin-off from a freezer meal I made a few months ago called Lemon Pesto Chicken. Looking back at that recipe I wish I would have done this to it from the start. Adding the pasta and parmesan in the slow cooker at the end of the cooking time THEN topping with mozzarella cheese turned that basic recipe I made a few months ago into a meal I want to make weekly now.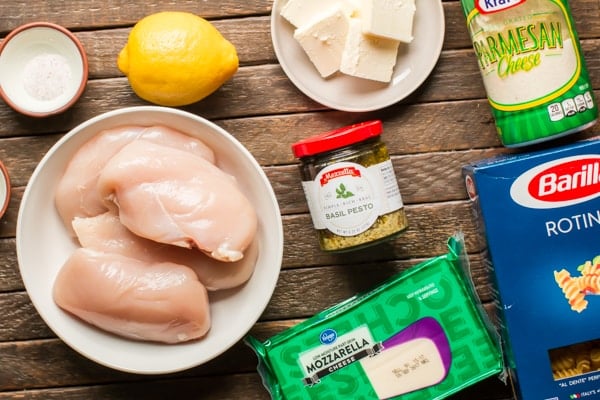 For this recipe I tried the Mezzetta pesto, It did well in this recipe! Of course homemade pesto would be better but I don't have time for that! Besides topping the chicken with the pesto I also add fresh lemon juice and butter. The way the butter tastes with the pasta can't be beat.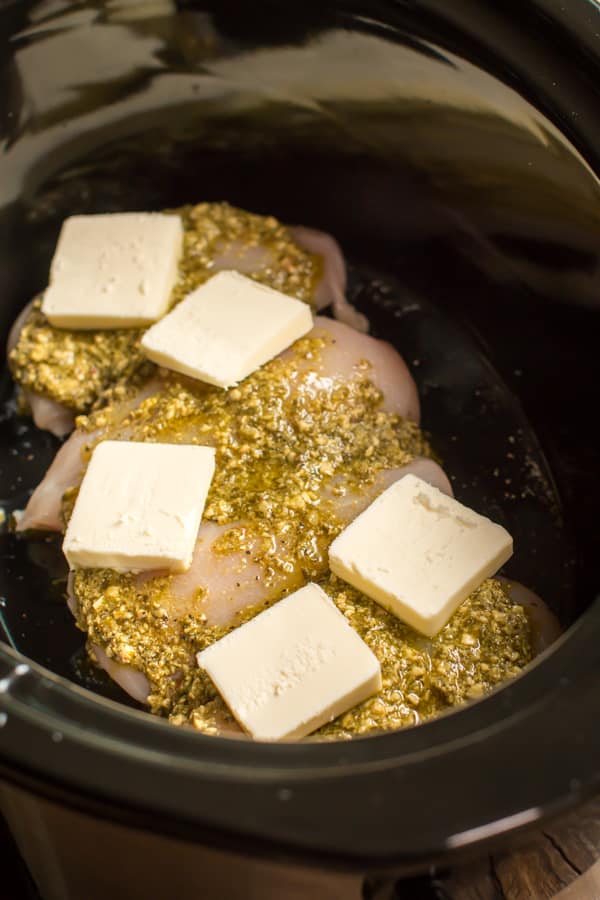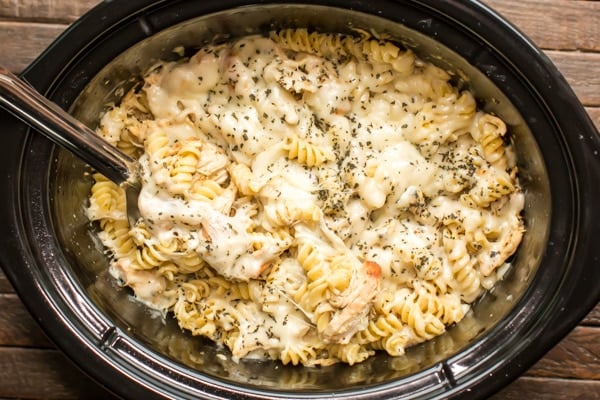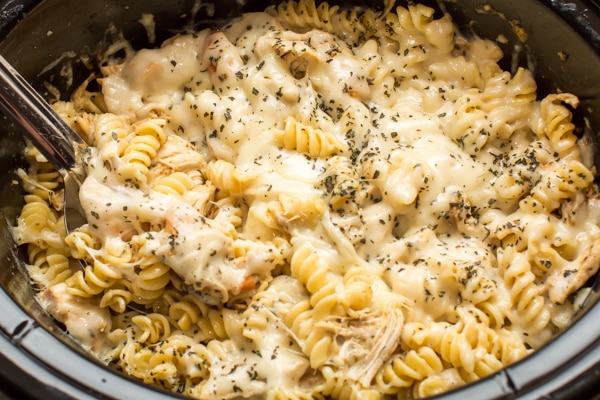 I was afraid my daughter wouldn't like this meal because of the green stuff on it. She didn't even blink an eye and ate a whole plate! What I love about this meal is how there is not much prep to do to get this in going in the crock pot. Putting the chicken and sauce ingredients in the crock pot takes less than 10 minutes.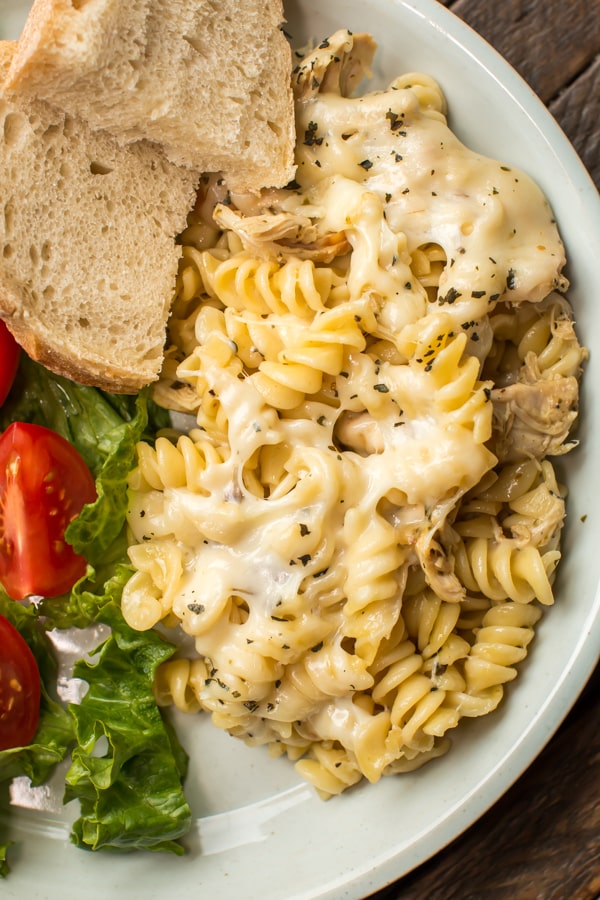 Below is my YouTube video of this meal. It's a good one to watch if you haven't seen how I add the pasta at the end and not at the beginning of this recipe. You can follow me on YouTube here for more recipes like this one.
I hope you enjoy this pasta recipe! Have a great week!
Slow Cooker Pesto Mozzarella Chicken Pasta
Ingredients
1.5 lbs. chicken breasts
½ tsp. salt
¼ tsp. pepper
1 cup jarred pesto (I used Mezzetta)
¼ cup salted butter
½ lemon
These items don't get added until the end
1 lb. rotini cooked and drained
½ cup parmesan
2 cups shredded mozzarella
¼ tsp. dried basil to garnish
Slow Cooker Size: 6-quart or larger
Instructions
Add the chicken to the slow cooker. Sprinkle with the salt and pepper. Spread over the pesto, squeeze the lemon juice over the chicken. Cut the butter into slices and lay over the chicken.
Cover and cook on low for 5-6 hours without opening the lid during the cooking time.
Near the end of the cooking time, cook the pasta according to the package directions and drain well.
Shred the chicken with 2 forks. Add the cooked pasta and the parmesan cheese, stir everything until the pasta is coated with the buttery pesto sauce and the chicken is evenly dispersed throughout the pasta. Add the mozzarella cheese over the pasta. Cover for about 15 more minutes or until the cheese has melted.
Serve and enjoy!
I used my 6-quart Crock-Pot® for this recipe.
You may also like: Slow Cooker Spicy Sausage Dip