This Slow Cooker Baked Spaghetti is such a treat compared to regular our spaghetti night!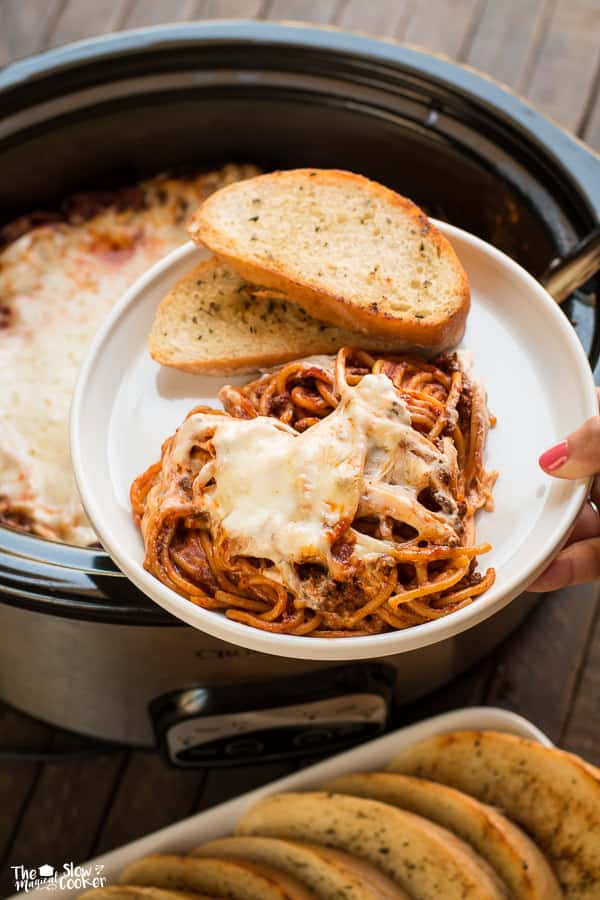 Do you have spaghetti weekly at your house? My family does and it can't get boring. This Slow Cooker Baked Spaghetti is a perfect way to make spaghetti night spectacular. I remember my mom making spaghetti weekly, she would simmer the pasta sauce and meat all-day on the stove top, walking by and stirring every so often. With the slow cooker, ground beef and Ragu Homestyle sauce, I can get my mom's simmered all day tasting sauce without having to stir until I'm ready to serve. How I make this spaghetti dinner extra special is by making it a casserole by topping the slow cooked sauce and noodles with a cream cheese and ricotta mixture AND I add mozzarella cheese too!
I made this for dinner last Saturday night. Keep in mind this is the night we usually dine out, this meal was special enough for me not to miss my Saturday night out.
I took lots of pictures of the making of this dish, it is simple to make!
This recipe starts out with 2 jars of RAGÚ® Homestyle Thick & Hearty Traditional Sauce.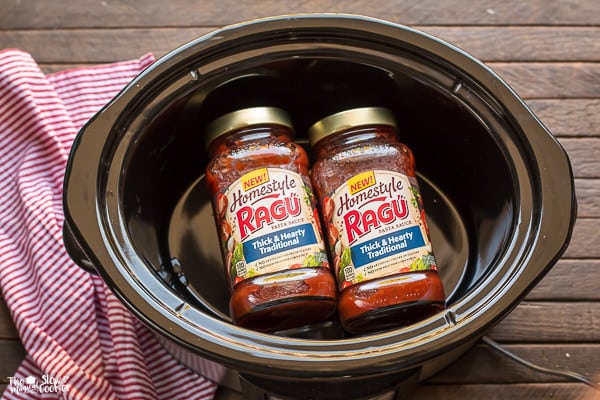 Seasoned browned ground beef.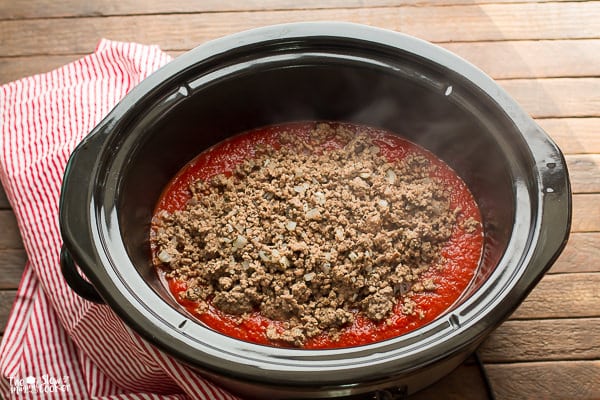 The sauce and beef cook for 6 hours.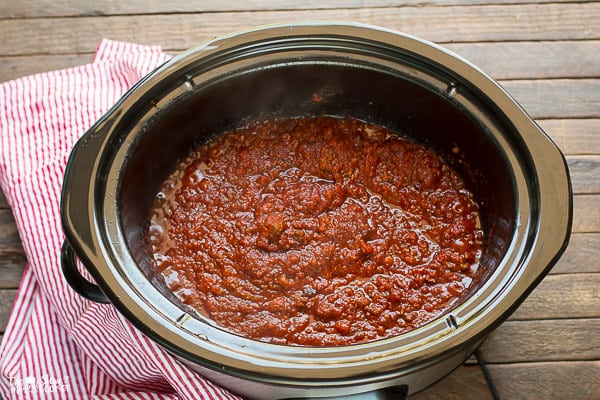 After the sauce and meat cook together in the slow cooker, I add cooked spaghetti noodles. Then I dollop a cream cheese/ricotta mixture on top of the spaghetti and smooth it out with a spatula.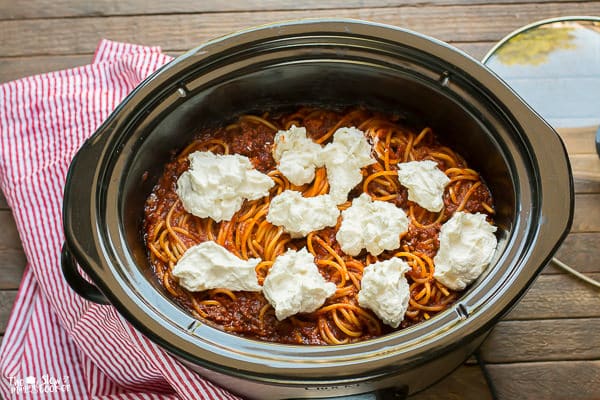 Then Mozzarella cheese.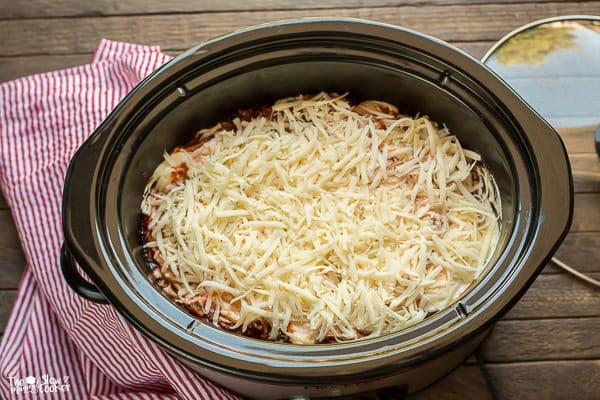 After everything is assembled I cook it for 20 minutes longer.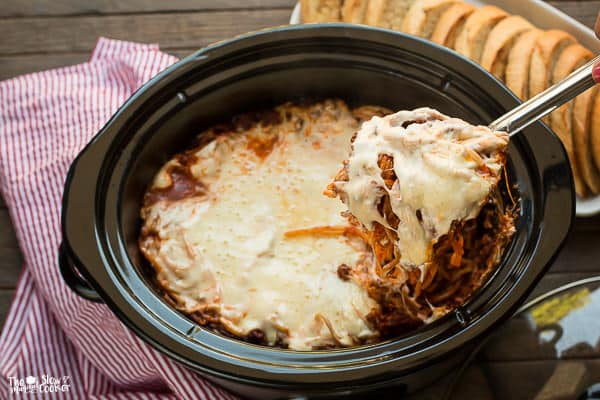 Serve and enjoy!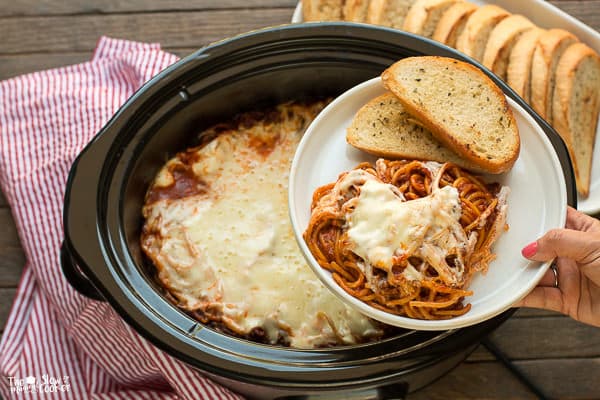 Below is my YouTube video on how to make the entire dish. You can follow me on YouTube here.
Which Ragu Homestyle sauce would you use for this recipe? I am going to try the roasted garlic sauce next time I make this, how good does that sound? What I love about the Ragu Homestyle sauce is that it has a made from scratch taste which saves me time in the kitchen! The sauce also hugs the pasta perfectly since it is thick. I hope you enjoy this meal as much as my family does! Have a great week!
Slow Cooker Baked Spaghetti
Ingredients
2 (24-oz.) jars RAGÚ® Homestyle Thick & Hearty Traditional Sauce
1.5 lbs. ground beef
½ cup diced white onion
1 minced garlic clove
¼ tsp. salt
1 tsp.dried oregano
1 tsp. dried basil
1 lb. spaghetti noodles (see below for cooking instructions, these don't get cooked or added until after the sauce cooks for 6 hours)
For topping
4 ounces cream cheese (1/2 cup)
1 cup ricotta
¼ tsp. salt
2 cups shredded mozzarella cheese
Slow Cooker Size:
Instructions
Pour the jars of Ragu in to the slow cooker. In a large skillet set over medium-high heat, brown the meat and onions together. After the meat is browned add the garlic, cook for a minute a longer. Drain the fat. Add the salt, oregano and basil and stir. Pour the meat onto the sauce in the slow cooker and stir.
Cover and cook on LOW for 6 hours without opening the lid during the cooking time.
After the cooking time is up, cook the noodles as directed on the package in boiling water on the stove-top. I cooked my noodles for exactly 8 minutes after adding them to the boiling water. The noodles will cook a bit more after adding them to the slow cooker.
Drain the noodles and add them to the meat sauce in the slow cooker. Stir, then flatten the noodles in an even layer.
In a small bowl combine the cream cheese, ricotta and salt. The cream cheese will be in small chunks, but that is fine.
Dollop the cream cheese/ricotta mixture over the spaghetti, then use a spatula to even it out over the spaghetti. Add the mozzarella cheese.
Cover and cook for an extra 20 minutes on LOW.
Serve and enjoy!
You may also like: Slow Cooker Seasoned Chicken, Potatoes and Green Beans