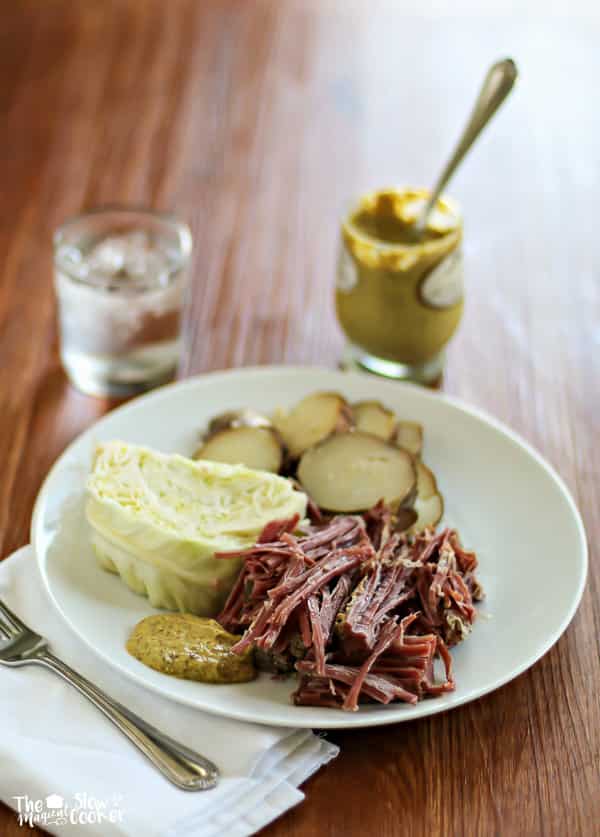 I may only make corned beef and cabbage once a year, but I so look forward to it. I love how you can put the corned beef, potatoes, and cabbage all in the slow cooker, truly a one pot meal.  I can't wait to make Reuben Sandwiches with the leftovers!
I do not like my potatoes cooking in greasy meat juices all day, call me crazy. I use the "foil snake" method to get my potatoes up off the bottom of the slow cooker. I included pictures below showing what the foil snake looks like. Basically you just roll some foil into a snake, and wrap around your roast. You can do this with any roast recipe that you add veggies to.
Do not add the cabbage until the end of cooking time!
This Photo shows the foil I rolled into snake, to keep the potatoes from getting greasy.
Add your potatoes on top the your foil and roast. DO NOT ADD CABBAGE YET!
Add the cabbage after 8 hours, and cook for 15 to 20 minutes longer, or until cabbage is tender.
Corned Beef and Cabbage
Ingredients
2 pound Corned Beef Brisket with seasoning packet that is included
About 2 pounds red potatoes
½ Head of Cabbage
½ cup water
horseradish mustard for serving
Instructions
Put the corned beef down in your slow cooker, add a ½ cup of water, top with the included seasoning packet.
Make a foil snake and put around the roast, to keep potatoes up and out of the greasy juices.
Add potatoes
Cook on low for 8 hours
Add the cabbage after the cooking time is over, and cook for 15 to 20 minutes more, until cabbage is tender.
You may also like: Slow Cooker Reuben Sandwiches