Bacon Barbecue Slow Cooker Meatloaf is my favorite meatloaf with added flavors!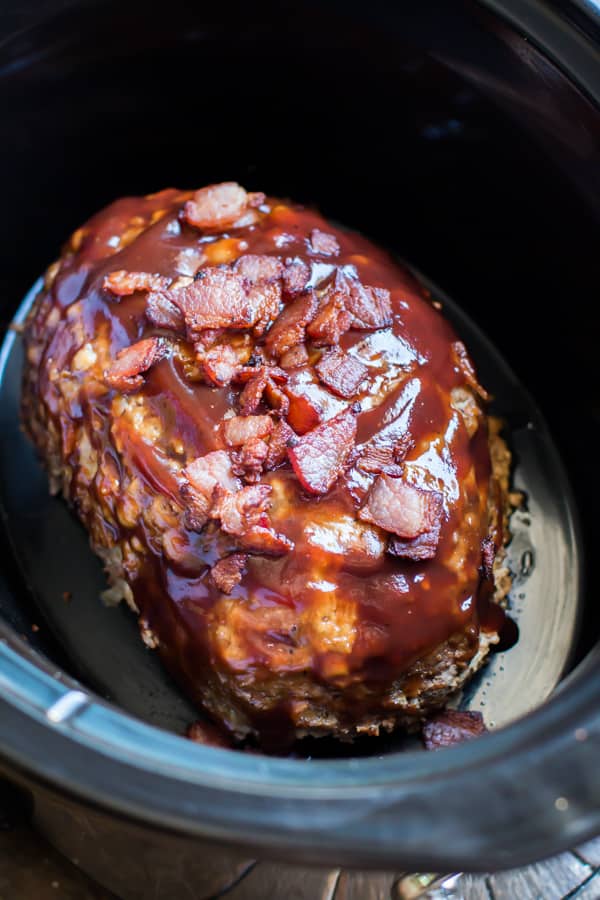 Hi all!  I am back from San Diego this week. I made you all a Bacon Barbecue Slow Cooker Meatloaf! This little beauty was fantastic! My husband kept saying how much he liked it over and over while we ate. This meatloaf is a twist of my perfected Slow Cooker Meatloaf, a recipe I adapted of my moms. If you love meatloaf and you love barbecue, I think you will love this!
If you didn't know, last week I was in San Diego for my fist ever TV appearance. I flew all the way down to San Diego from Oregon. Note that I had never flown by myself, let alone I hadn't been on a plane for 13 years! All alone I arrive in San Diego, get a rental car and hit the ground running. I had about 6 hours that night to buy and prepare everything I would need to make Pork Carnitas (a recipe from my cookbook) for the TV appearance the next morning. I had to find everything from the meat to the crock pot, plates, dishes, spices, napkins, knives, and everything to clean the kitchen in my hotel room too! I went to bed about 11pm that night after preparing one pork to taste on the show in the morning and prep another one. I had been practicing the recipe out-loud so much that I had began to lose my voice. I was terribly nervous that I would forget the ingredient names, measurements and also my name. 🙂
I had crazy dreams that night before the show, one dream I had forgotten a key ingredient, another dream that someone put all my salsa ingredients out for the crew to eat before the taping.  The morning of the show came so fast, so much to do! I packed up the 2 large boxes of food and the crock pot from the hotel room down the elevator and out to the parking lot, all while wearing heals. I really wish I would have brought my husband, just for that moment of carrying all my stuff, even though it would have cost me 500 more dollars.
Once I got to the TV station, there was no time to be nervous. The receptionist brought me to the green room to wait for few minutes. You probably know, but the green room is not green! Then someone ushered me and all my food stuff out to the set. The kitchen set was behind the cameras for the morning news. I had to unwrap my tin foil, set out dishes while trying to be quiet, as I am trying to watch the morning news anchors live on TV behind me. It was all so fascinating. At the time I still didn't know which one of the news anchors were going to cook with me.
I barely had everything set up and I was told to do a teaser for the camera. They told me to wave, smile and pretend I was still setting up. That went ok, except while looking at the camera waving and smiling I could see myself in the screen under the camera, I felt like a goon!
About 5 minutes later the lady news anchor Heather Meyers came over and introduced herself. Such a pretty and confident woman. I later saw on her twitter page that is the recipient of 8 Emmy Awards! We talked for about 30 seconds about what the segment would be like. Then it was time! Heather glided me through the segment, I just focused on preparing my recipe as I also tried to answer her questions with out flubbing my words (which I had no idea what she was going to ask). I wish I could show you the video but it is no longer available, the news channel was bought out and my video deleted :(.
Enough about me here is my meatloaf recipe! This meal is a spin off of my favorite slow cooker meatloaf. You won't be disappointed with this meal!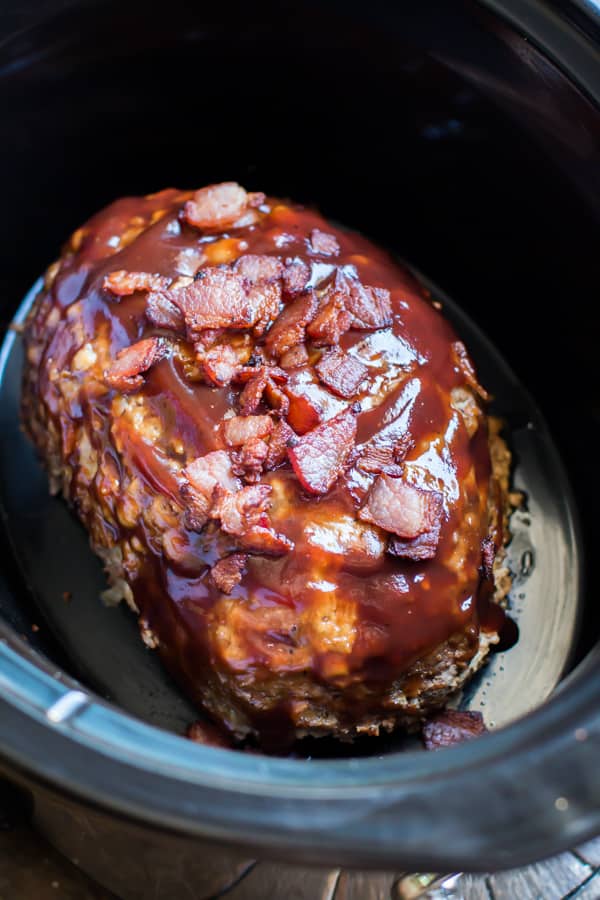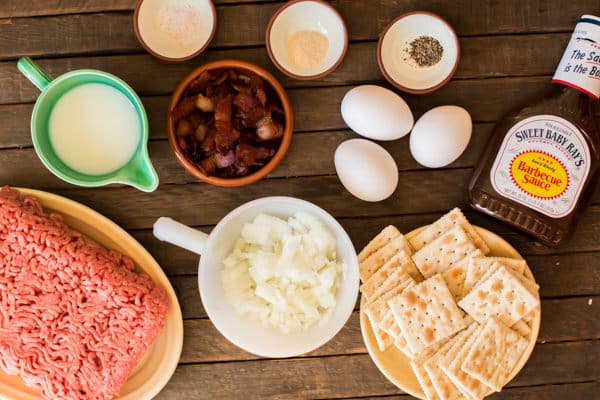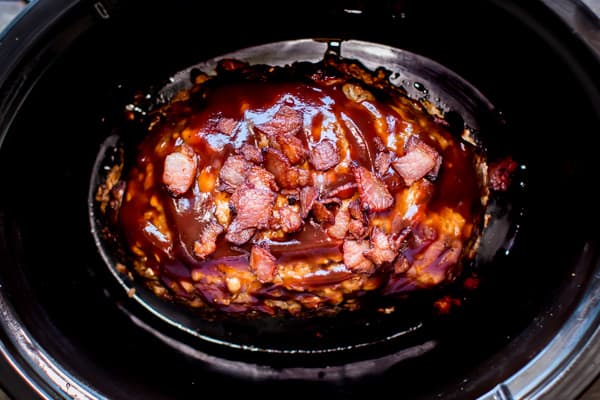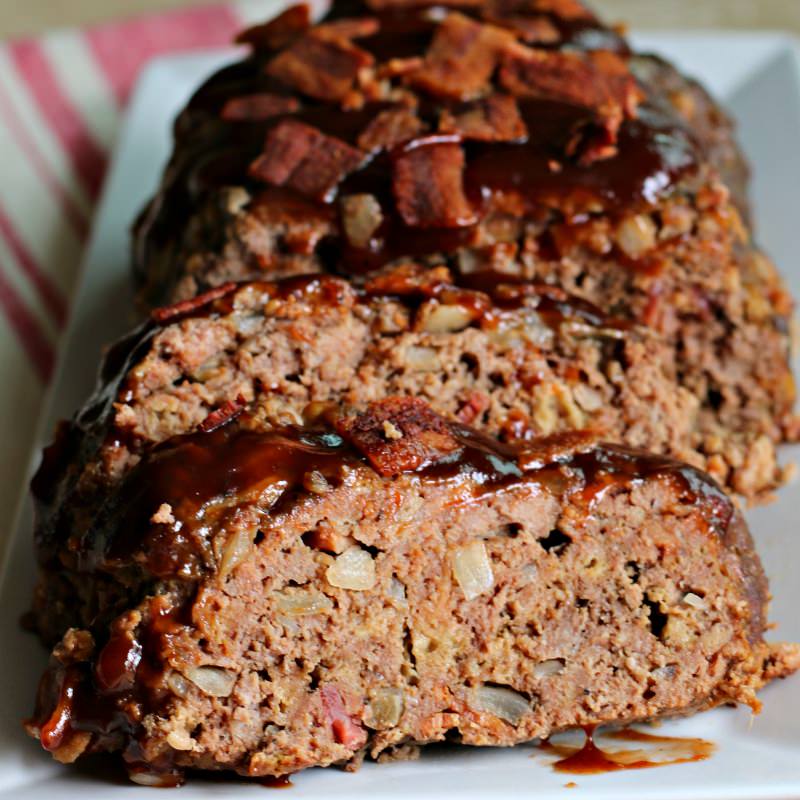 Here is my YouTube Video of this meal. You can follow me on YouTube here.
Bacon Barbecue Slow Cooker Meatloaf
Ingredients
3 large eggs
1 cup diced white onion
1/3 cup barbecue sauce (I use sweet baby rays)
1/4 cup milk
1/4 tsp. onion powder
1/2 tsp. salt
1/4 tsp. pepper
25 saltine crackers
2 lbs. 10% fat ground beef
8 slices cooked and crumbled bacon

For the topping:

1/2 cup barbecue sauce
8 slices cooked and crumbled bacon
Instructions
In a large bowl, add the eggs, onion, barbecue sauce, milk, onion powder, salt and pepper. Crush the saltine crackers in next and mix this all together with clean hands. Add the ground beef and cooked bacon in next, only mixing everything until it just comes together. Spray a 6-quart slow cooker with non-stick spray, and shape the meat in to loaf shape in the slow cooker. Cover and cook on LOW for 5-6 hours, without opening the lid while during the cooking time. Scoop out the fat and discard. Top the meatloaf with the additional barbecue sauce and crumbled bacon. Serve and Enjoy.
Notes
If you want to use something other than saltines (such as oatmeal or panko bread crumbs), the amount of saltines crushed is 1 1/4 cups.
https://www.themagicalslowcooker.com/bacon-barbecue-slow-cooker-meatloaf/
Copyright Sarah Olson 2014
You may also like: Slow Cooker Mississippi Pot Roast