Slow Cooker Taco Meat Loaf Stuffed Peppers are a fun way to switch up your standard stuffed pepper recipe!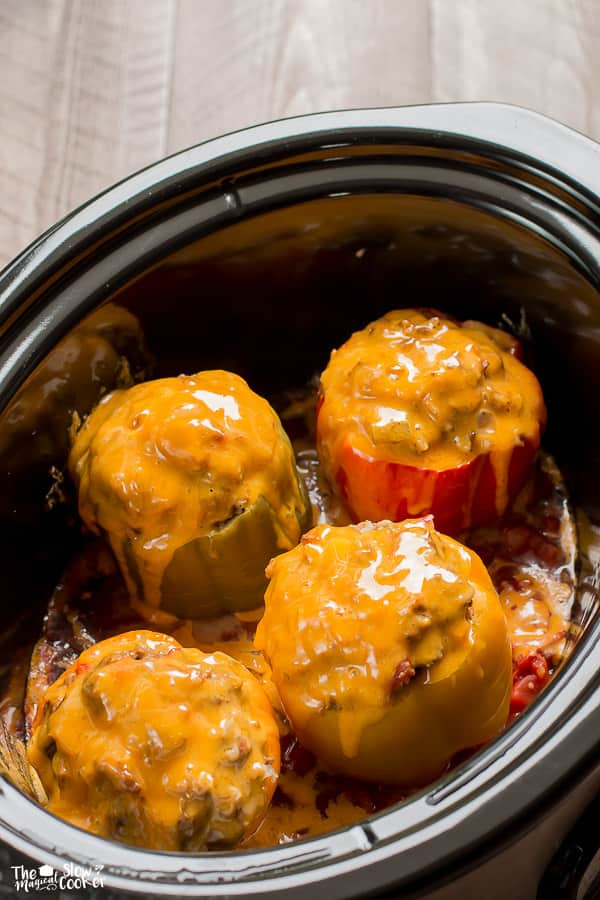 Hi all! I think stuffed peppers were one of the first slow cooker recipes I made. A co-worker from Marie Calender's told me all about her favorite recipe years ago, it was something my mom never made. Since then I have made variations, some the meat is browned first, if it is done that way the meat and rice are loose in the pepper. This recipe is a meat loaf mixture with minute rice inside of the pepper, no need to brown the meat, or pre-cook the rice. I used taco flavors in this recipe, taco seasoning, salsa and sour cream are a part of the meat loaf mixture. I also use salsa as the sauce under the peppers.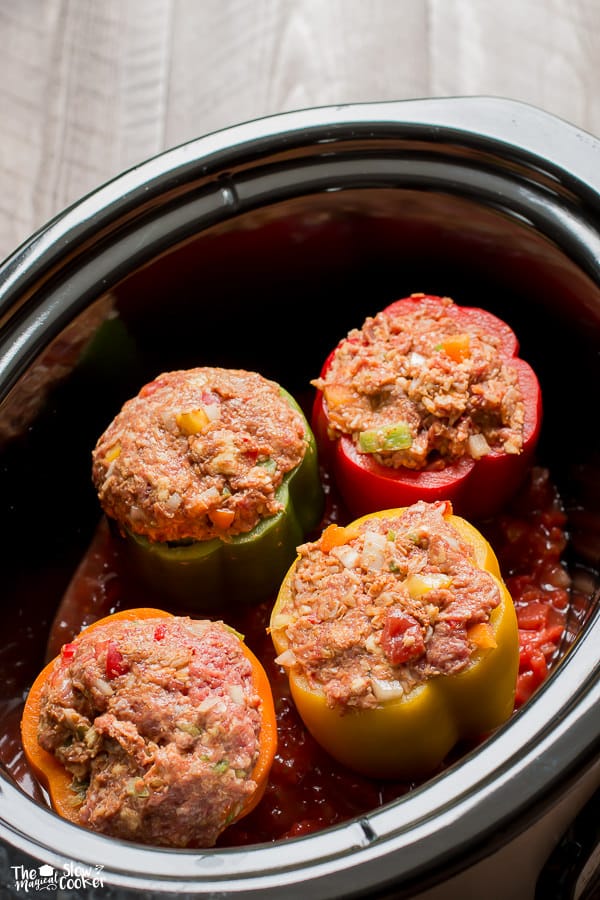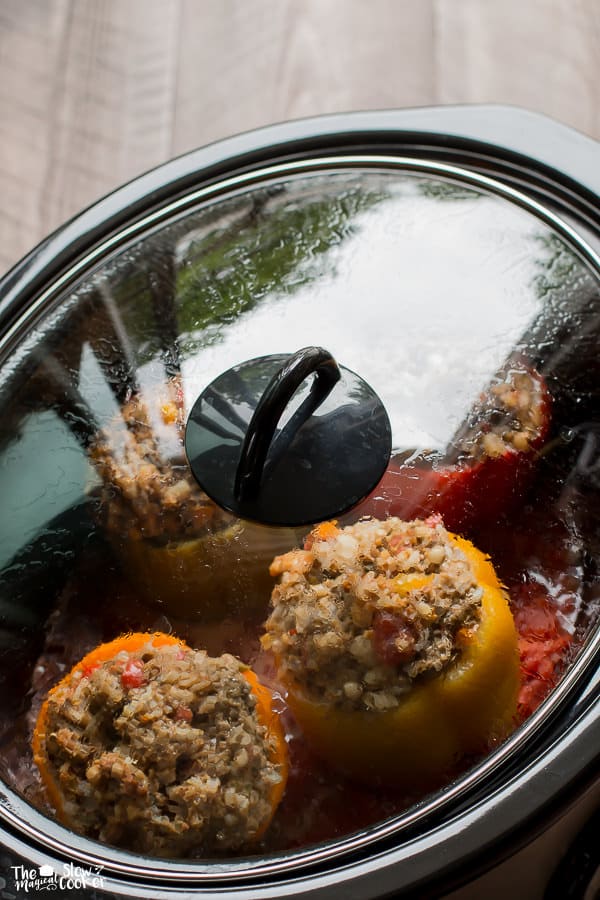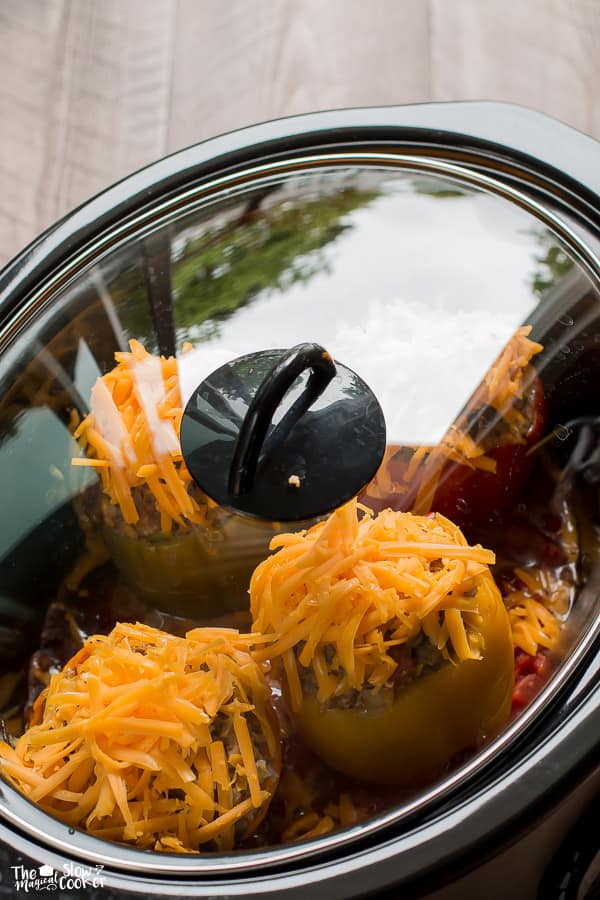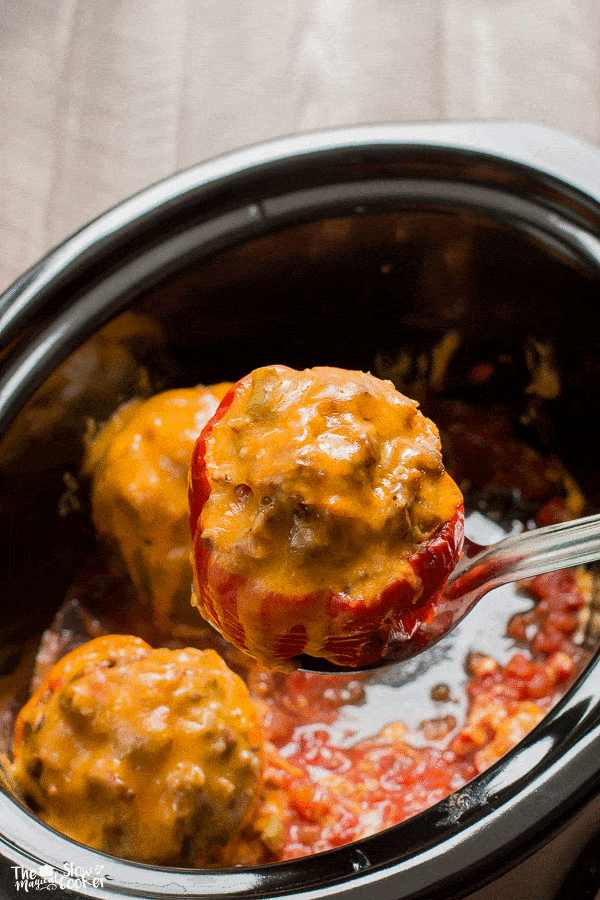 Have a great weekend I will be back on Monday with another recipe!

Taco Meat Loaf Stuffed Peppers
Ingredients
Add to bottom of slow cooker
For peppers
1 lb. ground beef
4 bell peppers (any colors)
½ cup diced white onion
1 large egg
¼ cup sour cream
¼ cup salsa
1 (1.25-oz) pkg. taco seasoning mix
15 saltine crackers, crushed
½ cup minute rice (not cooked)
1 cup shredded cheddar cheese (add this on top at the end)
Slow Cooker Size:
Instructions
Add the 1½ cups salsa to the slow cooker.
Cut the tops off the peppers remove and discard the seeds. Don't throw away the tops, chop up the top of the pepper and add to the meat loaf filling. In a medium sized bowl add the meat, diced tops from the bell peppers, onion, egg, sour cream, salsa, taco seasoning mix, crushed saltine crackers and rice. With clean hands mix the meat loaf ingredients together until just combined, don't over mix.
Stuff the peppers with the meat loaf mixture.
Place the stuffed peppers on top of the salsa.
Cover and cook on LOW for 5 hours without opening the lid during the cooking time.
After cooking time is done add a ¼ cup of cheese to each pepper. Add the lid back on the slow cooker and let the cheese melt, it will only take a few minutes.
Serve and enjoy!
I used my
6-quart oval
slow cooker for this recipe.
You may also like: Southwestern Cheesy Chicken Pasta