Have you ever heard of a Hobo Dinner before? It's usually an individual complete meal for one in a foil pack cooked in a campfire, oven or barbecue grill. Since I am all about bringing my slow cooker camping, I thought I would try making a Slow Cooker Hobo Dinner.
We traveled to South Twin Lake Resort for 4 nights this last week. Such a beautiful place to visit, there is a cold water channel right behind our campsite, and just a block away is the resort and lake. We spent our days hiking, swimming, and fishing. For our dinners I made 4 different slow cooker recipes this trip, an easy clam chowder, steak burritos, baked potatoes (to go with grilled steak), and this Hobo Dinner.
For this recipe I made a 1 pound meatloaf (I halved my favorite 2 pound meatloaf recipe.) I put the meatloaf on one side of the slow cooker. Then I made a foil "bowl" by taking a foot or so of foil and shaping it into a rounded shape (just one layer thick). In that foil bowl I tossed together potatoes, sliced onions, seasonings and drizzled melted butter over it. Cooked all of that on LOW for 5 hours, then topped the potatoes with cheese. An easy complete meal! And I do have to say meatloaf and potatoes are one of my most favorite meals to eat. Pure comfort food!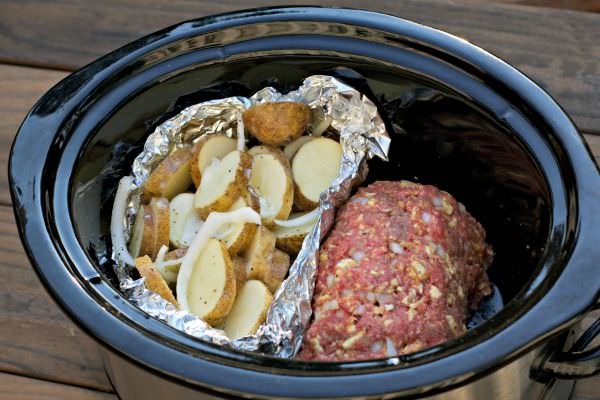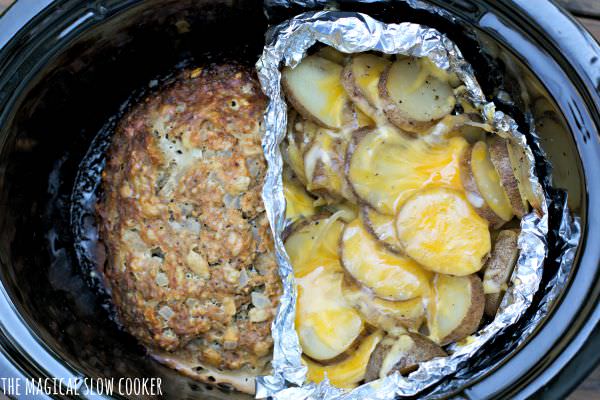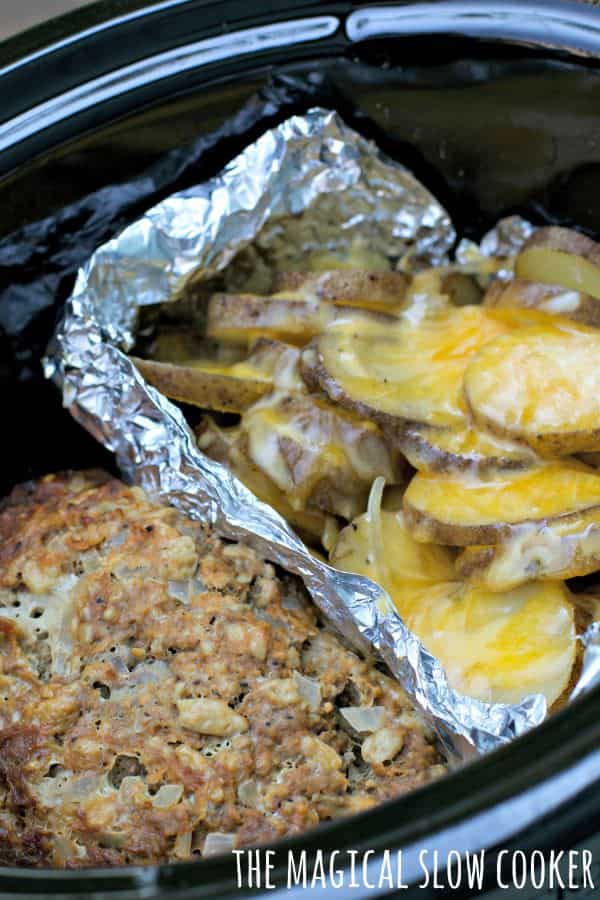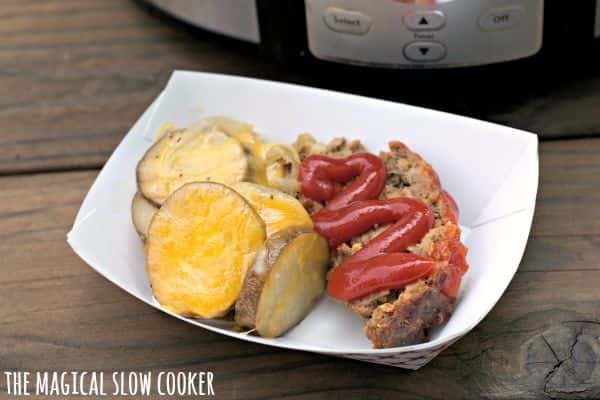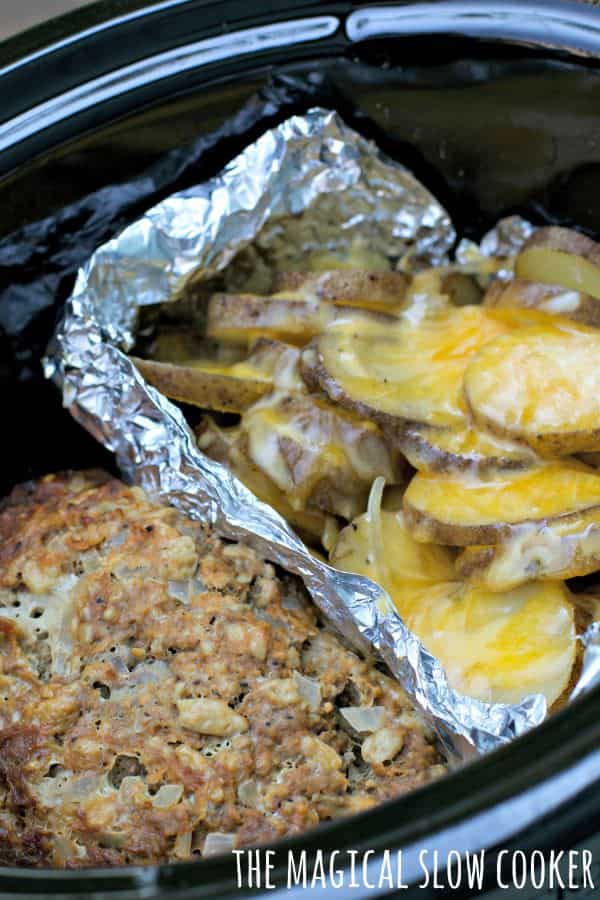 Total Time:
5
hours
20
minutes
Ingredients
Meatloaf Ingredients
1

lb.

10% fat ground beef

2

large eggs

1/2

cup

diced white onion

1/4

cup

ketchup

1/4

tsp.

salt

1/4

tsp.

pepper

1/4

tsp.

onion powder

15

Saltine crackers

crushed
For the potatoes
4

small russet potatoes

sliced

1/2

cup

sliced white onion

1/2

tsp.

salt

1/2

tsp.

onion powder

1/4

tsp.

pepper

3

Tbsp.

melted butter

1

cup

shredded sharp cheese

add at the end
For Serving
Ketchup for topping meatloaf
Slow Cooker Size: 6-quart Oval or larger
Instructions
In a large bowl, combine the meatloaf ingredients, you will have mix this with clean hands, be careful not to over mix.

Shape the meatloaf on one side of the slow cooker, I tried to keep the meatloaf from touching the sides.

Make a foil "bowl" out of a foot or so of foil. Shape it next to the meatloaf. Add the potatoes and onions. Season the potatoes and onions with the salt, pepper, and onion powder, and toss them with your clean hands. Drizzle over the melted butter.

Cover and cook on LOW for 5 hours. DO NOT OPEN THE LID WHILE THIS IS COOKING, or the potatoes will not get tender.

After the cooking time is up add the cheese on top of the potatoes, and cover for about 5 minutes more or until the cheese is melted. Add ketchup to the top of the meatloaf and serve.

Enjoy!
Need more ground beef recipes? Here are the best ones from the magical slow cooker: