Chunky and flavorful Slow Cooker Spilt Pea Stew is satisfying dinner!
Hi all! Do you love split pea soup? I'm guessing you do if you clicked to get here to this recipe. I love split pea soup, but it seems not quite enough to be a complete meal. I added loads of thick cut veggies to my classic split pea recipe and made it a thick and satisfying stew. This recipe is great for using leftover ham, and if you have a leftover ham bone, use that too in this recipe. I had tons of leftover ham after making my Slow Cooker Apple and Clove Ham, that leftover ham worked great in this recipe.
In addition to the split peas, ham and veggies I add bay leaves, black pepper and dried thyme. I can't make split pea without dried thyme, it really makes the flavor of the split peas pop. Make sure to use the dried leaf thyme, not ground.
I also add 7 cups of chicken stock, this may seem like a lot, but it's just the right amount for the peas to melt into to and have enough broth for the veggies without being too thick.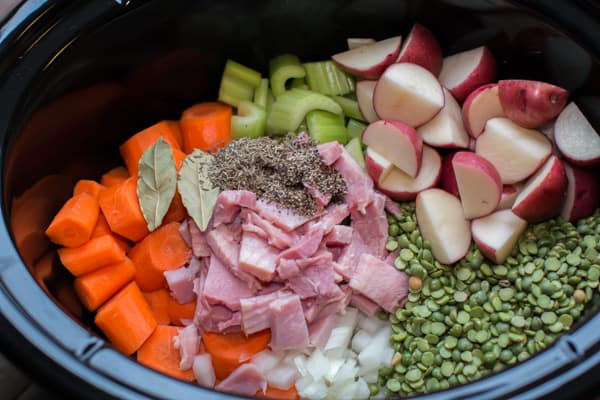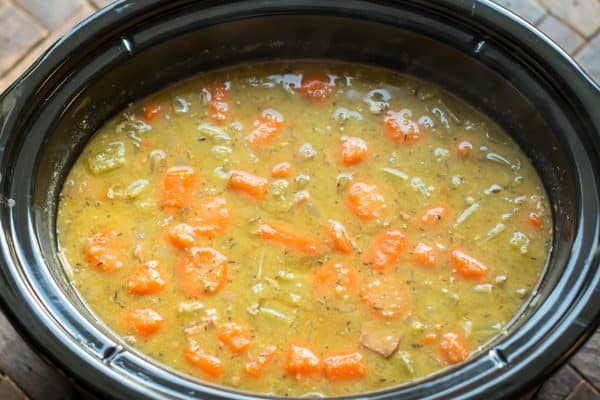 I was pleasantly surprised how good the potatoes tasted in this soup, a match made in heaven with the creamy peas.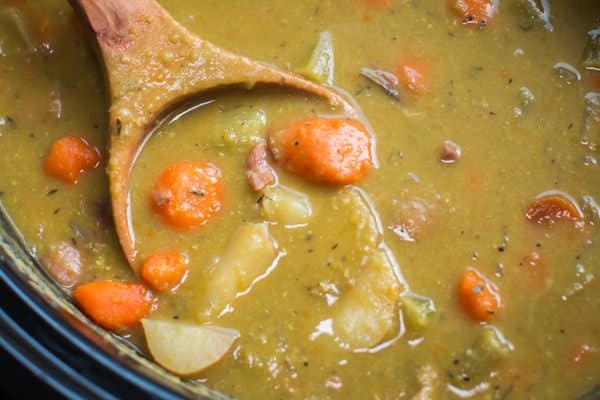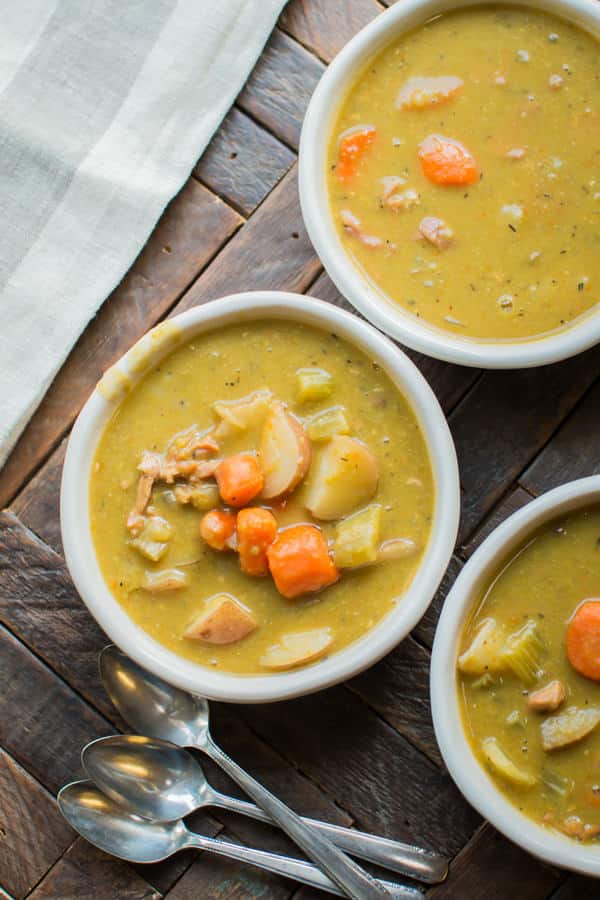 This is my new favorite soup, I can't get enough of it! Though my 7-year old wouldn't touch this soup with a 10 foot pole, I think some day she'll come around to love split pea soup as much as my husband and I do.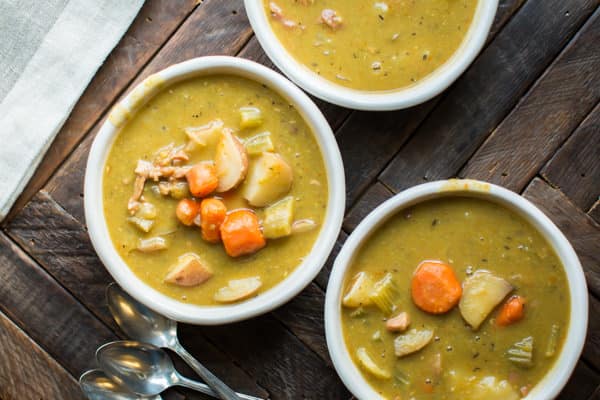 Have a great week and a good holiday weekend. I'll be back full-time adding recipes on Monday.
Slow Cooker Split Pea Stew
Ingredients
1 lb. dry split peas
7 cups chicken broth
2 cups ham pieces or cubed ham
leftover ham bone (optional)
4 cups quartered baby red potatoes
1 cup diced white onion
3 cups thick-cut carrots
1.5 cups sliced celery
1 tsp. dried leaf thyme
¼ tsp. pepper
2 bay leaves
Instructions
Add everything to the slow cooker, stir.
Cover and cook on LOW For 8 hours, without opening the lid during the cooking time.
When the cooking time is up remove and discard ham bone (if used) and bay leaves.
Stir the soup gently until the spit peas melt throughout the stew.
Serve and enjoy!
I used my 6-quart Crock-Pot® slow cooker for this recipe.
You may also like: Slow Cooker Chicken and Stuffing