Do you love Marie Callender's Potato Cheese Soup? Now you  can make it at home in the slow cooker!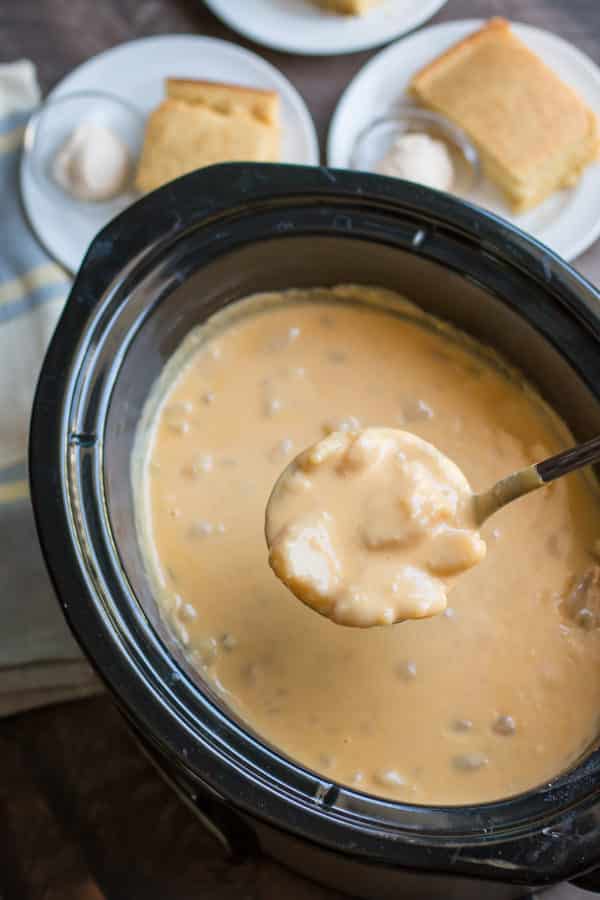 Hi all! I don't know if I mentioned before that I worked at Marie Callender's for about 5 years as a hostess, and pie server, but mostly I waitressed. I was even the bookkeeper too! Marie Callender's Potato Cheese Soup was the most popular soup. When I ran into people around town and they found out I worked at Marie Callender's, they would always say I love the potato cheese soup and cornbread there! Sadly our local Marie Callender's has closed, so I had to figure out how to make this soup at home.
Over the years working at Marie Callender's I learned what most of the ingredients were to this soup. Often customers would ask which soups of the day were vegetarian. I would have to go into the back and ask the Jimmy the cook. The potato cheese soup was not vegetarian, it has a chicken base he would tell me. Then Jimmy would go on how the soup has processed cheese in it, and a bit of regular cheese too. That's all I remembered about the ingredients of this soup. I did some research by asking an old friend who worked at Marie Callender's (for longer than I am alive!) if she remembered if the soup had celery. It does! She also reminded me that there was onions in the soup as well.
Working at Marie Callender's has so many fond memories for me. I met my husband there, the very first week I started! I was the hostess with the mostess, he always jokes. And where else can you work and have pie for breakfast?
The beginnings of this soup is just broth, potatoes, onions and celery.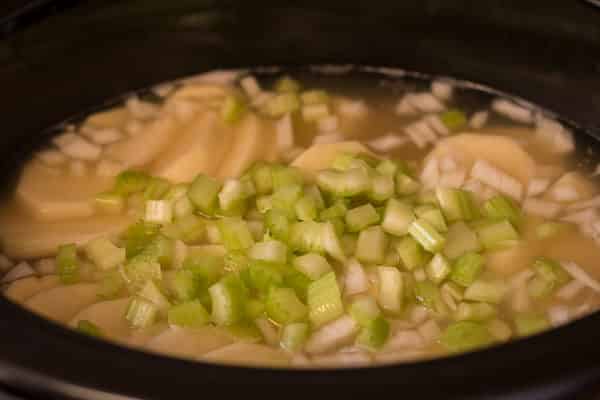 After the base of the soup cooks for 7-8 hours in the slow cooker, I add velveeta cheese, and sharp cheddar.  You will notice in the recipe that I did not add salt. There is plenty of salt in the velveeta and chicken broth.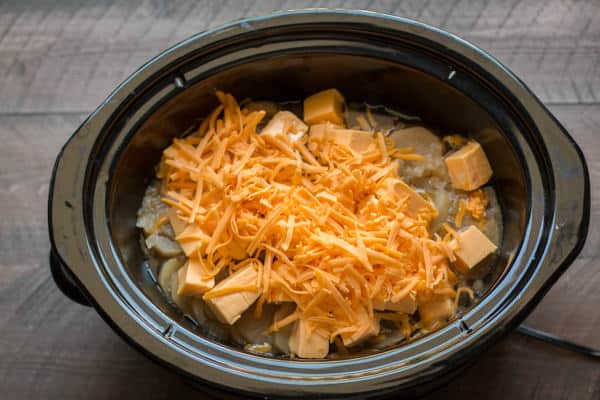 The soup turns out thick and creamy! Some of the potatoes get crushed when the cheese is stirred in, but that is a good thing. The crushed potatoes help thicken the soup.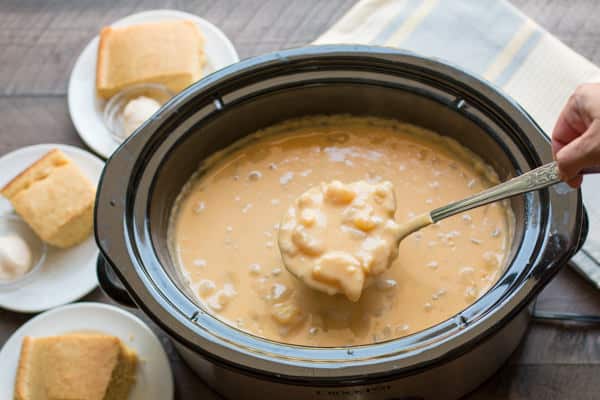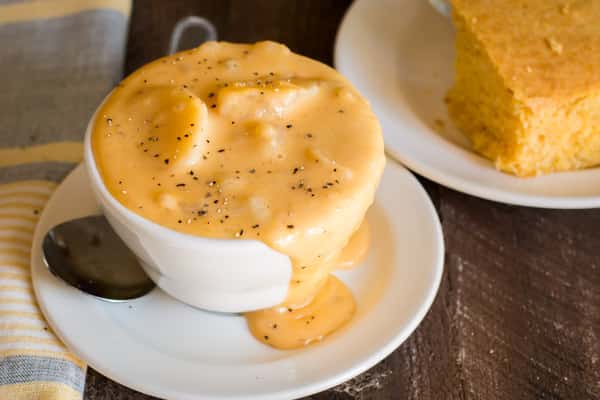 I made Krusteaz Southern Style cornbread, and honey butter to go with this. I haven't seen Marie Callender's cornbread for a while at the store, it may because I always grab the Krusteaz lately and don't notice any others.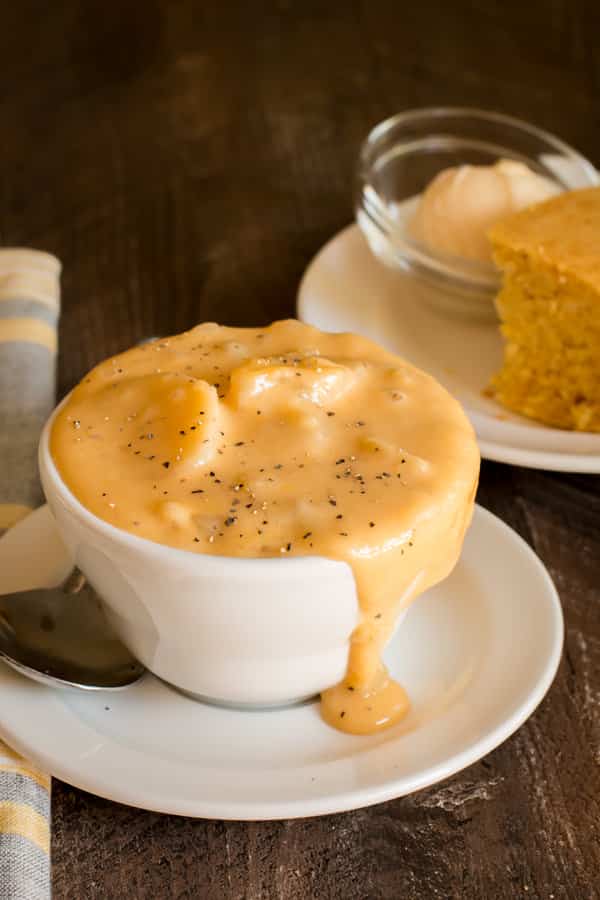 You will love this soup! I wasn't sure if I would like the soup with velveeta in it, but I think this is what most restaurants use because it really makes for a creamy cheesy soup. Have a great week!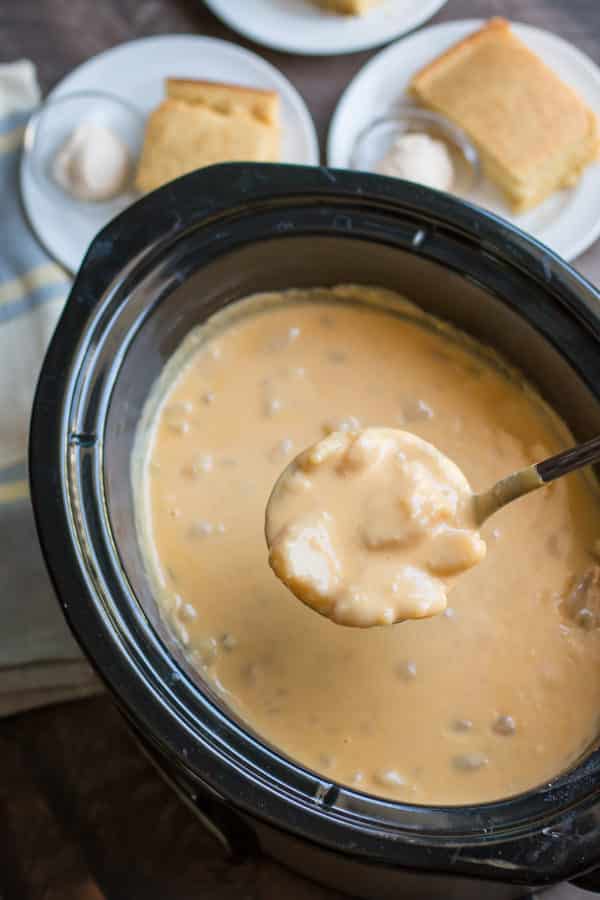 Total Time:
7
hours
25
minutes
Ingredients
1

32-oz. container chicken broth

6-7

cups

sliced and peeled potatoes

1/4 inch slice

1/2

cup

diced white onion

1.5

cups

diced celery
Add this add the end!
1

16-oz. pkg. velveeta cheese (this is the smaller box)

1

8-oz pkg. sharp cheese, grated (do not buy pre-shredded or it won't melt well)

cornbread and honey butter for serving
Instructions
Add the chicken broth, potatoes, onion, celery to the slow cooker. Cover and cook on LOW for 7-8 hours.

Cut the velveeta into small cubes, add that and the shredded sharp cheddar to the slow cooker, stir gently until the cheese melts. Some potatoes will break apart, this is ok because it will help thicken the soup.

Serve with cornbread and honey butter, enjoy!
I used my 6-quart Crock-Pot for this recipe, though a 5-quart or larger will work fine.
You may also like: Slow Cooker Copycat Chipotle Barbacoa