Hi all! Welcome to the second edition of vintage slow cooker recipe of the month. Every month I will be doing a vintage recipe that I have made in my slow cooker. This month's recipe is Six Layer Dinner. I found this recipe in a old cookbook called: Amish Country Cookbook Volume 2. The recipe I found for Six Layer Dinner in this book was not a slow cooker recipe, but I thought it would do well in the slow cooker. It's a fairly healthy recipe that is full of veggies.
I have some exciting news, I have started a YouTube channel! My first video on my channel is how to put together this Six Layer Dinner. It's more of a slide show than video, but it sure was fun to make! I have to credit learning how to do this from Todd Coleman at IFBC (International Food Blogging Conference). Todd Coleman taught a class on stop motion photography. Though I have a long way to go on my skills, I'm glad I took the time to put this video together. Crock Pot meals are fun to showcase in this style of video, it shows just how easy crock pot meals can be.
Below is the book I found the recipe in. I LOVE old cookbooks! I order them on ebay, I find them in thrift stores, and used book stores. I must stop buying them!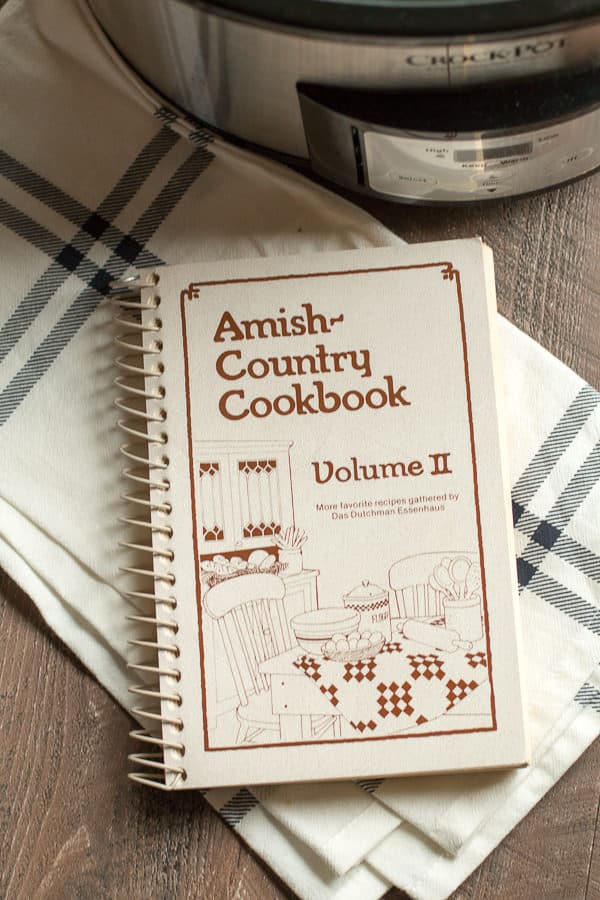 Here are what the layers look like below. I did add seasonings to the cooked ground beef. After the meat is cooked, and the veggies chopped this meal is layered together in a jiffy! The last layer is a can of cream of celery, but use your favorite! Next time I am going to try cream of chicken with herbs.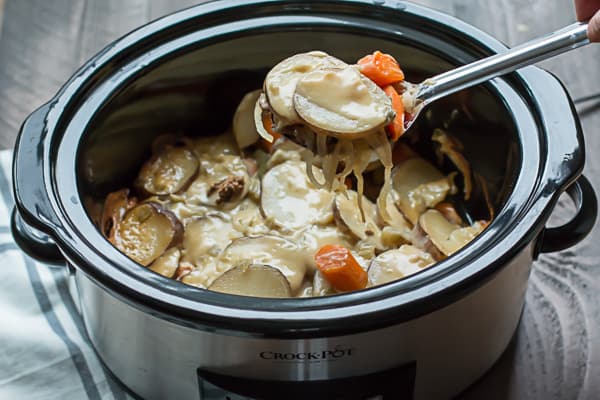 I used my 6-quart oval crock pot for this recipe.
Six Layer Dinner
Author:
Adapted from Amish Country Cookbook Volume 2
Ingredients
1 lb. ground beef
¼ tsp. salt
¼ tsp. pepper
¼ tsp. onion powder
1 cup sliced white onion
1 cup sliced celery
2 cups peeled and sliced carrots
2 cups sliced russet potatoes
1 (10.75-oz.) can cream of celery soup (do not add water)
Slow Cooker Size:
I used my 6-quart oval. But I do think this recipe would work in a 4-quart or larger slow cooker.
Instructions
Brown the ground beef in a skillet on the stove-top, drain. Add salt, pepper and onion powder to meat.
Layer the ingredients as shown. Beginning with the hamburger and ending with the cream of celery.
Cover and cook on LOW for 5 hours without opening the lid during the cooking time.
Serve and enjoy!
You may also like: Slow Cooker Chicken Paprika (Last month's vintage slow cooker recipe)