Not your average recipe today! I made this drool worthy Slow Cooker John Wayne Casserole for dinner the other night. I've wanted to try an oven version of John Wayne casserole for years, but never got around to doing it. I thought, why not make it in the slow cooker? The original John Wayne casserole recipe that I've seen is made with biscuit mix, but one of the reviewers on Food.com said that she had a version of this casserole made with tater tots at a restaurant. BINGO! That's how this recipe can be made perfectly in the slow cooker,  with tater tots. I have a beloved standard tater tot casserole recipe that I adore on my site, so I knew exactly how to assemble this new creation.
I started with a bag of tater tots in my slow cooker. Then I browned a pound of hamburger with bell pepper, onion and taco seasoning, I poured that meat mixture over the tots. Then I made a sour cream and cheese mixture with a bit of seasonings, and spread that on top of the meat. Cooked on LOW for 4.5 hours, and topped with more cheese, and I let that cheese melt. Then I served this delicious casserole with tomatoes on top. When I say this meal was the bomb, I mean it! I was seriously licking my plate! Try it, you'll love it!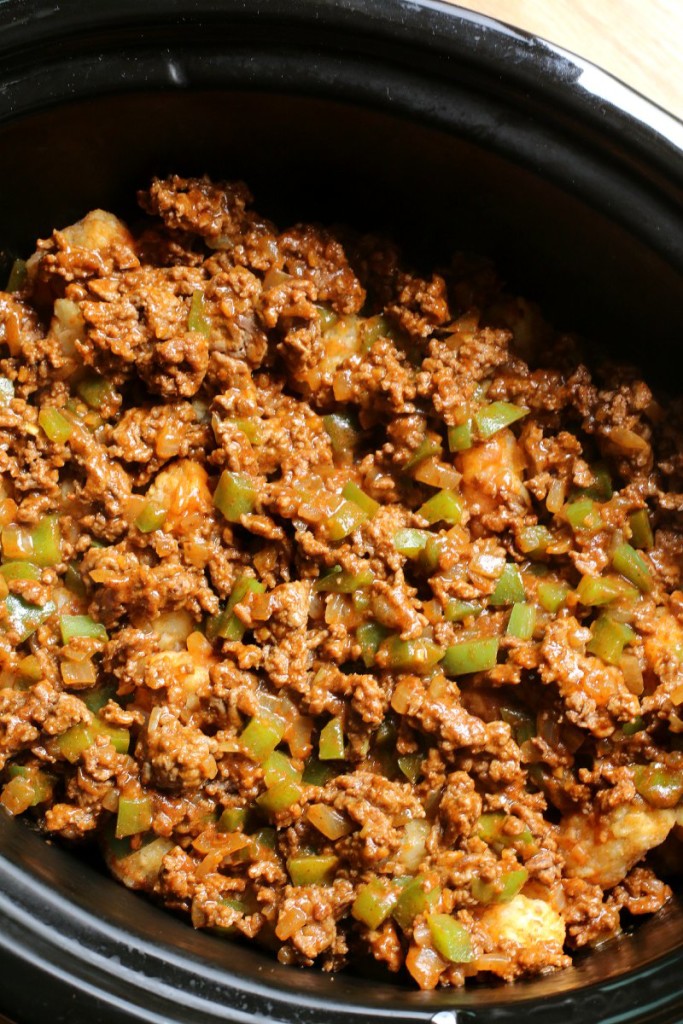 I wanted to do a shout-out to my favorite cheese company Tillamook. If you ever visit the Oregon coast you must visit the Tillamook Cheese Factory! We do it once a year. Tillamook was a sponsor at the Indulge Conference I went to this last weekend. We arrived in our hotel room to find that Tillamook stocked our mini fridge with cheese! That was possibly the best gift ever.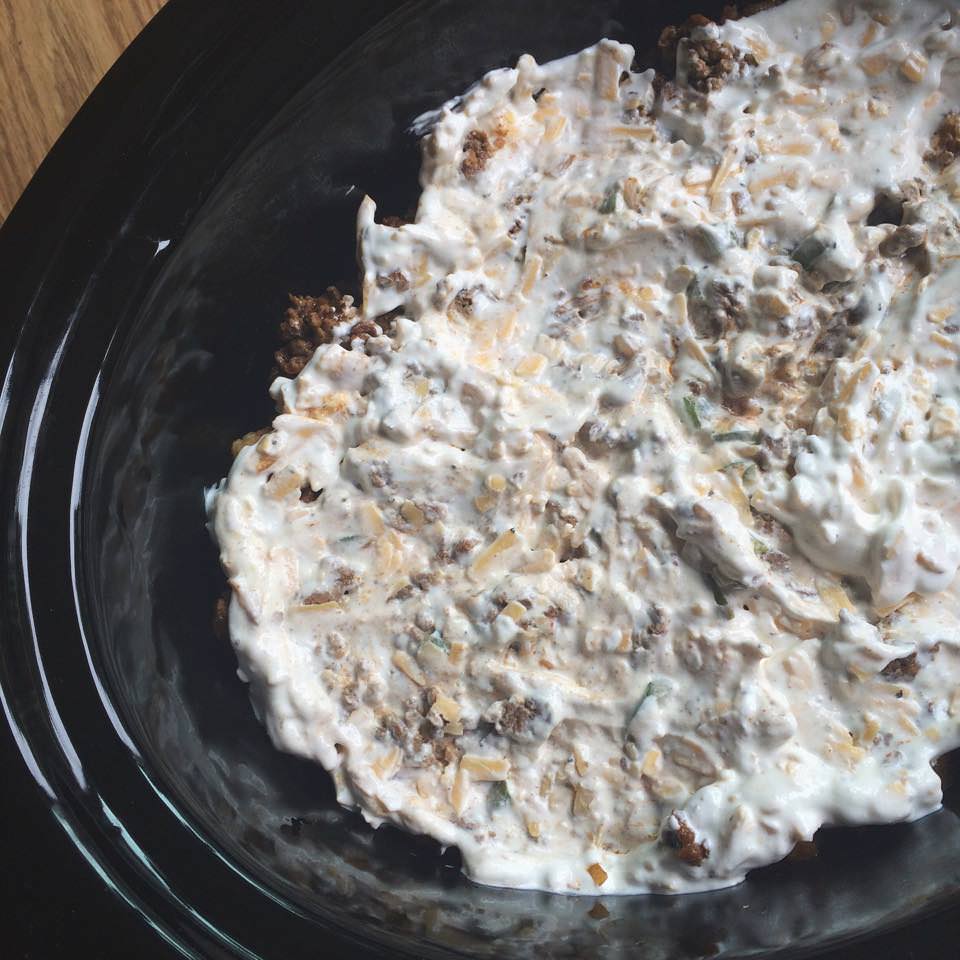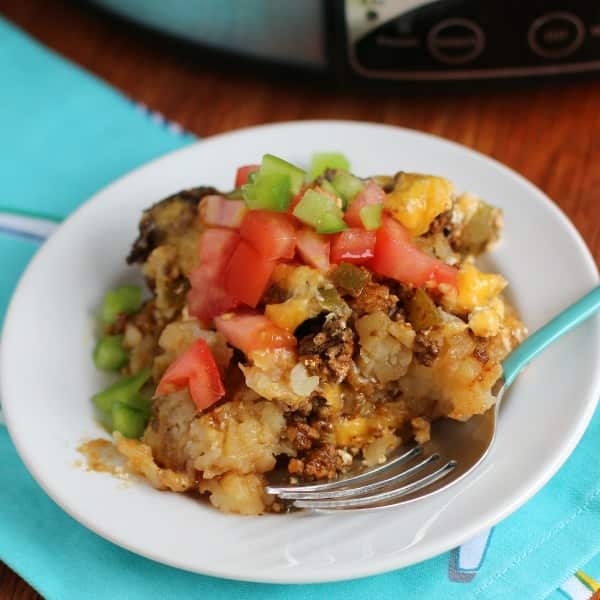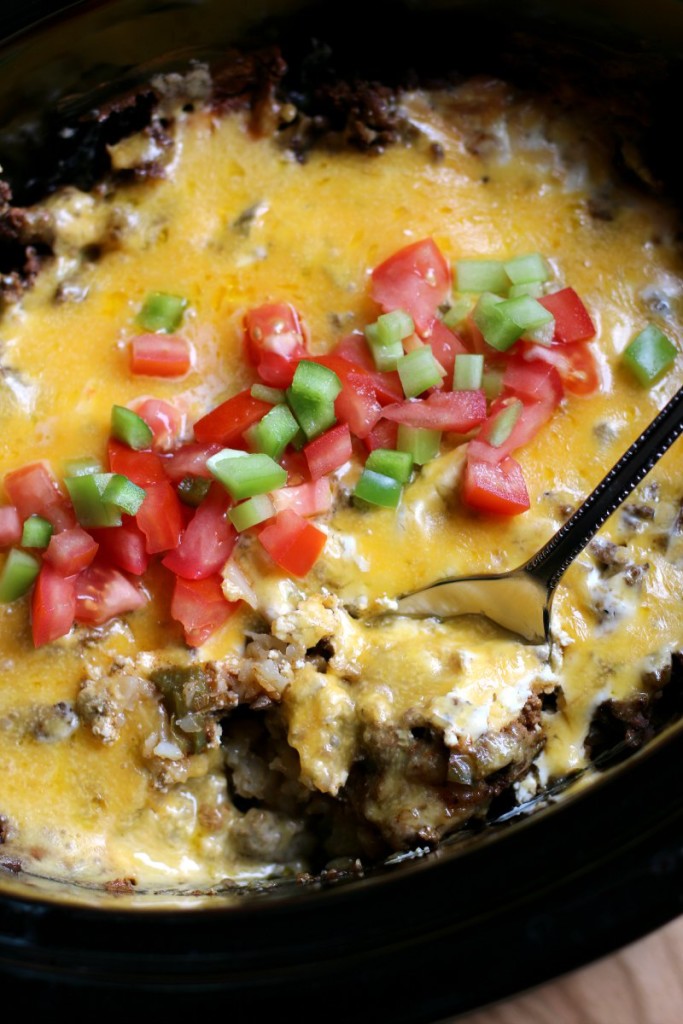 Update! I made a YouTube video of this recipe. I used Lawry's taco mix in the video because the store was out of McCormick. You can follow me on YouTube here.
Slow Cooker John Wayne Casserole
Ingredients
1 (32-oz.) bag tater tots (not thawed)
1 lb, ground beef
1 small yellow onion, diced
1 green bell pepper, diced
1 (1.5-oz.) pkg. taco mix (I use mild McCormick)
water (add the amount of water to the meat that the taco mix says to add, ¾ cup is what my packet said)
1 cup sour cream
1 (8-oz.) pkg. sharp cheddar cheese (divided, half in sour cream mixture and half on top at the end)
⅛ tsp. salt
¼ tsp. pepper
½ tsp. onion powder
diced tomatoes for servings (about 2 small tomatoes)
Instructions
Spray a 6-quart oval slow cooker with non-stick spray. Add the tater tots down in a single layer. Set aside.
In a large skillet, set over medium high heat, brown the hamburger, onions and bell pepper. When the meat is browned, drain the fat. Add the amount of water the taco packet says to add to the meat (my packet said to add ¾ cup). Add the taco packet, and continue cooking and stirring until the meat and the seasoning has thickened.
Pour the meat mixture over the tater tots in the slow cooker.
In a medium sized bowl add the sour cream, salt, pepper, onion powder, and half of the cheese (this is about a heaping cup of shredded cheese, save the other half to top the casserole at the end.)
Spread this sour cream cheese mixture over the meat mixture in the slow cooker.
Cover and cook on LOW for 4.5 hours, without opening the lid during the cooking time.
After the cooking time is up add the remaining cheese evenly over the casserole.
Cover and let the cheese melt, this will only take about 5-10 minutes.
To serve, top with diced tomatoes.
Enjoy!
Recipe adapted from Food.com