There are so many recipes for chili floating around out there, which is why I wanted to round up this list of my Best Slow Cooker Chili Recipes. Learn how to make homemade chili packed with great flavor. All you need to do is pick your favorite chili recipe from below, cook it, and add your favorite toppings!
What is the Best Chili Recipe?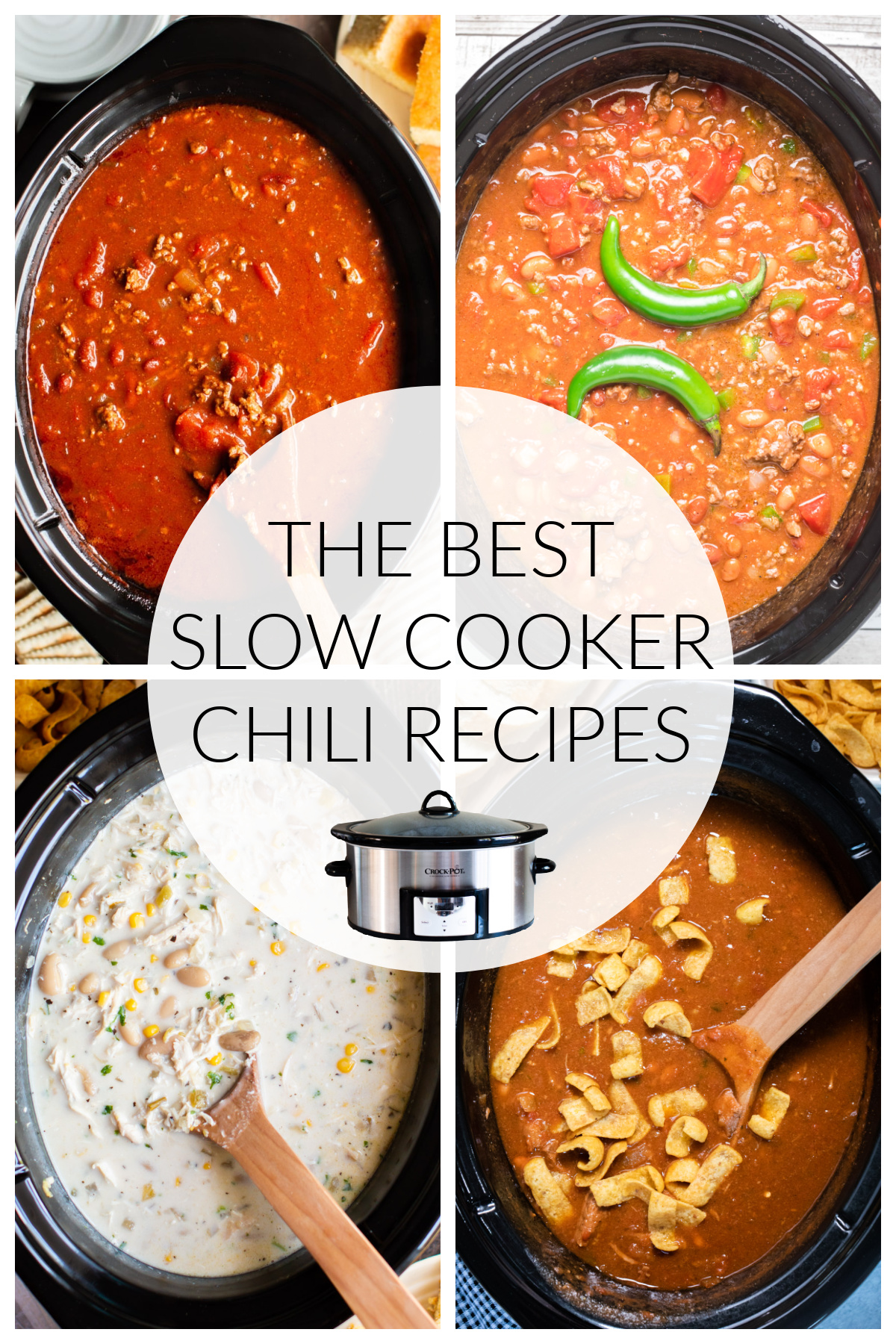 There's no doubt that a good bowl of chili is one of the best comfort foods for those cold-weather nights. So, when you're looking for a hearty meal to add to your next meal plan, try one of these amazing-tasting chili recipes. I know you'll find the best chili recipe below!
Add a twist to your chili-making skills with this take of the popular white chicken chili. It's packed with shredded chicken, white beans, corn, and all of the classic chili seasonings.
The delicious flavors of this chili pair well with small Frito chips, corn chips, homemade cornbread, green onions and diced avocado – all served in your favorite chili bowl.
If you're looking to switch things up, this chili makes for the perfect weeknight meal. And if you just so happen to have leftovers, store them in an airtight container for later.
Getting all of your veggies isn't a problem at all with this chili recipe since you're using V8 juice instead of traditional tomato sauce. The V8 juice alone has 8 different vegetables in it, which all blend well when it comes to making flavorful chili.
In addition to a large bottle of V8 juice, this chili calls for ground beef, stewed tomatoes, kidney beans, and just a few seasonings.
This chili yields plenty of servings to enjoy seconds, share with others, and/or freeze the leftover chili for later.
Just by the recipe name alone, you can probably guess that this chili is a good, hearty meal. It's "chucked" full of ground beef, white onion, bell pepper, pinto beans, and a host of chili seasonings.
And that's not all. The secret flavor touches to this chuck wagon ground beef chili are the Worcestershire sauce, brown sugar, and beer.
Looking to win a chili-tasting contest or please a crowd? This slow cooker chuck wagon chili is the one to try.
Who doesn't love a trip to the steakhouse? Now, you can bring the steakhouse to your kitchen by means of a unique and flavorful steak house chili.
Instead of ground beef, you'll use steak or stew meat in addition to beef broth, tomato paste, and pinto beans.
What makes this best chili recipe most unique? Taco seasoning and fresh salsa give it a festive kick you'll never see coming until you take a bite. The smell while it's cooking may give it away, but once you taste it, you'll know why it's one of the top choices in this roundup.
Making a batch of pumpkin chili is the perfect way to embrace the flavors of the season (especially during the fall). It harnesses all the pumpkin flavors thanks to the pumpkin puree and pumpkin pie spice.
And if you enjoy your chili a little on the warm side, this recipe also has the option for adding habanero pepper.
The versatility doesn't stop at adding heat or not. You can also easily substitute the ground beef for ground turkey for a chili that's just as yummy.
If you've been dodging chili altogether because of most recipes being meat-packed, this one is for you.
Enjoy chili flavors but without any meat in this vegetarian chili. It's loaded with chili-style veggies (bell peppers, chili peppers, and chopped onions) along with pinto beans, tomato juice, and seasonings.
Meatless Monday just got a lot easier with this vegetarian chili recipe.
Ground turkey, veggies, beans, and chili seasonings – yes, please! Where's the "chipotle," you ask? Ground cumin, chili powder, and garlic add their own kick of flavor, but it's the chipotle peppers in adobo that bring it all together.
This dump-and-go recipe is perfect for game days, family gatherings, or potlucks. Everyone will enjoy you twist on traditional chili.
Be sure to have a few toppings on the side, such as sour cream, diced green onion, diced tomatoes, fresh jalapeño, chopped onion, and salt and pepper for extra seasoning.
Get ready to bring the heat with special spices in this slow cooker hot chili. You'll create a hot sauce with the combination of serrano chiles, red pepper flakes, chili powder, garlic powder, and a host of beans and tomatoes. And don't forget the ground meat.
This chili is far from boring so be sure to serve it with a glass of milk to help soothe the heat (unless you can handle it).
The heat is also adjustable by adding the serrano peppers whole and cutting the amount of red pepper flakes. The toppings you choose to add can also help dial the heat down some as well. This recipe definitely gets 5 stars in my book!
This is another chili recipe that features ground chicken (or ground turkey), jalapenos, white beans, bacon, and classic seasonings you find in chili.
The biggest difference you'll notice is the use of fire roasted tomatoes, which packs a special flavor of its own, and ranch mix.
All of these flavors combined creates a unique chili taste. Don't forget to add the shredded cheddar cheese and fresh jalapeno for garnish. You can even add ground beef to give it even more meaty heartiness.
Don't like beans? No worries! This Slow Cooker Texas No Bean Chili leaves out the beans but compensates by adding a big helping of stew meat and sweet onions.
It also calls for cayenne pepper, which can make it pretty spicy so it's up to you to add it as-is, cut it down, or leave it out altogether.
The delicious Texas-style flavor comes from the cumin, oregano, Anaheim pepper, garlic cloves, and beef broth. Doesn't that all sound amazing?
Have you ever eaten Wendy's chili and asked yourself how they make it? Here's your chance to reinvent their amazing chili, down to the ground beef.
Something unique to know about Wendy's chili is their use of natural ingredients. When taking in a big spoonful, you'll notice the large bites of beef, tomatoes, onions, and red kidney beans.
There are also some less noticeable ingredients like celery, onion powder, and an original chili mix. If you've ever wanted to recreate the delicious Wendy's chili, now's your chance.
Enjoy the flavors of an authentic Mexican enchilada but in chili form. The Mexican twist comes from the enchilada sauce and Mexican-style stewed tomatoes as well as the topping choices.
For this festive chili meal, it's best served with tortilla chips, colby jack cheese, lime wedges, and fresh avocado.
Serve Slow Cooker Beef Enchilada Chili on your next taco bar or when you're looking to switch things up for Taco Tuesday.