This Slow Cooker Chicken with Bacon gravy is wonderful served over mashed potatoes!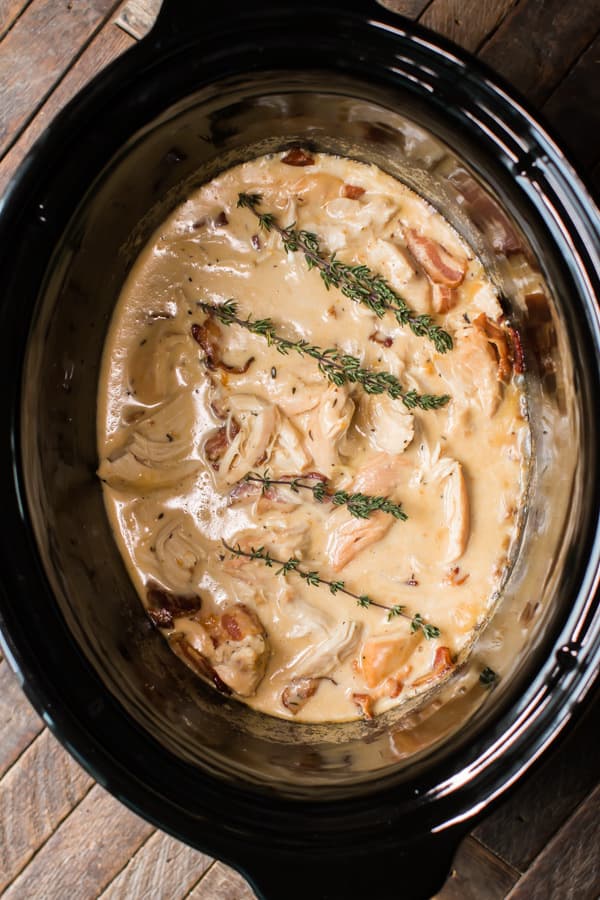 You may have seen my other recipe for chicken and gravy. It's always been a great basic recipe for adding extra ingredients to. I've had readers add potatoes, carrots and even mushrooms, but never bacon. The idea for this recipe came to me when I had a delicious crispy breaded chicken with bacon gravy the other night at our favorite restaurant, though I can't do crispy chicken in the slow cooker I sure can do the chicken and bacon gravy!
I start with chicken breasts, pepper, thyme, garlic and of course bacon.
Then I add 2 packets of chicken gravy and water. Note that I  do not use all the water that the packets call for, I use 1 1/4 cups instead of the 2 cups. The reason being is the chicken will let off liquid and I will be adding cream after the chicken has finished cooking.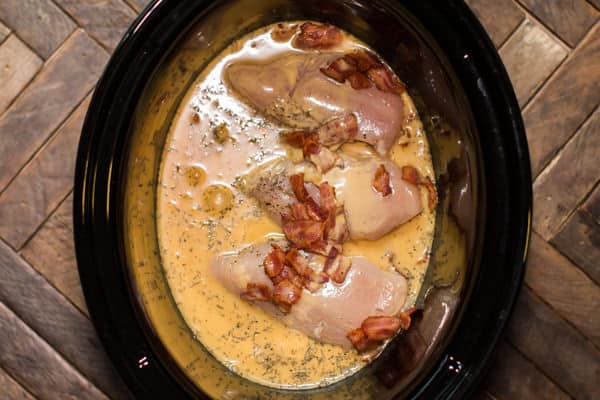 Below is what the chicken and gravy looks like after cooking for 3.5 hours on high.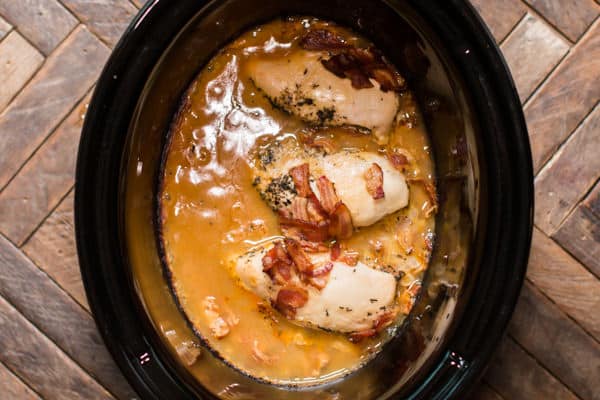 Then I add heavy cream and shred the chicken with 2 forks.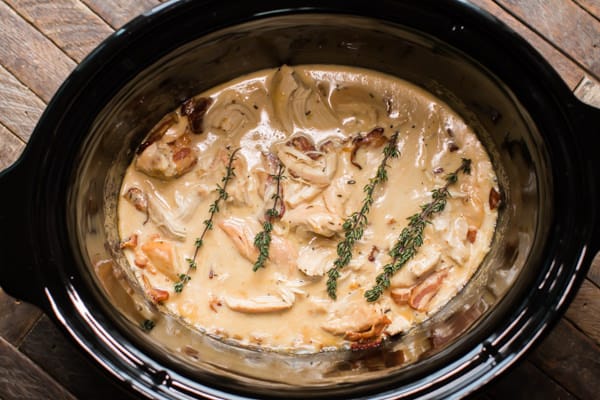 I serve this with mashed potatoes and green beans. The gravy is very creamy and has a smoky flavor from the bacon.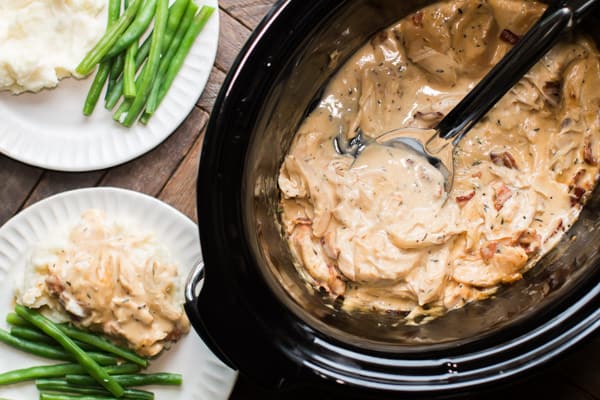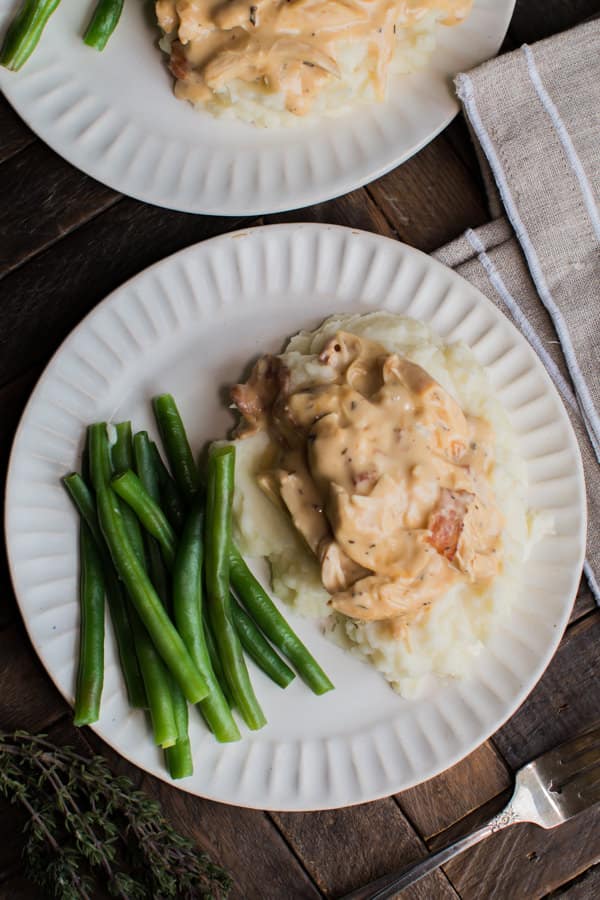 Here is my YouTube video of the making of this meal, very easy to make! You can follow me on YouTube here.
This would be good over rice too! I hope you like this recipe and give it a try. I will be back on Monday with another great recipe.

Slow Cooker Chicken with Bacon Gravy
Ingredients
1.5 lbs. boneless skinless chicken breasts
¼ tsp. pepper
1 tsp. dried thyme
1 tsp. minced garlic
6 slices bacon, sliced and cooked
2 (0.87-oz.) packets chicken gravy dry mix
1¼ cup water <<<<< that's all, not the amount of water the gravy packets say
⅔ cup heavy cream (ADD AT THE END)
Slow Cooker Size:
Instructions
Add the chicken to the slow cooker. Sprinkle over the pepper, thyme, garlic and bacon.
In a small bowl mix together the gravy mix packet and the 1¼ cup water until smooth. Pour the gravy over the chicken.
Cover and cook on HIGH for 3.5 hours without opening the lid during the cooking time.
When the cooking time is done, add the heavy cream. Shred the chicken with 2 forks and give everything a gentle stir until the gravy and the cream are mixed.
Serve over rice or mashed potatoes.
Enjoy!
I used my
6.5 quart Touch Screen Crock-Pot®
for this recipe. Though a 3-quart or larger can be used just fine.
You may also like: Slow Cooker Garlic Butter Chicken with Veggies