This Slow Cooker Southwestern Cheesy Chicken Pasta was a hit! Just a few simple ingredients thrown in the slow cooker in the morning, when I was ready to serve dinner I shredded the chicken, then stirred in cheese, sour cream and cooked shell pasta. How easy is that? I love an unexpected dinner, I've seen very few pasta dishes with this type of flavor.
It has been about 2 weeks since I quit my job delivering mail at the post office. I love being able to work on my blog more, but really where does the time go during the day. I feel like I never can get the dishes or laundry done!  My favorite thing so far is being able watch a movie with my daughter that she has never seen, or deciding on a whim to go swimming or to the playground. Though most of my day is not spent relaxing and sitting around like I imagined, I feel like I made the right decision to stay home and a make the blog my full-time job.
Oh, this random picture below is the pasta I used in this recipe. If you can find it, I highly recommend getting it (I am not getting paid to recommend it!) Though the makers of this imported pasta would cringe about my dump and go southwestern recipe I used their pasta with, I really loved the texture of it, it's a little thicker than normal pasta so you really can sink your teeth into it. I got this pasta at Fred Meyer (same as Kroger).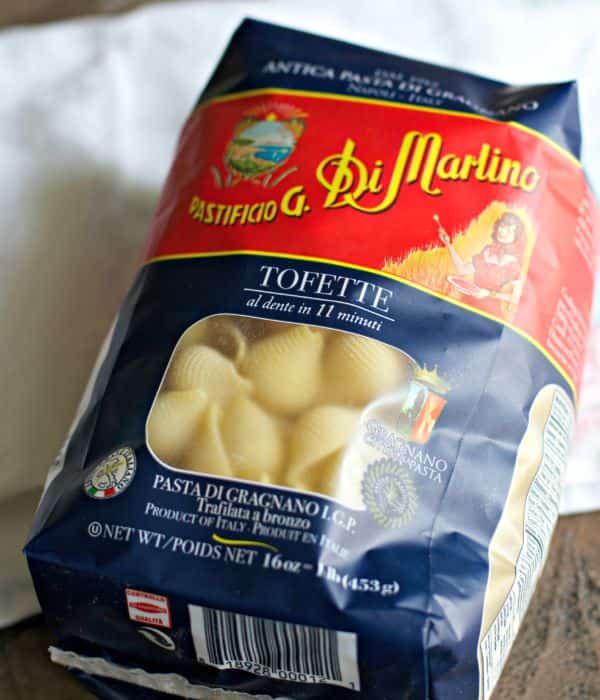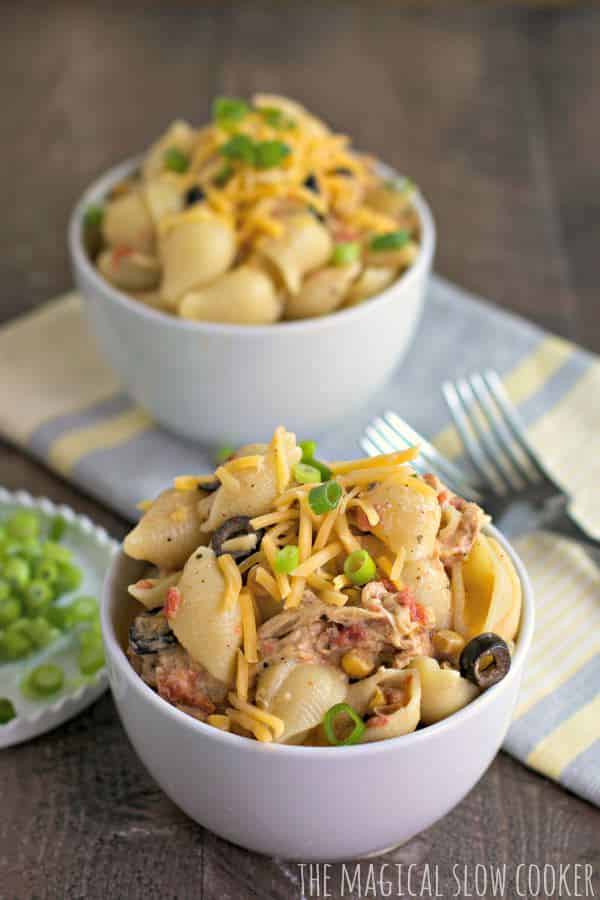 Southwestern Cheesy Chicken and Pasta
Ingredients
2 (10-oz.) cans Rotel
1 (11-oz.) can Mexicorn (or a can of southwestern corn mix), drained
1 (3.8-oz.) can olives, drained
1 tsp. chili powder
½ tsp. oregano
½ tsp. salt
¼ tsp. pepper
¼ tsp. cumin
1.5- 2 lbs. boneless skin-less chicken breasts
2 cups shredded sharp cheddar cheese (8 ounces)
1½ cups sour cream
1 pound medium-sized shell pasta, cooked according to package directions, drained
For Serving
Additional shredded cheese
Sliced green onions
Instructions
Add the Rotel, Mexicorn, olives, chili powder, oregano, salt, pepper and cumin to a 6-quart slow cooker, stir. Add the chicken into this mixture.
Cover and cook on LOW for 8 hours.
Shred the chicken with 2 forks right in the slow cooker.
Stir in the cheese and sour cream, then stir in the cooked and drained pasta.
Serve each serving with a sprinkle of more cheese, and then a sprinkle of green onion.
Enjoy!