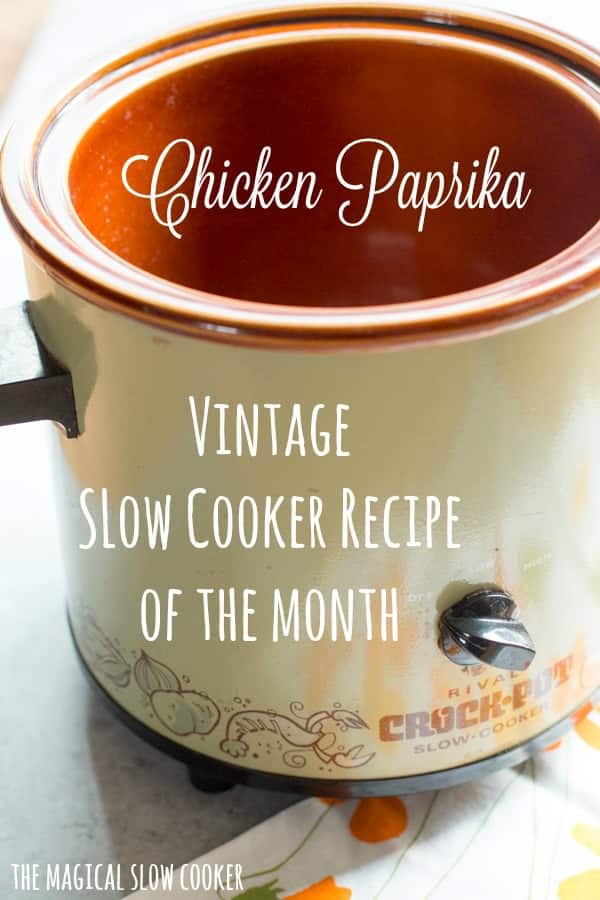 Hi Slow Cooker Friends! Welcome to the first recipe in my new monthly blog post. I will be featuring a vintage recipe from old cookbooks, or recipes from way back that I've converted to slow cooker recipes, once a month here on the blog.
This months recipe is chicken paprika. I had no idea how a recipe with this much paprika would taste like. Not bad, not bad at all. It gave it a mild spice flavor, but overall just added to the deliciousness of the chicken. This recipe tastes like a chicken stroganoff bursting with flavor since I used skin-on chicken thighs. The magic actually came into effect when I stirred in the sour cream. I served this chicken paprika over store bought wide egg noodles, though traditionally this dish is served with spätzle. I didn't want (have time) to make spätzle, but I now know that packaged spätzle can be bought at the store!
Look at all that color! I have never made such a bright colored sauce in my life!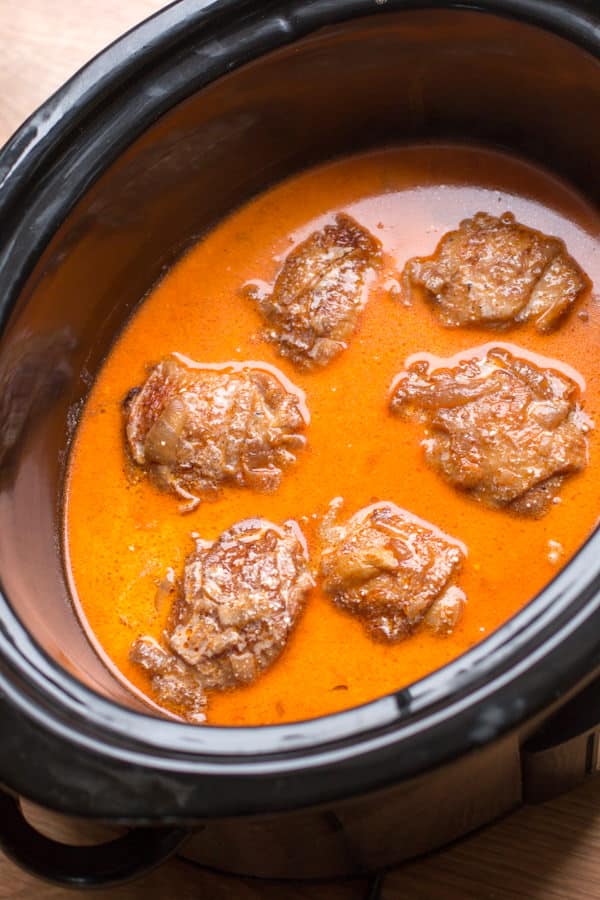 Mmmm. This chicken and sauce goes perfectly over wide egg noodles. Crusty bread is also good with this, to soak up all that sauce!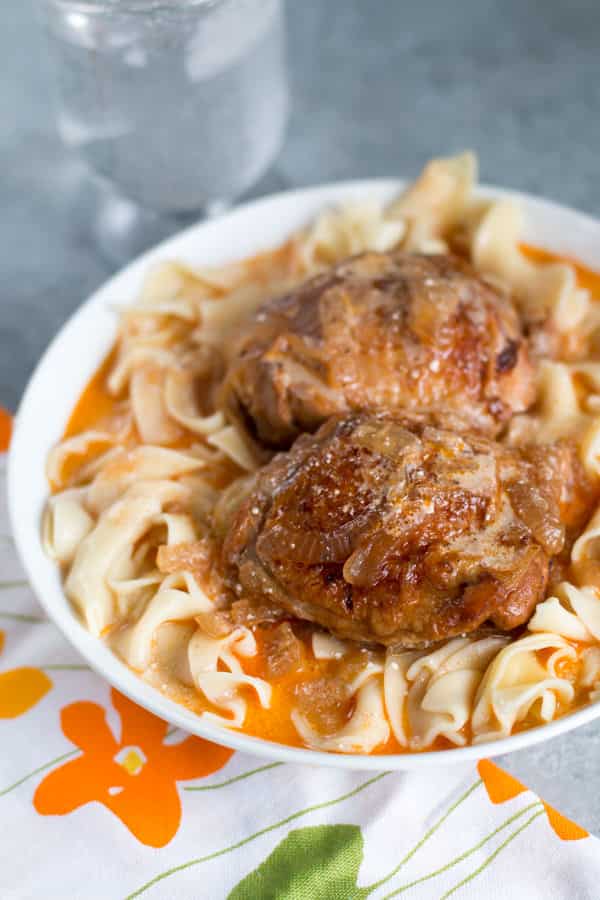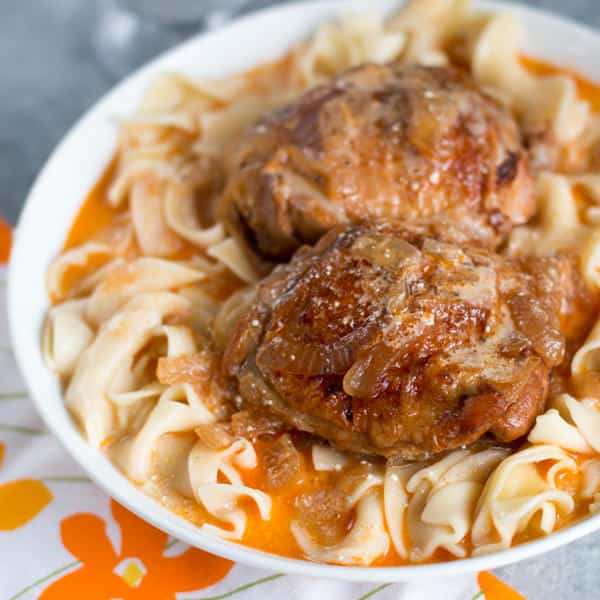 Note- I did not use that vintage green crock pot in the first photo above to prepare this recipe, I got that beauty used on eBay, the lid came broken, it smelled funny and the cord has seen better days. I used my 6-quart oval slow cooker that is not 40+ years old.
I hope you come back next month to see what vintage recipe I picked to slow cook. Have a great week!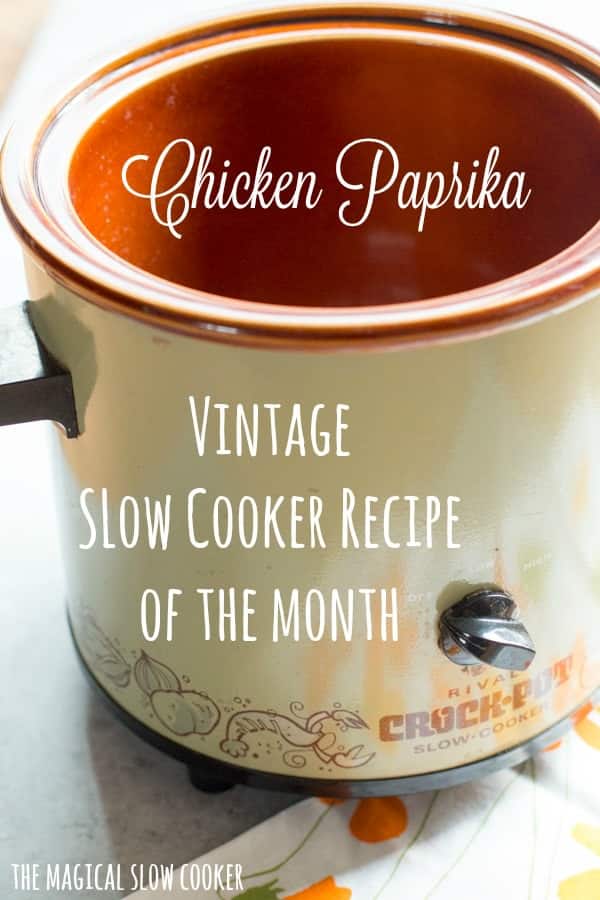 Total Time:
5
hours
15
minutes
Ingredients
2.5

pounds

bone-in

skin-on chicken thighs

1

tsp.

salt

1/4

tsp.

pepper

2

Tbsp.

butter

1

large onion sliced

1

14-oz. can chicken broth

2

tsp.

Hungarian sweet paprika

3/4

cup

sour cream

ADD THIS AT THE END
Instructions
Sprinkle the chicken with the salt and pepper. Set a large skillet to medium heat, add the butter. When the pan is hot, brown the chicken on both sides, no need to cook through. Take off the heat.

Add the onion, chicken broth and paprika to the slow cooker and stir. Using tongs add the chicken to the slow cooker into the paprika sauce.

Cover and cook on LOW for 5 hours without opening the lid during the cooking time.

When the cooking time is through and you are ready to serve dinner, cook the noodles on the stove top.

Remove the chicken on to a plate. Add the sour cream to the sauce in the slow cooker and stir until you get as smooth as possible.

Add the chicken back to the slow cooker in to the sauce.

Serve over noodles and enjoy.
You may also like: Slow Cooker Hot German Potato Salad