Traditional ingredients of thick chunks of tender beef, onions, garlic, and paprika are the highlights of this authentic-tasting Slow Cooker Hungarian Goulash recipe. This comfort food is absolutely delicious and one the entire family is sure to love.
If you're looking for more beef recipes with an international flare, you'll love my Slow Cooker Beef Gyros and Slow Cooker Birria Tacos.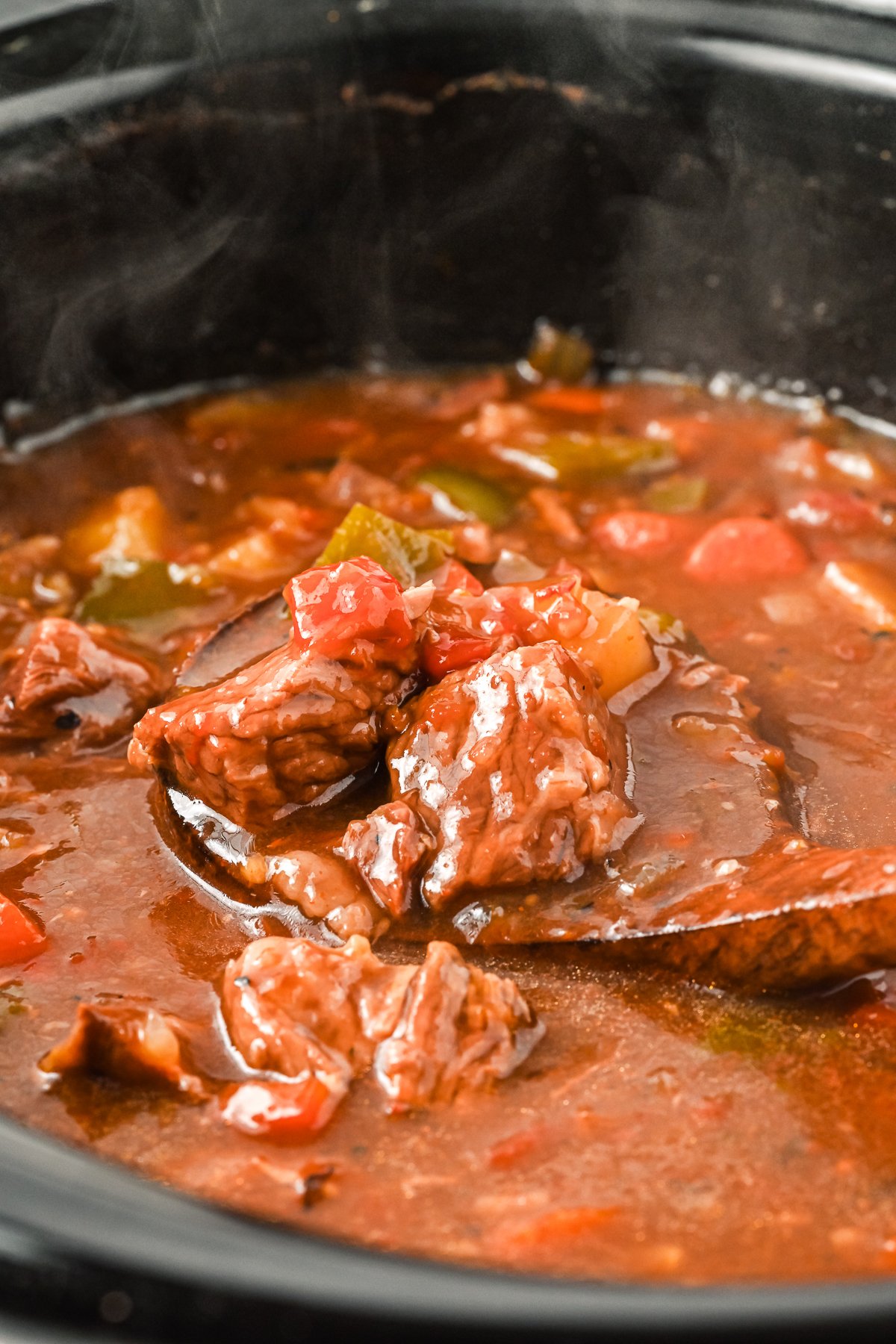 What is the difference between Hungarian Goulash and American Goulash?
Traditional Hungarian goulash is very different than American style goulash. Instead of the ground beef and elbow macaroni dish like American goulash also known as American Chop Suey, traditional Hungarian goulash is a rich and flavorful stew that transports your taste buds back to the old world.
American goulash tends to have a more mild and somewhat sweeter flavor (from the often used condensed tomato soup) whereas Hungarian goulash has a bolder and deeper flavor. When thinking of the American version, (which is delicious), think of more of a commercial boxed meal prep item. So…
What is Goulash?
Authentic Hungarian goulash or gulyás is probably one of the most famous Hungarian dishes, no probably the most famous dish in all of Hungarian cuisine, that started as a delicious beef stew with onions, garlic, and sweet Hungarian paprika. However, after the introduction of tomatoes from the new world, they became a modern staple to this authentic recipe.
Bell peppers and potatoes were also later additions but are now viewed as crucial to the dish.
Sour cream was also introduced later from the Germans and is now essential to most goulash recipes.
Recipe Ingredients
Beef Stew Meat: You can purchase a beef chuck roast and cube it yourself or pick up a pack of already cubed stew meat.
Bell Peppers: We used both a green and a red bell pepper cut into one-inch chunks. But you can use any color bell peppers you want.
Onion: Yellow or sweet onions are great in this recipe.
Beef Broth: We used low-sodium beef broth so we could control the saltiness of the dish.
Tomato Products: Skip the prep of slicing fresh tomatoes and use both crushed tomatoes and tomato paste. (We'll tell you later how to use tomato sauce and diced tomatoes.)
Fresh Produce: Carrots and potatoes (we used russet) that are cute into bite-size pieces.
Flour: The stew beef will be tossed in flour and seasonings before cooking which will help thicken the sauce.
Herbs and seasonings: Caraway seeds, marjoram, Hungarian sweet paprika, fresh minced garlic cloves, salt, and black pepper are essential to this recipe, but you can use some hot paprika if you like things on the spicy side. Chopped fresh parsley adds a brightness to the deep flavors of this recipe. Also bay leaves, fresh or dried.
Sour Cream: technically this item is optional but really, use it; it makes the dish ascend to the next level in flavor.
Step-by-Step Directions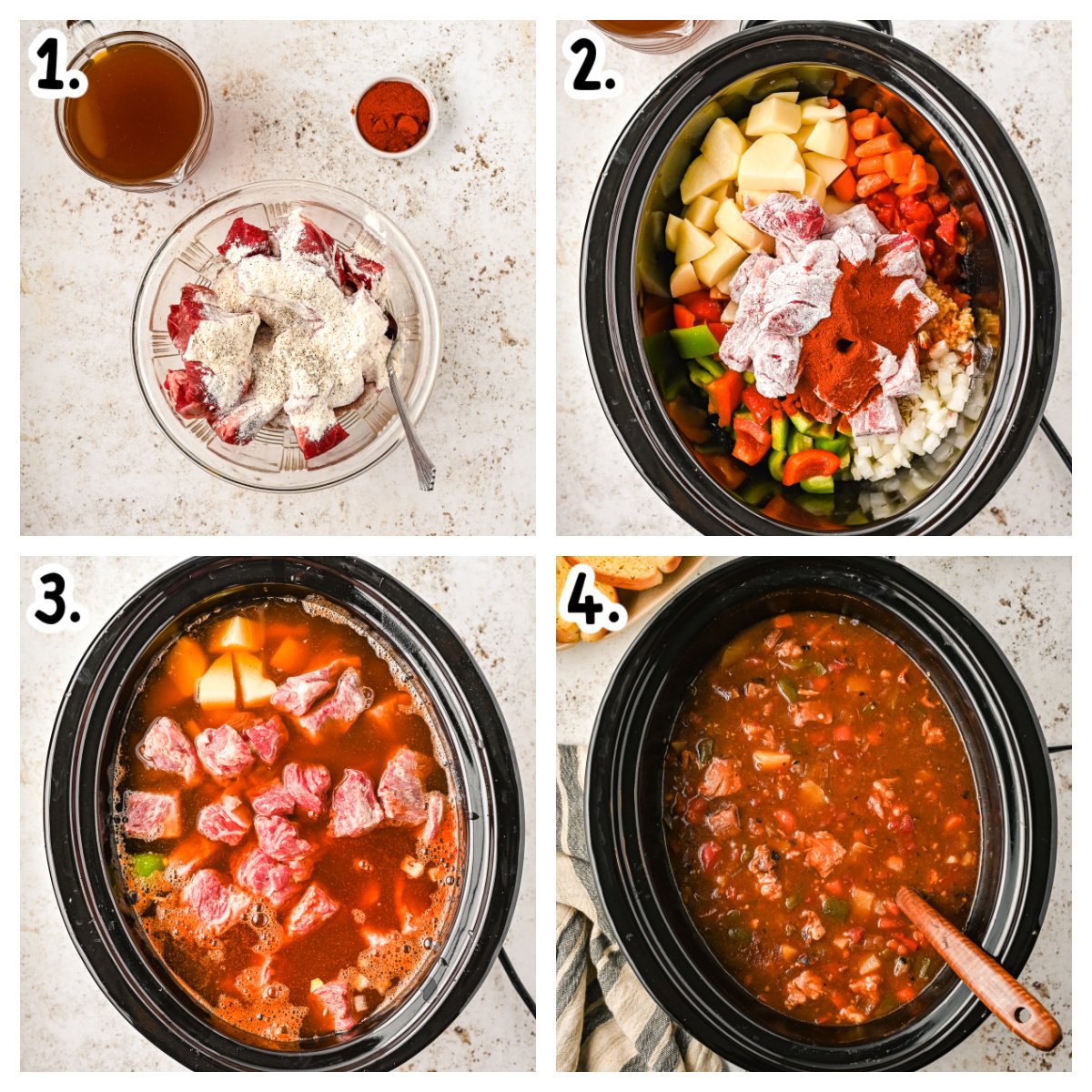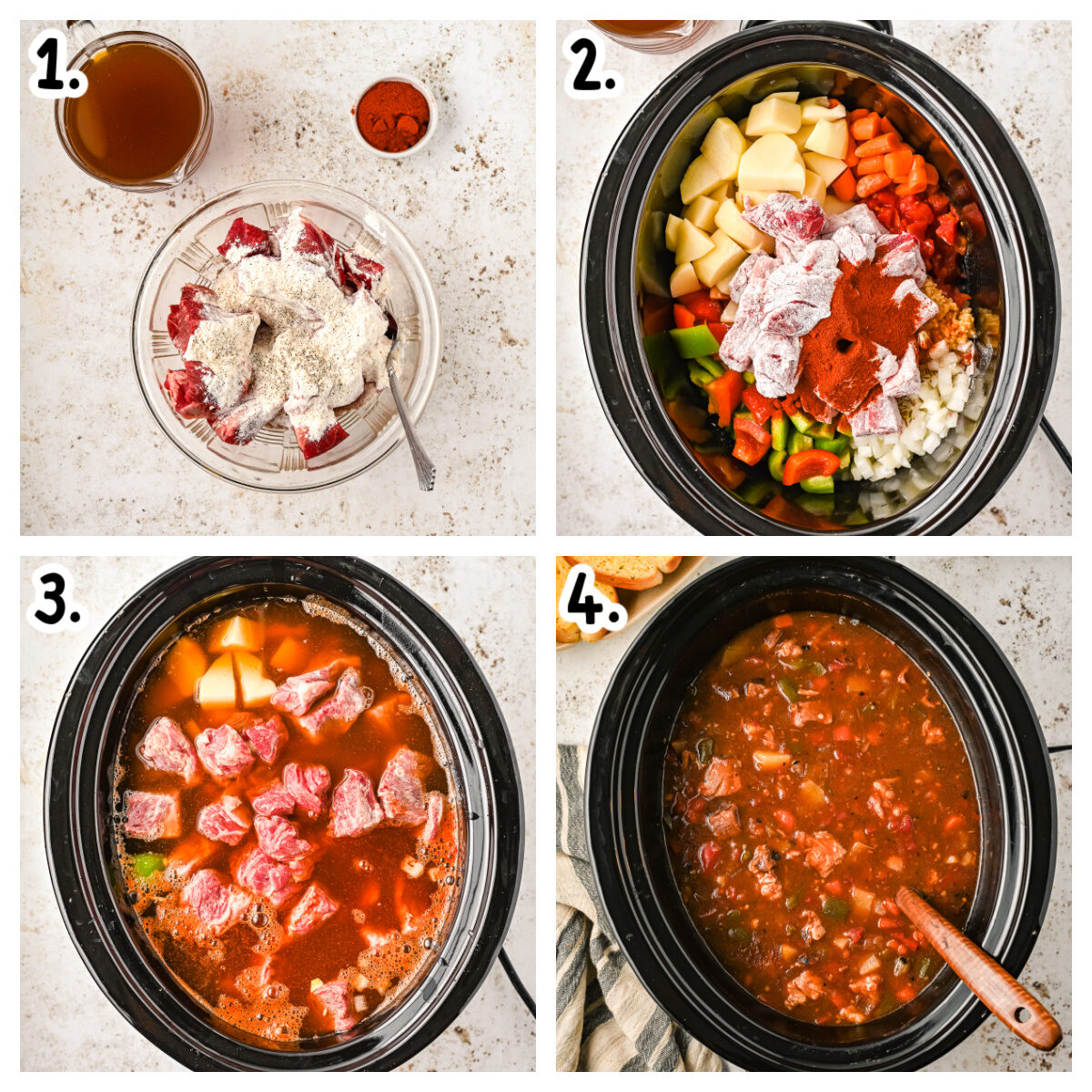 Step One – Place the stew meat in a bowl and toss with the flour, salt, and pepper until coated. There may be some residual flour, that's ok, it will help thicken the dish later.
Step Two – Add the beef to the slow cooker, then add the crushed tomatoes, potatoes, carrots, red and green pepper, onion, sweet paprika, garlic, marjoram, parsley, and caraway seed.
Step Three – Pour in the beef broth. Toss in the bay leaves.
Step Four – Cover and cook on HIGH for 6 hours or LOW heat for 9 hours (beef and potatoes should be fork tender). Remove a cup or so of the liquid during the last 30 minutes to a medium size bowl, whisk in the tomato paste until smooth. Return this to the slow cooker. Taste! Add the remaining teaspoon of salt if needed and cook for the remaining time.
**Add the sour cream if using during the last 5 minutes by removing a cup of the broth and slowly mixing in the sour creaming. This will temper it and allow it NOT to curdle. Once mixed in, add it all back to the slow cooker, stir, serve, and enjoy! To be special, you can serve over egg noodles and garnish with additional chopped parsley.
** If too thick, you can always use additional beef broth to make this the most delicious comfort food you've had in awhile.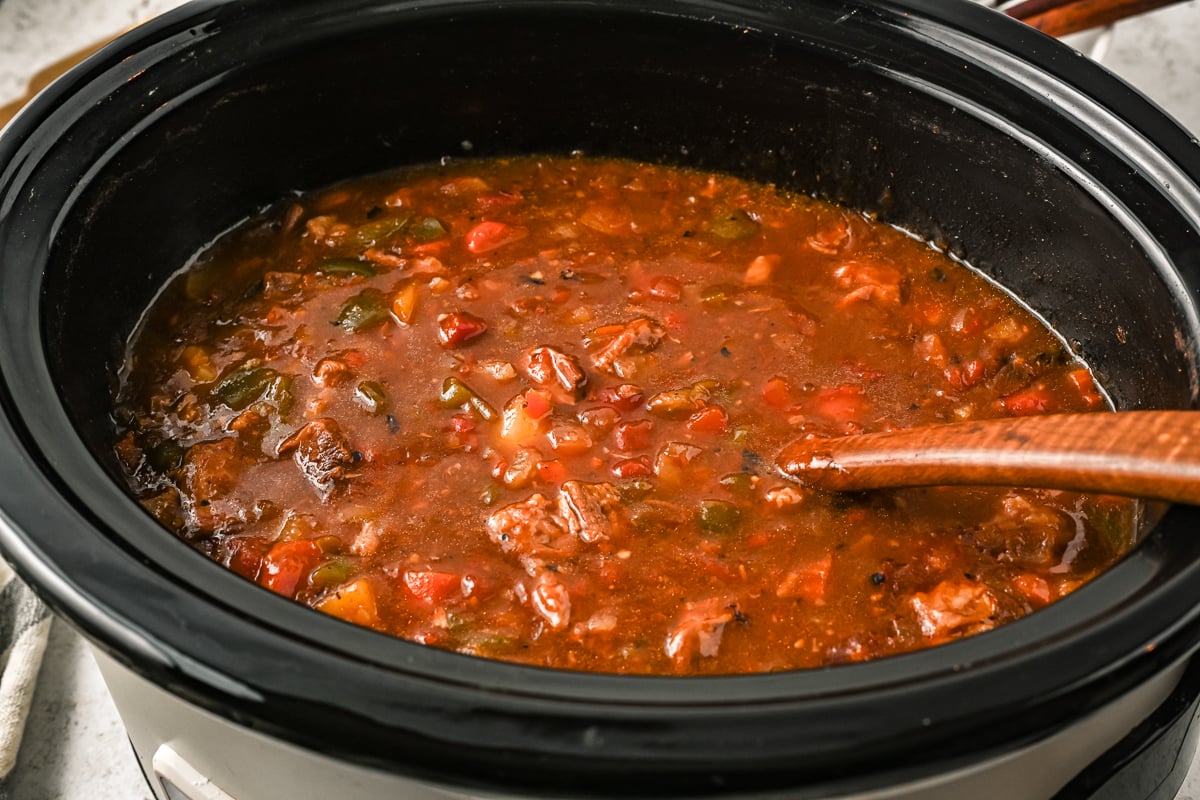 How to serve
If you want to add some carbs, one of the best ways to serve this hearty comfort food is over buttered egg noodles. Although mashed potatoes are amazing too.
When it comes to bread selections, you can't go wrong with crusty bread, Texas toast, or even dinner rolls.
To pair this dish, a light Italian-style salad with romaine, olive, peppers, and cheese is always a hit.
Pinot Noir goes well with this recipe. However if you're using hot Hungarian paprika, a semi Riesling or Gewurztraminer is best.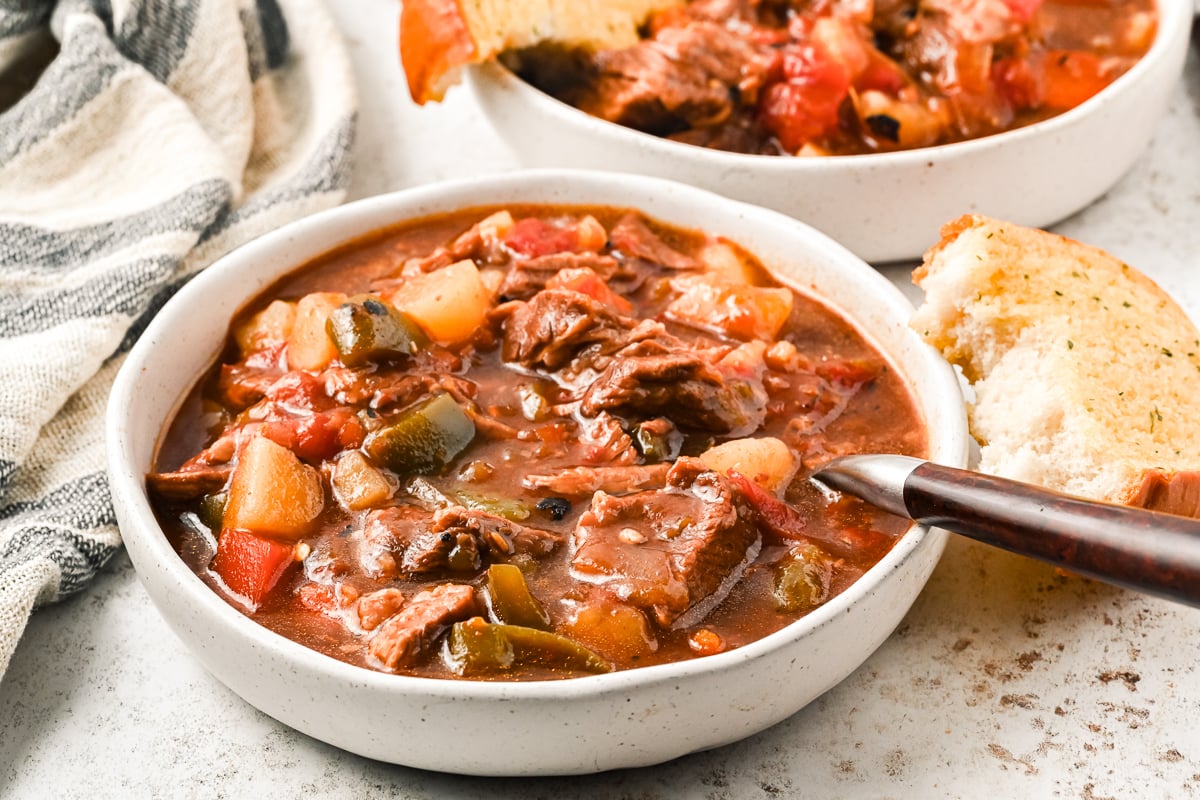 Adaptations
We're all about the slow cooker (Crockpot) and the toss it in and go recipes. We love them. We NEED them. But sometimes we don't mind a few extra steps before getting everything into the crock to be slowly cooked. If you've got the time and inclination, here's a few extra steps to make this already delicious Hungarian Goulash even more delicious.
Pull out your trusty large skillet, Dutch oven, or large pot and SEAR that seasoned floured beef chunks in pork lard (yes, pork lard but NOT bacon fat, it gives it a different taste) or vegetable oil (but not olive oil) until a nice crust forms. Remove it and toss it in your slow cooker.
Add a bit more pork lard or oil and toss in all the onions. Let them begin to brown and cook down. But don't let them scorch. Add a pinch or two of salt to prevent scorching. The onions will release their water and allow for a lovely and delicious caramelization. (Have some of my caramelized onions on-hand, skip this step, go to the spices and add them into the crockpot with everything else.
Just as the onions are finishing, toss in the caraway, marjoram, and paprika with a bit of the broth to help the spices bloom and become vibrant in the dish. When adding the broth, de-glaze the bottom and pull up all those stuck on bits…that's where the real flavor is.
Add that to the slow cooker and resume with everything else in step two.
Using tomato sauce and diced tomatoes: Add these in step two, but your broth swill be a bit thin in the end so we recommend placing the lid askew for the last hour of cooking to allow some of the liquid to absorb/release and thicken. You can also decrease your broth amount to 3 cups instead of 4 cups.
Recipe FAQs
How do I store leftover Hungarian goulash?
Pour any remaining goulash into an airtight container and store in the fridge for up to 4 days. This also freezes well and will keep in the freezer (when stored properly) for up to 3 months. Reheat on the stovetop over medium heat.
Can I use wine or beer in this Hungarian goulash recipe?
You can use red wine or beer in place of some of the broth, but it really isn't necessary.
Why does this recipe use so much paprika?
This recipe calls for a lot of paprika, and yes, that is correct. The paprika, marjoram, and caraway seeds are what give this dish its unique flavor.
Are there ways to tweak this slow cooker goulash recipe?
Sure. You can make this recipe much heartier by adding more root vegetables like parsnips, celeriac root, turnips, and more.
Do I have to add the sour cream to the whole pot?
No. Add a dollop of sour cream to each portion as desired.
Can I use beef stock instead of beef broth?
Yes you can. Just monitor your salt level, if that's a concern.
Want to make more magic in your crockpot? Stay up to date and subscribe to my newsletter and follow along on Facebook, Instagram, Pinterest, Tik Tok, and YouTube.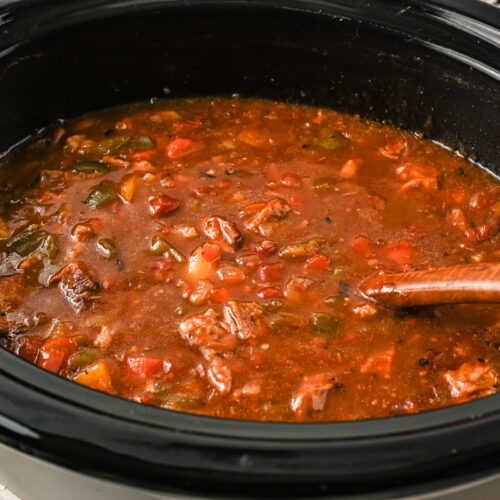 Slow Cooker Hungarian Goulash
Traditional ingredients like thick chunks of beef stew meat, bell peppers, chopped carrots, thick-cut potatoes, and tomatoes are the highlights of this Slow Cooker Hungarian Goulash recipe.
Print
Pin
Rate
Share by Text
Ingredients:
2

lbs.

cubed stew meat

or a chuck roast cubed

¼

cup

all purpose flour

2

tsp.

salt

divided

½

tsp.

black pepper

28

oz.

can crushed tomatoes

2

medium potatoes

cut into 1/2 inch chunks

2

carrots

diced

1

red pepper

seeded and cut into 1/2 inch pieces

1

green pepper

seeded and cut into 1/2 inch pieces

2

large onions

chopped

3½

Tbsp.

sweet Hungarian paprika

1

tsp.

marjoram

1½

Tbsp.

minced garlic

about 4 plump cloves

¾

tsp.

crushed caraway seeds

4

cups

low sodium beef broth

6

oz.

can tomato paste

2

bay leaves
Optional Ingredients
fresh parsley

1/4 cup plus more as garnish

sour cream

1/2 cup or to taste.

Buttered egg noodles
Instructions:
Place the roast pieces in a bowl and toss with the flour, salt and pepper until coated. Add the beef to the slow cooker, then add the crushed tomatoes, potatoes, carrots, red and green pepper, onion, paprika, garlic, marjoram, and caraway seed. (Also the fresh parsley if using.)

Pour the beef broth over stew and add the bay leaves.

Set on high for 6 hours or low for 9 hours. Add additional broth if needed.

Last half hour or so remove some liquid to a medium bowl and whisk in the tomato paste. Return that to the crockpot and cook for the last half hour to thicken. Add additional remaining salt if needed.

**If adding sour cream, remove some of the stew broth during the last 5 minutes and slow stir in the sour cream to temper, avoiding curdling and then stir into the slow cooker.

Serve the goulash over egg noodles and garnish with fresh parsley.
Recipe Notes:
This dish is extra delicious with beer or you can use red wine. If you prefer not to use alcohol you can just use beef broth which is also very delicious. Use one cup of beer or red wine (take away one cup of broth from recipe.)
This recipe calls for a lot of paprika and yes, that is correct. The paprika and caraway is what gives this dish its unique flavor.
Nutrition Information:
Calories:
409
kcal
|
Carbohydrates:
42
g
|
Protein:
43
g
|
Fat:
9
g
|
Saturated Fat:
3
g
|
Polyunsaturated Fat:
1
g
|
Monounsaturated Fat:
3
g
|
Cholesterol:
94
mg
|
Sodium:
1576
mg
|
Potassium:
2118
mg
|
Fiber:
9
g
|
Sugar:
14
g
|
Vitamin A:
6827
IU
|
Vitamin C:
78
mg
|
Calcium:
128
mg
|
Iron:
8
mg
Nutrition info is auto-generated. This information is an estimate; if you are on a special diet, please use your own calculations.
More Stew Meat Slow Cooker Recipes