This Slow Cooker Full Chicken Dinner has tender chicken thighs, Yukon gold potatoes and green beans in a savory herb sauce.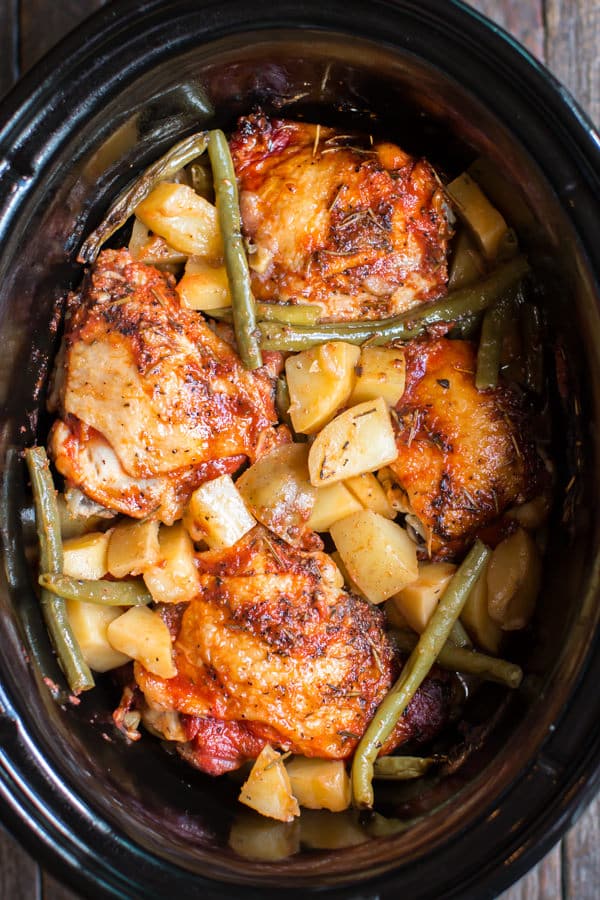 Hi again. I love when I find a complete meal for the slow cooker. No worrying about making side dishes for this meal since everything is made at once.
For this meal I used bone-in chicken thighs. I think if boneless skinless chicken is used in the recipe the entire recipe would be very dry. The juices from the bone-in, skin-on chicken thighs help make a flavorful sauce along with the tomato sauce and seasonings.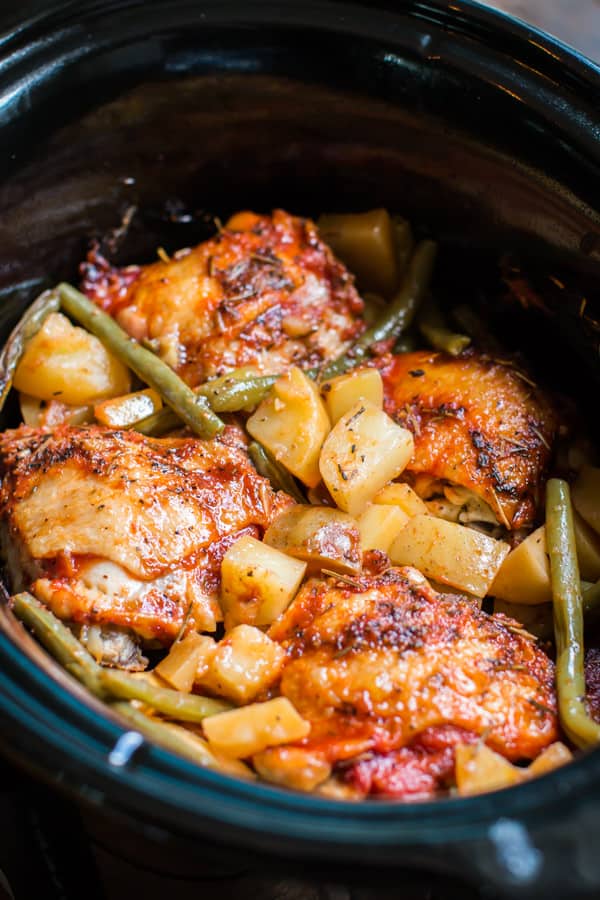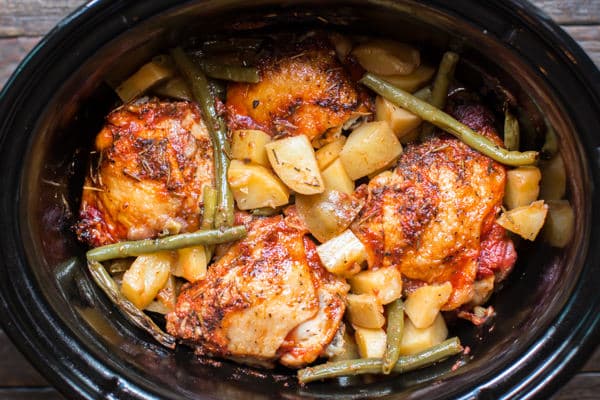 Here is my video about how to put together this Slow Cooker Full Chicken Dinner. You can follow me on YouTube, here.
This is a great Sunday dinner meal, set this up after lunch and no worries about dinner at all, just scoop and serve when the timer goes off.
I hope you are having a great week. I will have more recipes next week for you!
Slow Cooker Full Chicken Dinner
Ingredients
4 bone-in chicken thighs
cooking oil
1.5 lbs Yukon gold potatoes, diced
1 pound green beans, ends snipped
2 garlic cloves, minced
1 (8-oz) can tomato sauce (not paste)
1½ tsp. salt
¼ tsp. pepper
½ tsp. dried thyme
½ tsp. dried rosemary
Slow Cooker Size:
Instructions
Set a pan on the stove top and set to medium high heat. Add enough cooking oil to coat the bottom of the pan. When the oil is hot, brown the chicken on both sides, you don't need to cook the meat through.
Add the diced potatoes and green beans to the bottom of the slow cooker, toss them together to combine them.
Add the chicken thighs on top of the potatoes and green beans. Add the garlic. Drizzle over the tomato sauce, then sprinkle over the salt, pepper, thyme and rosemary. Take a spatula and smear around the sauce trying to combine the seasoning into the sauce.
Cover and cook on HIGH for 4.5 hours. Do no open the lid during the cooking time or the potatoes will not get tender.
Serve and enjoy!
I used my Touchscreen 6.5 quart Crock-Pot for this recipe. Any slow cooker 6-quarts or larger will do fine.
You may also like: Slow Cooker Lipton Onion Potatoes