Nothing can beat Grandma's Turkey Noodle Soup. It's just like love in a bowl. My grandma always has some type of soup to heat up when you visit her, and my favorite is her turkey noodle soup. I recreated my grandma's turkey noodle soup the best I could. The flavors are spot on and the noodles are nice and tender. This recipe is great for using leftover turkey.
I made a homemade Turkey Stock for this soup, since we had cooked a whole turkey earlier this week, I used the carcass, some veggies, seasonings and water, and cooked it my slow cooker. The turkey stock may seem like a lot of work, but it's really is simple, and adds a ton of flavor to this soup. (this turkey stock needs to be made overnight, or the day before making this soup)
The next day after I made the turkey stock (or you can buy it, Trader Joe's sells an amazing turkey stock!) I added the turkey stock, turkey, veggies, bay leaves, thyme and black pepper to the slow cooker, I cooked all of that for 8 hours on low. Then I cooked my noodles on the stove-top, then added them to the soup, and cooked for 1 1/2 hours more in the slow cooker, I did this so the noodles would get extra tender, just like grandma's. I always cook my noodles before adding to the slow cooker, I had a bad experience with noodles that disappeared into mush in the slow cooker, when I added them raw.
My family has been down with the flu this week, and this was the perfect meal to make us feel better! I also had to work late all this week too, which didn't help at all! I hope to feel better this week, and I am happy that I will have this soup for leftovers!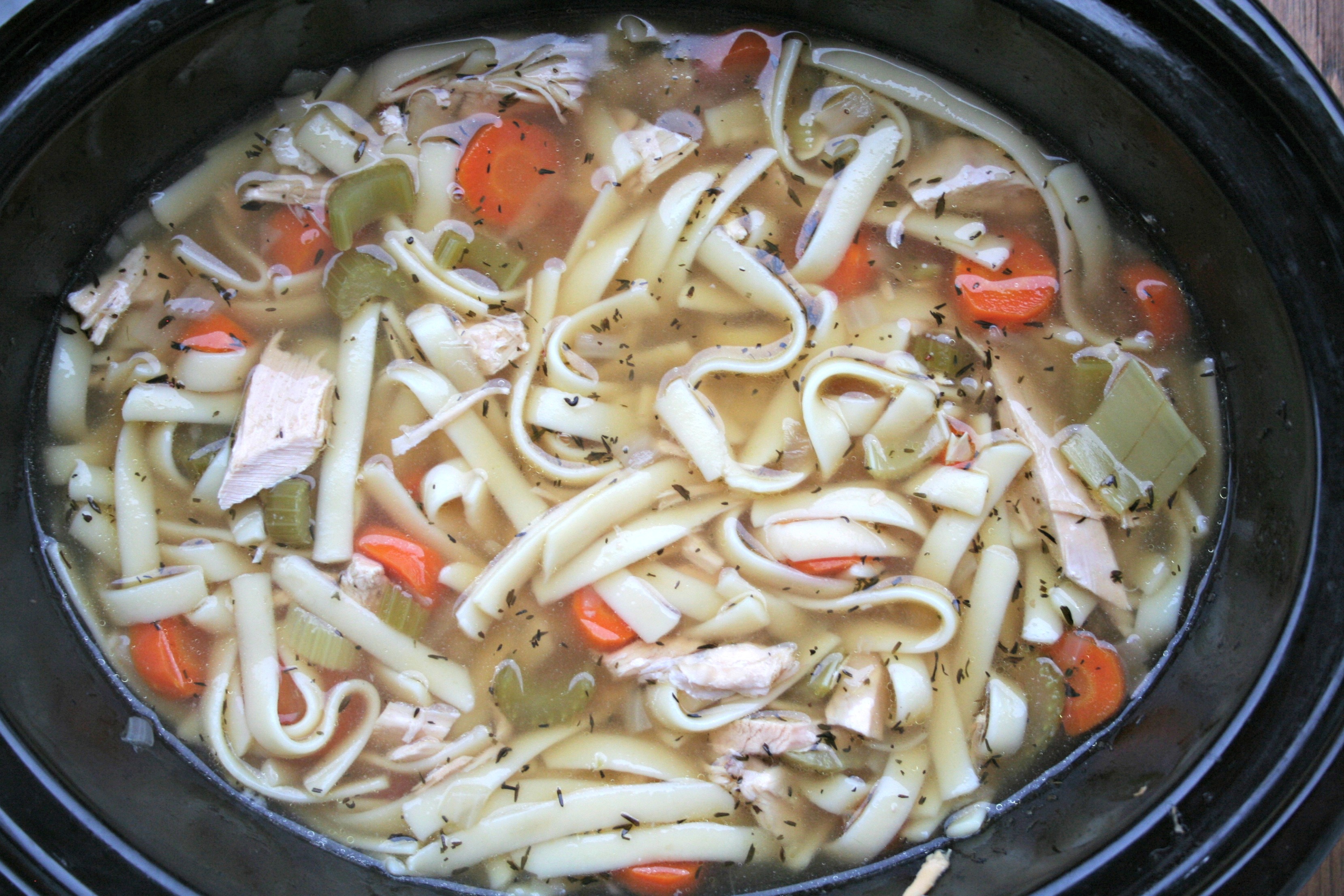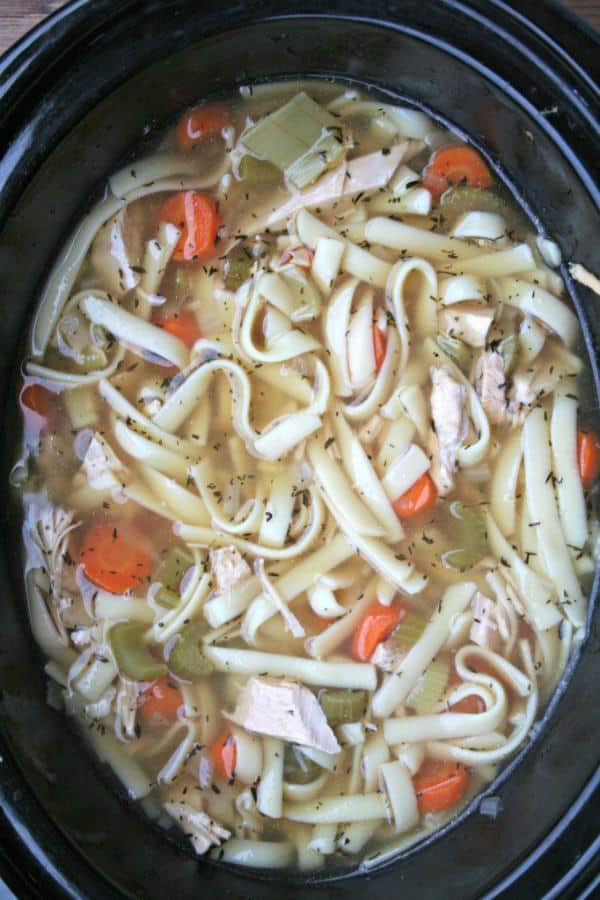 Cook Time:
9
hours
45
minutes
Total Time:
10
hours
5
minutes
Ingredients
7

cups

Turkey Stock

or broth (chicken broth may be used)

3

cups

cooked leftover turkey

shredded or diced

1

cup

sliced carrots

1

cup

sliced celery

1

cup

diced white onion

2

bay leaves

1/2

teaspoon

thyme

dash of pepper

8

ounces

fettuccine noodles

broken up

salt to taste
Instructions
Add the stock or broth, turkey, carrots, celery, onion, bay leaves, thyme, and pepper to the slow cooker.

Cover, and cook on low for 8 hours.

After the 8 hours are up, cook the noodles for about 12 minutes in boiling water on the stove top.

Add the drained noodles to the slow cooker with the soup, and continue to cook on HIGH for about an 1 1/2 hours more, this will soften the noodles to perfection, and make the soup thicker.
Notes
Slow Cooker Size: 6 quart or larger