This post has been sponsored, but all opinions are mine.
I'm finally getting around to posting a healthy recipe this year! This Slow Cooker Healthy Creamy Chicken Casserole is sure to please! I created a healthy slow cooker dinner with the famous Melba Toasts. I made a veggie packed creamy chicken casserole, and topped it with crushed Melba Snacks. The Melba Snacks soak up a bit of the creamy sauce and taste like stuffing. You get a complete and healthy satisfying meal in one pot!
Also, Old London (Melba Toasts) has an AWESOME trip they are giving away, the trip is to Los Angeles, California to meet Hungry Girl – Lisa Lillien. I have been a huge fan for years, I have every one of her cookbooks. I hope one of my readers wins the trip! Head over to Old London's Facebook page to enter. You can find the rules for the contest here.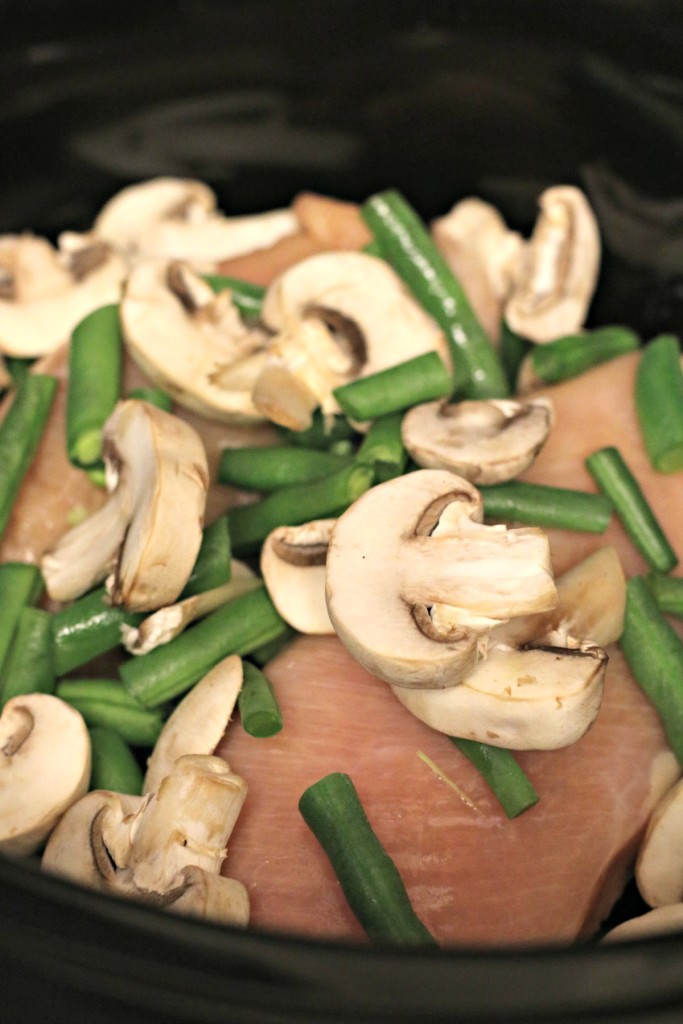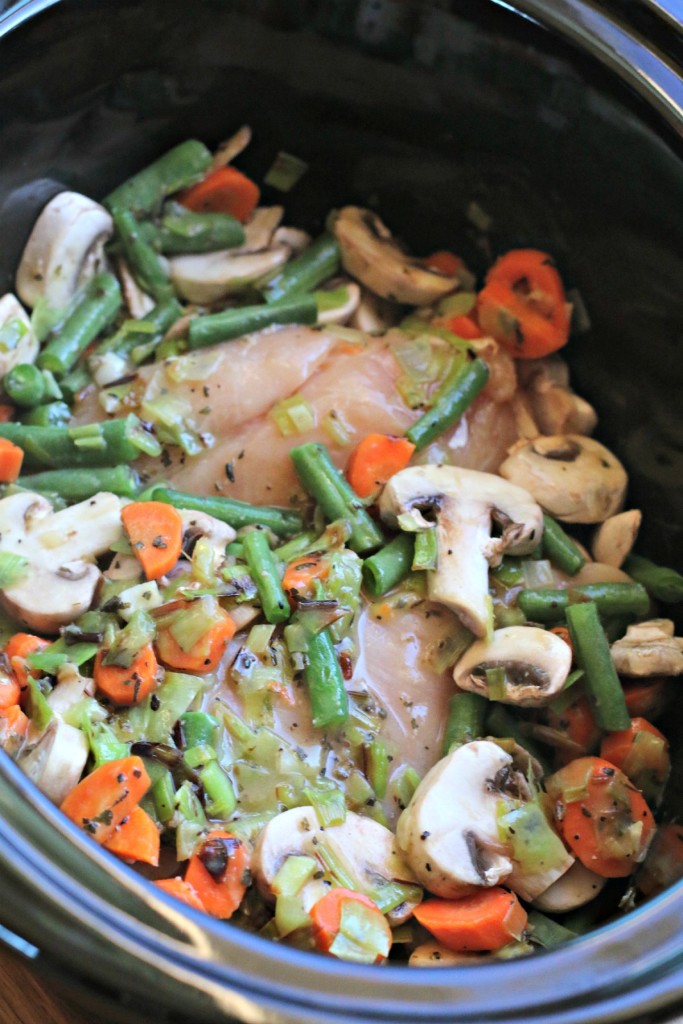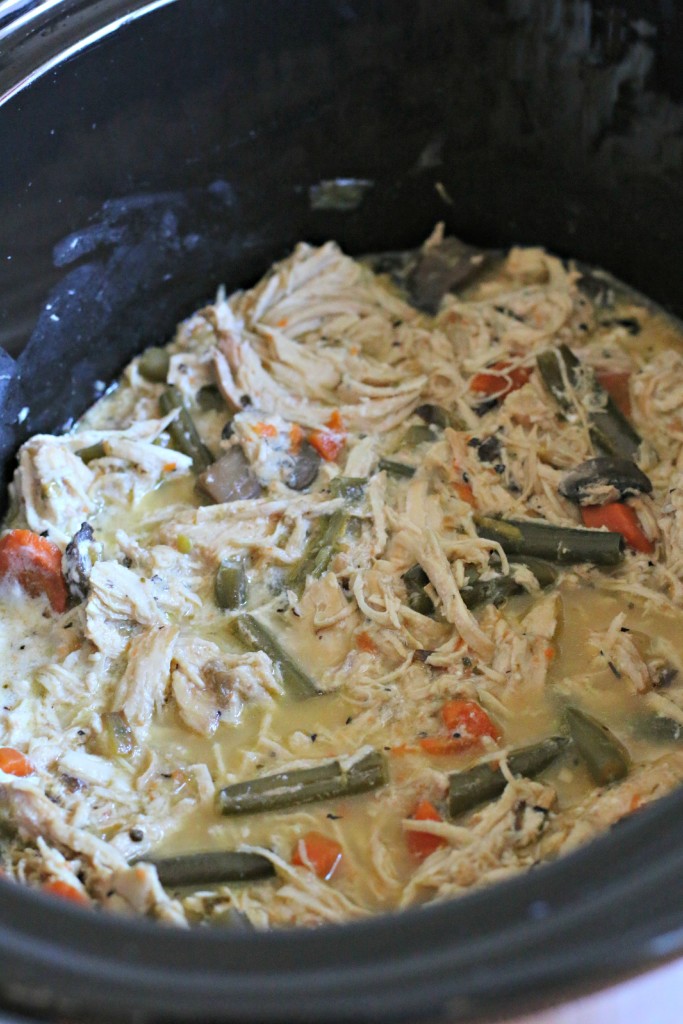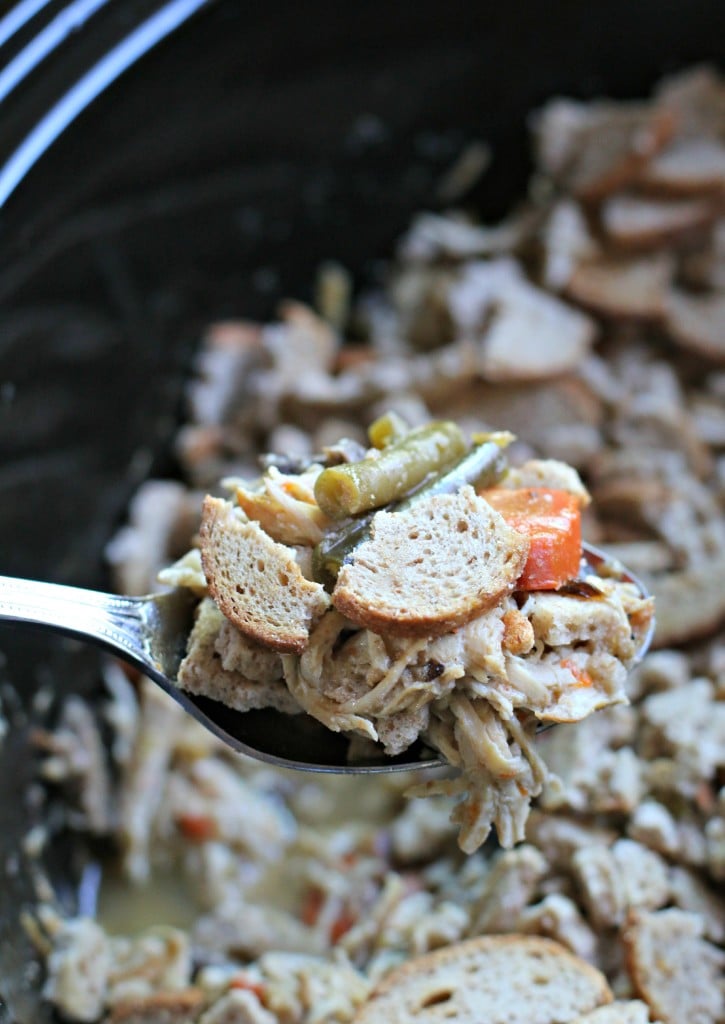 RECIPE:
Slow Cooker Healthy Creamy Chicken Casserole
A healthy slow cooked creamy chicken casserole that is packed with veggies and topped with Melba Snacks. The Melba Snacks soak up a bit of the creaminess from the sauce, which makes this dish taste like it is topped with stuffing.
Servings: 5
Prep Time: 15 minutes
Cook Time: 5 hours
Ingredients:
1.5 lbs. boneless skinless chicken breasts
1 cup sliced fresh green beans
1 cup sliced mushrooms
1 cup sliced carrots
1/2 cup diced leeks
1 garlic clove, minced
1 tsp. dried basil
1/4 tsp. sea salt
1/4 tsp. black pepper
1 Tbsp. extra virgin olive oil
1 Tbsp. flour
1 cup chicken broth
1 7-oz container 2% plain Greek yogurt
1 (5.25-oz.) box Sea Salt Melba Snacks
Directions:
Add the chicken breasts to a 6-quart slow cooker, sprinkle over the green beans and mushrooms. Set aside. On the stove-top, set a non-stick pan to medium-high heat. Add the olive oil to the hot pan, when the oil is hot add the carrots, leeks, garlic, basil, salt and pepper. Stirring constantly, let this mixture cook for about 3 minutes. Stir the flour into the carrot/leek mixtures for about 30 seconds. Add the chicken broth to the pan and stir until it thickens, add this mixture to the slow cooker on top of the chicken, mushrooms and green beans. Cover and cook on LOW for 5 hours, without opening the lid during the cooking time. After the cooking time is done, shred the chicken with 2 forks. Stir in the Greek Yogurt. Remove the bag of Melba Snack Toasts from the box. Open one end of the Melba Snacks bag, using a rolling pin crush the Melba Snacks into smaller pieces. Sprinkle the crushed Melba Snacks over the chicken Casserole. Serve and enjoy! See this recipe at Old London here.
Don't forget to enter the giveaway at Old London's Facebook Page. I hope you win! You can find the rules to the contest here.
I have received products/payment for this post, but all opinions are mine.