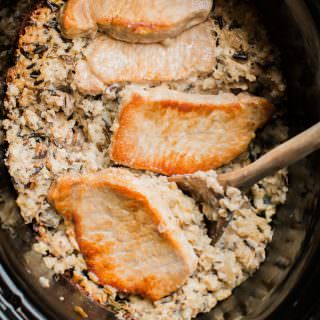 Slow Cooker Minnesota Pork Chops
Author: Sarah Olson
Prep time: 20 mins
Cook time: 3 hours 30 mins
Total time: 3 hours 50 mins
1.5 lbs pork chops
2 Tbsp. cooking oil
2 (10.5-oz.) cans cream of mushroom soup
1.5 cups chicken broth
1.5 cups sliced mushrooms
½ cup minced onion
¼ tsp. pepper
½ tsp. dried thyme
1 tsp. minced garlic
1.5 cups Minute® brown rice
½ cup wild rice
Slow Cooker Size:
In a medium sized bowl mix together the cream of mushroom soup, chicken broth, mushrooms, onion, pepper, thyme, garlic, Minute® brown rice and wild rice.
Place a skillet on the stove top over medium high heat. When the skillet is hot add the cooking oil, when the oil is hot brown the pork chops on both sides, don't worry about cooking through, just brown them.
Spray the slow cooker with non-stick spray, add the rice mixture. Then lay over the browned pork chops. Cover and cook on HIGH for 3.5 hours.
Serve and Enjoy!
Recipe by
The Magical Slow Cooker
at https://www.themagicalslowcooker.com/slow-cooker-minnesota-pork-chop-casserole/