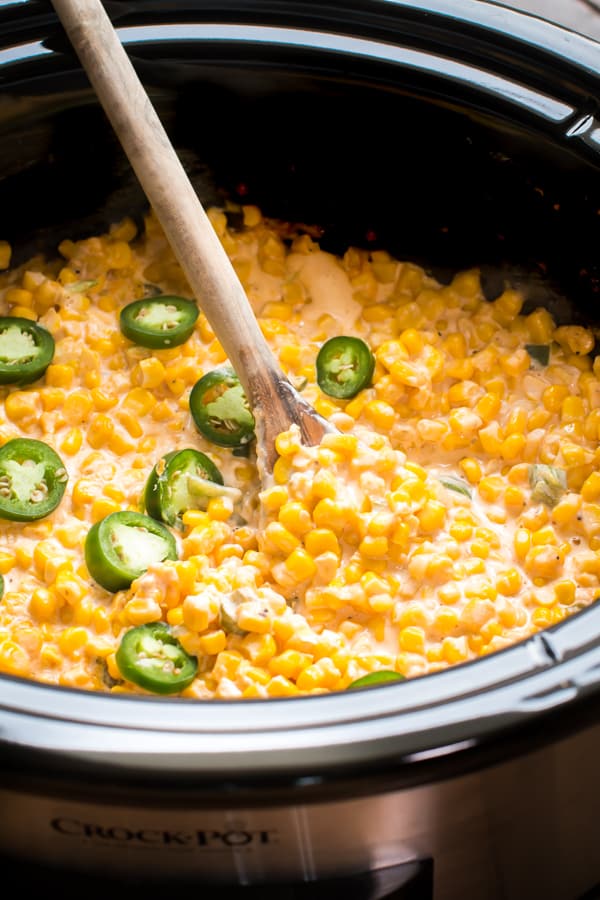 Slow Cooker Cheesy Jalapeno Corn
Author: Sarah Olson
Prep time: 10 mins
Cook time: 2 hours
Total time: 2 hours 10 mins
5 (15.25-oz) can whole kernel corn, drained
1 (8-oz.) pkg. sharp cheese, shredded
2 jalapenos, diced (I used a scant ½ cup)
¼ tsp. salt
¼ tsp. onion powder
½ tsp. pepper
1 (8-oz.) package cream cheese
Slow Cooker Size:
Add the drained corn to the slow cooker. Add the cheese, jalapenos, onion powder, salt and pepper. Stir. Add the cream cheese next, I used the boxed cream cheese which makes it easy to cut into cubes and put on top.
Cover and cook on HIGH for 2 hours.
When the cooking time is done, stir everything together until a creamy sauce forms. Add additional sliced jalapeno on top if desired.
Enjoy!
Recipe by
The Magical Slow Cooker
at https://www.themagicalslowcooker.com/slow-cooker-cheesy-jalapeno-corn/