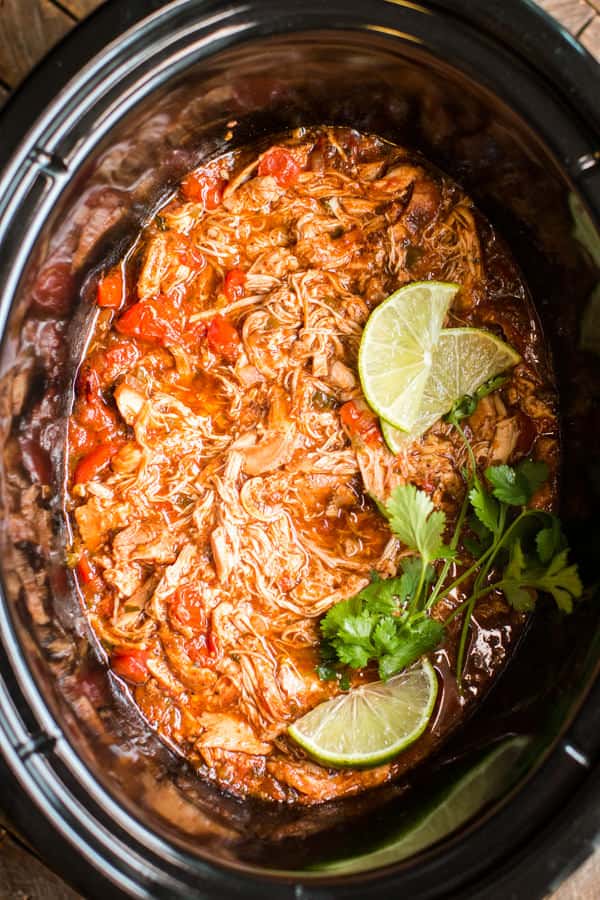 Slow Cooker Homemade Salsa Chicken
Author: Sarah Olson
Prep time: 30 mins
Cook time: 5 hours
Total time: 5 hours 30 mins
For the salsa:
1 (29-oz) can tomato sauce (I used Hunts)
2 cups quartered cherry tomatoes
2 cups diced tomatoes (I use on the vine tomatoes)
¼ cup chopped cilantro
½ cup diced red onion
1 tsp. crushed garlic
1 jalapeno, minced
1 cup sliced green onion
squeeze of lime
salt to taste
For the chicken
1.5 - 2 lbs boneless skinless chicken thighs, fat trimmed
½ tsp. salt
¼ tsp. pepper
½ tsp. onion powder
½ tsp. chili powder
2 cups salsa from above recipe
Slow Cooker Size:
Make the salsa by combining the salsa ingredients in a large bowl, taste the salsa. You may want to add more of one ingredient, make it to your taste.
Add the chicken to the slow cooker. Sprinkle over the salt, pepper, onion powder, and chili powder.
Pour over just 2 cups of the salsa, saving the rest of the salsa for serving. Be careful to separate the salsa for serving in a clean area of the kitchen where you won't contaminate the extra salsa with chicken germs.
Cover and cook the chicken on LOW for 5-6 hour or HIGH for 4.
Serve in tacos or burritos with remaining salsa.
Enjoy!
Recipe by
The Magical Slow Cooker
at https://www.themagicalslowcooker.com/slow-cooker-homemade-salsa-chicken/