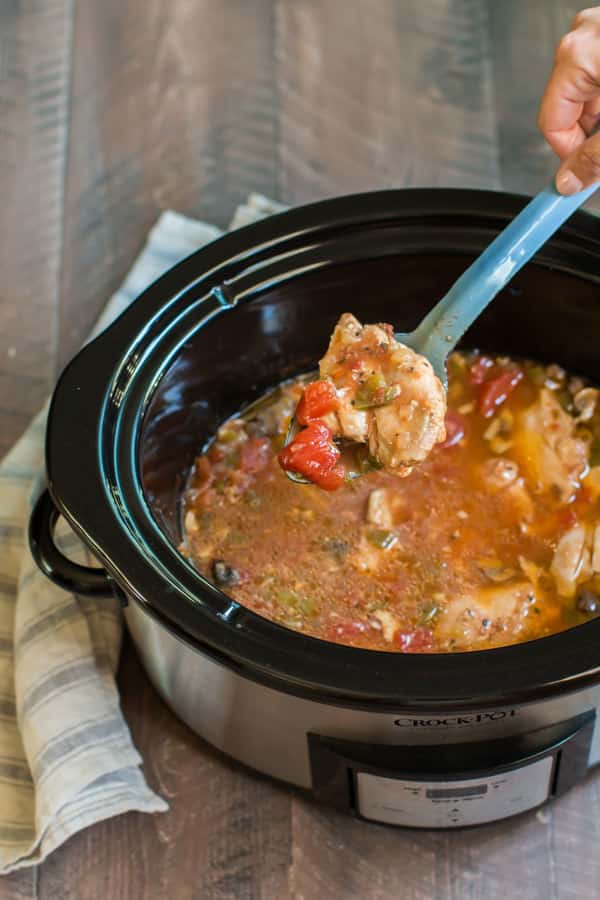 Slow Cooker Chicken Cacciatore
Author: Sarah Olson
Prep time: 15 mins
Cook time: 4 hours
Total time: 4 hours 15 mins
1 (15-oz.) can stewed tomatoes
1 cup chicken broth
2 tsp. minced garlic
½ tsp. salt
¼ tsp. pepper
1 tsp. dried oregano
½ cup diced white onion
2 cups quartered button mushrooms
1 green bell pepper, diced
1.5 - 2 lbs. boneless skinless chicken thighs
steamed rice for serving
Slow Cooker Size
Add the stewed tomatoes, chicken, broth, garlic, salt, pepper, oregano, onion, mushrooms, and bell pepper to the slow cooker. Stir. Nestle in the chicken thighs into the sauce.
Cover and cook on HIGH for 4 hours, or on LOW for 8. Try not to open the lid during the cooking time.
Serve over rice and enjoy!
Recipe by
The Magical Slow Cooker
at https://www.themagicalslowcooker.com/slow-cooker-chicken-cacciatore/