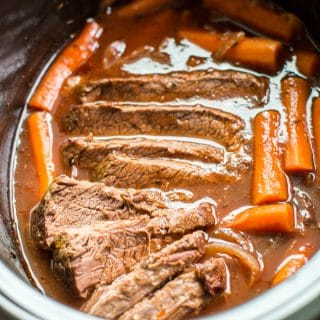 Slow Cooker Red Wine Beef Brisket
Author: Sarah Olson
Prep time: 25 mins
Cook time: 5 hours
Total time: 5 hours 25 mins
2-3 lb. beef brisket
cooking oil
1 cup beef broth
1 (8-oz,) can tomato sauce
1 cup red wine (I used 14-hands red blend)
1 tsp. salt
¼ tsp. pepper
½ tsp. dried rosemary leaves
1 tsp. dried thyme leaves
1 Tbsp. Worcestershire sauce
2 tsp. minced garlic
1 cup sliced red onion
3 cups peeled and cut carrots
Slow Cooker Size:
Start by adding the beef broth, tomato sauce, wine, salt, pepper, rosemary, thyme, Worcestershire sauce and garlic to the slow cooker. Stir until combined.
On the stove-top, place a skillet over medium-high heat, when the pan is hot, add enough cooking oil to coat the bottom of the pan. Brown the Brisket on both sides.
Add the brisket into the sauce in the slow cooker.
Sprinkle over the onions, and carrots.
Cover and cook on HIGH for 5 hours. Add one more hour if you want the meat to shred, not slice.
When the cooking time is done. Remove the brisket on to a cutting board, slice or shred. Before adding the meat back to the slow cooker, degrease the sauce. I do this by laying paper towels on the top of the sauce, then quickly pulling up. Discard paper towels, add the meat back to the sauce.
Serve the beef, carrots and sauce over mashed potatoes.
Recipe by
The Magical Slow Cooker
at https://www.themagicalslowcooker.com/slow-cooker-red-wine-beef-brisket/