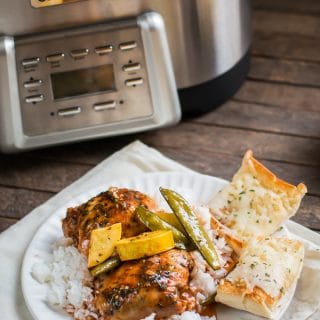 Slow Cooker Sweet and Spicy Chicken with Veggies
Author: Sarah Olson
Prep time: 15 mins
Cook time: 5 hours
Total time: 5 hours 15 mins
2 lbs. boneless skinless chicken thighs
1 cup barbecue sauce
2 Tbsp. brown sugar
½ tsp. red pepper flakes
¼ tsp. black pepper
2 tsp. minced garlic
1.5 tsp. dried cilantro or 1 Tbsp. minced fresh
½ cup Italian salad dressing
3 cups sugar snap peas
3 cups sliced yellow squash
Steamed white or brown rice for serving
Slow Cooker Size:
Start by laying the chicken thighs in the bottom of the slow cooker. Spread over the barbecue sauce. Sprinkle over the brown sugar, red pepper flakes, black pepper, garlic and cilantro over the chicken and barbecue sauce. Pour over the Italian dressing.
Cover and cook on HIGH for 4 hours. Don't open the lid during the cooking time.
After the cooking time is up. Add the sugar snap peas and squash.
Cover the slow cooker again, and cook for an additional hour on HIGH.
Serve over rice and enjoy!
Recipe by
The Magical Slow Cooker
at https://www.themagicalslowcooker.com/slow-cooker-sweet-and-spicy-chicken-with-veggies/