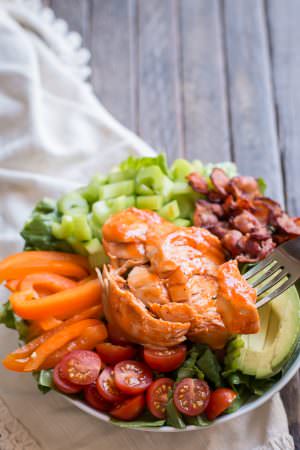 Slow Cooker Honey Buffalo Turkey Breast
Author: Sarah Olson
Prep time: 10 mins
Cook time: 5 hours
Total time: 5 hours 10 mins
1 (3-lb) Turkey breast, bone-in, skin-on
1 cup Frank's red hot (original)
¼ cup honey
¼ tsp. black pepper
4 tsp. melted butter
Slow Cooker Size:
Place the turkey breast into the slow cooker. In a small bowl add the Frank's red hot, honey, pepper and melted butter, stir until smooth. Pour HALF of this sauce over the turkey breast in the slow cooker. Save the remaining sauce in the fridge.
Cover and cook on LOW for 5 hours.
Heat the remaining sauce in the slow cooker in the microwave until warmed. Remove the turkey breast from the slow cooker and remove skin and bone. Slice and serve with the warmed sauce.
Recipe by
The Magical Slow Cooker
at https://www.themagicalslowcooker.com/slow-cooker-honey-buffalo-turkey-breast/