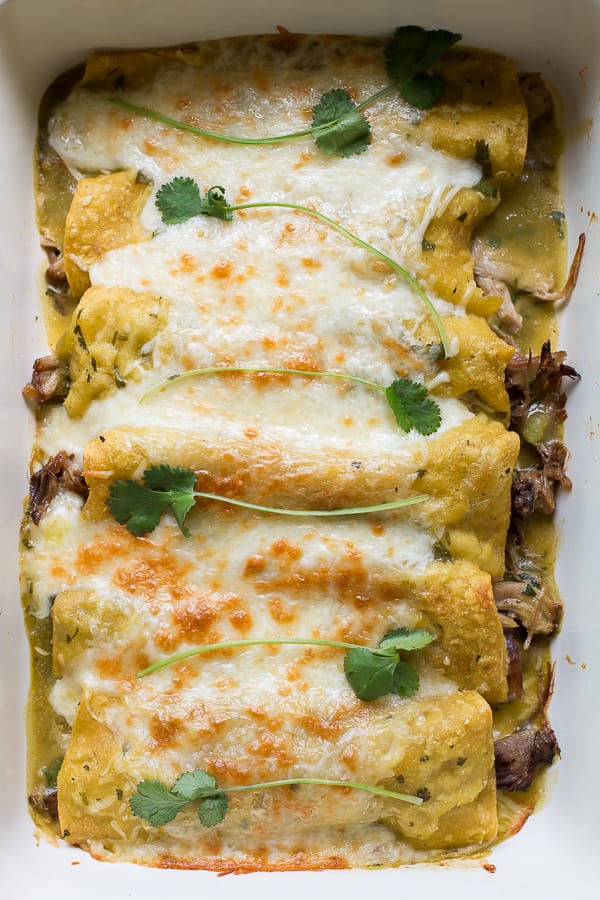 Author: Sarah Olson
Prep time: 45 mins
Cook time: 10 hours 55 mins
Total time: 11 hours 40 mins
Slow Cooker Size:
For Pork
3.5 lbs. boneless pork shoulder
cooking oil
½ tsp. salt
¼ tsp. pepper
½ tsp. onion powder
1 tsp. oregano
1 tsp. chili powder
¼ tsp. liquid hickory smoke
½ cup water
½ cup beer (use additional water if you can't use beer)
1 tbsp. minced garlic
For Enchiladas
about 16 yellow corn tortillas
cooking oil
1 (28-oz.) can green enchilada sauce
⅛ cup chopped cilantro
1.5 lb. shredded Monterey Jack cheese
I like to cook the meat overnight, then I can assemble the enchiladas in time for dinner since the pork takes 10 hours to cook and the enchiladas take some preparation and time in the oven.
For the Slow Cooker Pork:
In a large skillet set to medium-high heat add the oil. When the pan and oil are hot brown the pork roast on all sides. Place in to the slow cooker. Add remaining ingredients over the pork roast.
Cover and cook on LOW for 10 hours.
Shred the meat with 2 forks, set aside.
For the enchiladas:
Set a skillet over medium-high heat. Add about an inch of oil. Cook each corn tortillas for about 2 seconds on each side, place them onto paper towels to drain the oil. This light cooking of the tortillas it gives them a bite and makes them easy to work with when rolling the enchiladas. I added a short video from youtube above this recipe card to show how to do this. Get everything else that is needed to make the enchiladas ready. Mix the enchilada sauce and cilantro together in a small bowl.
Preheat the oven to 350 degrees.
I use 2 large casserole dishes for this recipe. Spread a small amount of enchilada sauce in the bottom of the casserole dishes. Lay a cooked tortilla down in the sauce in the casserole dish, add about a ¼ cup of pulled pork, a sprinkle of cheese and a drizzle of enchilada sauce, roll up the tortilla and put the seam down. Repeat this until all the meat is gone. Add a touch of enchilada sauce to the top of the enchiladas, add about a cup and half of cheese to the top of each casserole dish. Cover with foil.
Bake for 35 minutes covered and then 20 minutes uncovered. If you like browned cheese on top (like mine), set the oven to broil and cook for about 5 minutes until the cheese is browned.
Whew! You're done.
Serve and enjoy!
Recipe by
The Magical Slow Cooker
at https://www.themagicalslowcooker.com/pork-verde-enchiladas/