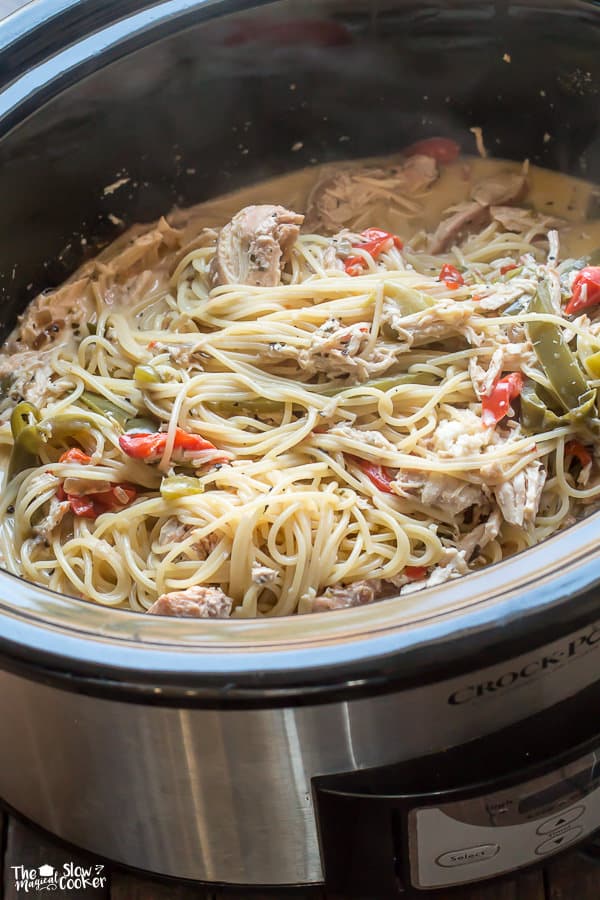 Slow Cooker Creamy Italian Chicken Spaghetti
Author: Sarah Olson
Prep time: 20 mins
Cook time: 8 hours
Total time: 8 hours 20 mins
1.5 lbs. boneless skinless chicken breasts
1 cup chicken broth
1 cup sliced red onion
1 garlic clove, minced
1 tsp. dried basil
½ tsp. dried oregano
1 tsp. dried parsley
½ tsp. salt
¼ tsp. black pepper
2 Tbsp. salted butter
2 bell peppers, sliced (these get added towards the end)
1 cup heavy cream (add at the end)
½ lb. angel hair or spaghetti pasta, cooked according to package directions
½ cup grated parmesan cheese, plus more for serving
Slow Cooker Size:
Place the chicken, chicken broth, onion, garlic, basil, oregano, parsley, salt, pepper and butter into the slow cooker.
Cover and cook on LOW for 7 hours. Add the bell peppers after the 7 hours is up, and cook for 1 hour more.
Shred the chicken with 2 forks.
Add the heavy cream, stir. Add the cooked and drained pasta and the ½ cup of parmesan cheese. Stir gently.
Serve with additional cheese if desired.
Enjoy!
Recipe by
The Magical Slow Cooker
at https://www.themagicalslowcooker.com/slow-cooker-creamy-italian-chicken-spaghetti/