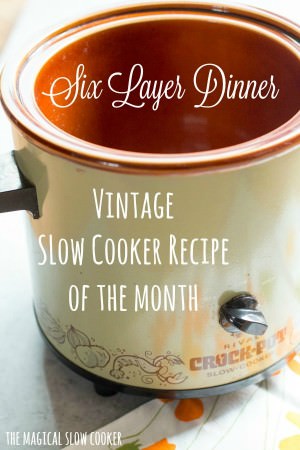 Author: Adapted from Amish Country Cookbook Volume 2
Prep time: 20 mins
Cook time: 5 hours
Total time: 5 hours 20 mins
1 lb. ground beef
¼ tsp. salt
¼ tsp. pepper
¼ tsp. onion powder
1 cup sliced white onion
1 cup sliced celery
2 cups peeled and sliced carrots
2 cups sliced russet potatoes
1 (10.75-oz.) can cream of celery soup (do not add water)
Slow Cooker Size:
I used my 6-quart oval. But I do think this recipe would work in a 4-quart or larger slow cooker.
Brown the ground beef in a skillet on the stove-top, drain. Add salt, pepper and onion powder to meat.
Layer the ingredients as shown. Beginning with the hamburger and ending with the cream of celery.
Cover and cook on LOW for 5 hours without opening the lid during the cooking time.
Serve and enjoy!
Recipe by
The Magical Slow Cooker
at https://www.themagicalslowcooker.com/six-layer-dinner/