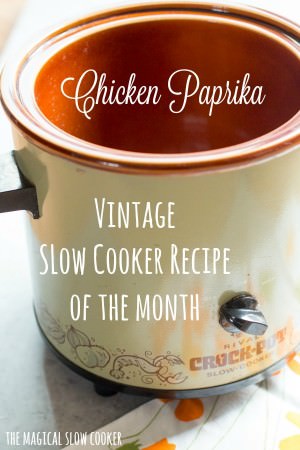 Author: Sarah Olson
Prep time: 15 mins
Cook time: 5 hours
Total time: 5 hours 15 mins
2.5 pounds bone-in, skin-on chicken thighs
1 tsp. salt
¼ tsp. pepper
2 Tbsp. butter
1 large onion sliced
1 (14-oz.) can chicken broth
2 tsp. Hungarian sweet paprika
¾ cup sour cream (ADD THIS AT THE END)
For serving
Sprinkle the chicken with the salt and pepper. Set a large skillet to medium heat, add the butter. When the pan is hot, brown the chicken on both sides, no need to cook through. Take off the heat.
Add the onion, chicken broth and paprika to the slow cooker and stir. Using tongs add the chicken to the slow cooker into the paprika sauce.
Cover and cook on LOW for 5 hours without opening the lid during the cooking time.
When the cooking time is through and you are ready to serve dinner, cook the noodles on the stove top.
Remove the chicken on to a plate. Add the sour cream to the sauce in the slow cooker and stir until you get as smooth as possible.
Add the chicken back to the slow cooker in to the sauce.
Serve over noodles and enjoy.
Recipe by
The Magical Slow Cooker
at https://www.themagicalslowcooker.com/chicken-paprika/