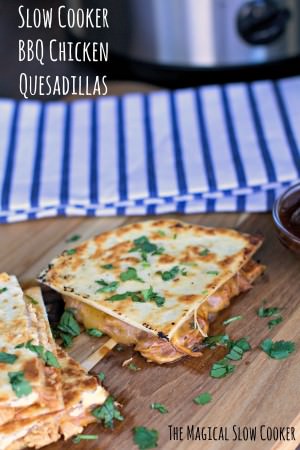 Slow Cooker Barbecue Chicken Quesadillas
Author: Sarah Olson
Prep time: 25 mins
Cook time: 5 hours
Total time: 5 hours 25 mins
1.5-2 lbs. boneless skinless chicken breasts
1 cup barbecue sauce (I used Guy Fieri's Kansas City Smokey and Sweet)
For Serving
½ cup more barbecue sauce
10 small flour tortillas
butter
shredded cheddar cheese
chopped cilantro
Add the chicken breasts to a 3-quart or larger slow cooker. Pour over 1 cup barbecue sauce over the chicken.
Cover and cook on LOW for 5 hours without opening the lid during the cooking time.
When the cooking time is done, shred the chicken with 2 forks. Add ½ cup more barbecue sauce.
Add a small amount of butter to a non-stick skillet set over medium-high heat. Lay down one tortilla, add a generous sprinkle of cheese, and a good helping of the barbecue chicken. Add another tortilla on top of that one. Flip the entire quesadilla over when the bottom is brown. Let the other side brown, and transfer to a cutting board, cut into pieces with a pizza cutter. Top with chopped cilantro.
Repeat 4 more times.
Serve and enjoy!
Recipe by
The Magical Slow Cooker
at https://www.themagicalslowcooker.com/slow-cooker-barbecue-chicken-quesadillas/