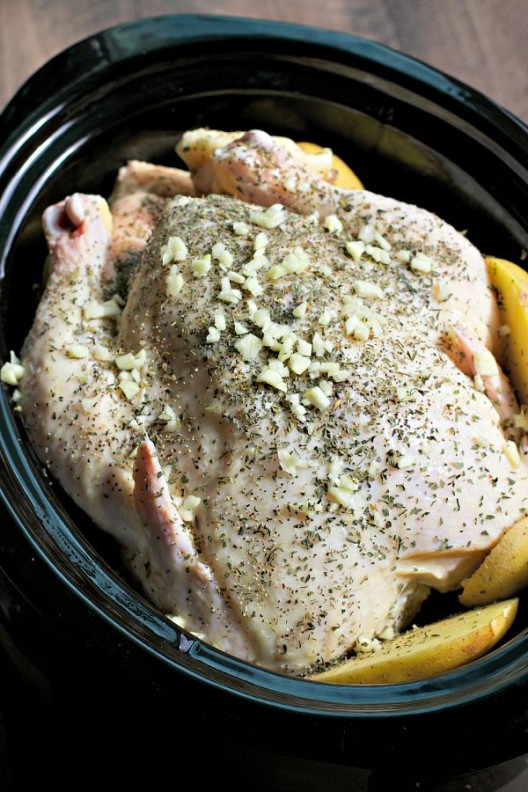 Tuscan Chicken with Buttery Yukon Gold Potatoes
Author: Sarah Olson
Prep time: 10 mins
Cook time: 6 hours
Total time: 6 hours 10 mins
1 4.5-6 lb. whole chicken
4-5 small Yukon Gold Potatoes, cut in half length-wise (see info below)
4 Tbsp. melted butter
¼ tsp. pepper
½ tsp. salt
½ tsp. dried basil
¼ tsp. dried oregano
¼ tsp. dried thyme
2 garlic cloves, minced
In a 6-quart slow cooker, add the potatoes on the bottom evenly. I had to cut mine in half length wise because my chicken was so large, if your chicken is smaller (like 4-5 lbs. you may not have to cut the potatoes).
Remove everything from the cavity of the chicken (necks bone etc.) and discard.
Put the chicken on top of the potatoes. If you have extra potatoes halves, you can tuck them around the chicken.
Pour the butter over the chicken. Sprinkle on the pepper, salt, basil, oregano, thyme and garlic cloves over the chicken.
Cover, and cook on LOW for 6 hours. Do Not Open the lid while this is cooking or the chicken will not cook correctly!
Recipe by
The Magical Slow Cooker
at https://www.themagicalslowcooker.com/tuscan-chicken-with-buttery-yukon-gold-potatoes/