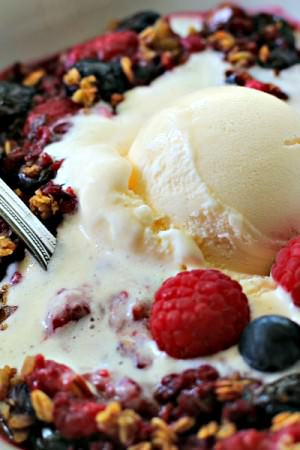 Slow Cooker Granola Berry Crisp
Author: Sarah Olson
Prep time: 10 mins
Cook time: 1 hour 45 mins
Total time: 1 hour 55 mins
3 cups raspberries
2 cups Blueberries
½ lemon
1.5 cups granola (I LOVE Bare-Naked Fruit and Nutty)
reduced-fat ice-cream or whipped cream
Spray a 6-quart oval slow cooker with non-stick spray. Add the berries down on the bottom. Squeeze the lemon over the berries. Sprinkle the granola evenly over the berries. Add a paper towel on top of the crock (pictured above) and add lid over that.
Cook on LOW for 1 hour 45 minutes without opening the lid during the cooking time.
Serve topped with low-fat ice cream or whipped cream.
Recipe by
The Magical Slow Cooker
at https://www.themagicalslowcooker.com/slow-cooker-light-berry-crisp/