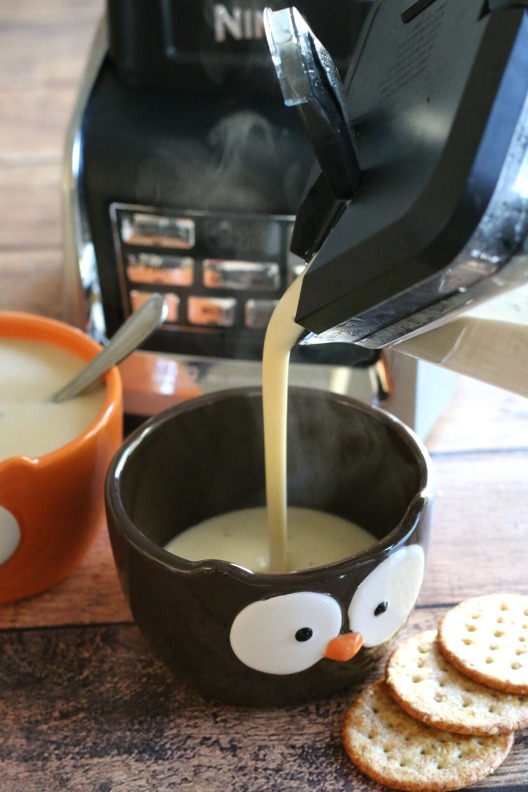 Slow Cooker Creamy Potato Leek Soup
Author: Sarah Olson
Prep time: 15 mins
Cook time: 8 hours
Total time: 8 hours 15 mins
1 (32-oz.) box chicken broth
5 cups peeled and diced russet potatoes
½ cup diced white onion
1 cup diced leeks (make sure to rinse all the sand off)
1 garlic clove, peeled
¼ tsp. dried thyme
⅛ tsp. black pepper
1 (8-oz.) pkg. reduced fat cream cheese (add at the end of cooking time)
sea salt to taste
snipped chives for serving
In a 6-quart slow cooker add the chicken broth, potatoes, garlic, onion, leeks, thyme, pepper. Cover and cook on LOW for 8 hours, without opening the lid during the cooking time.
After the soup has finished cooking add the contents a Ninja Blender. Add the cream cheese, lock on the lid and press the puree button. Let the blender do it's work until the time expires.
Remove the blender from the stand and open the pour spout and pour the soup into serving dishes.
Enjoy!
If you don't have a Ninja Blender yet, you will have to blend this soup in batches in a smaller blender.
Recipe by
The Magical Slow Cooker
at https://www.themagicalslowcooker.com/slow-cooker-creamy-potato-leek-soup/