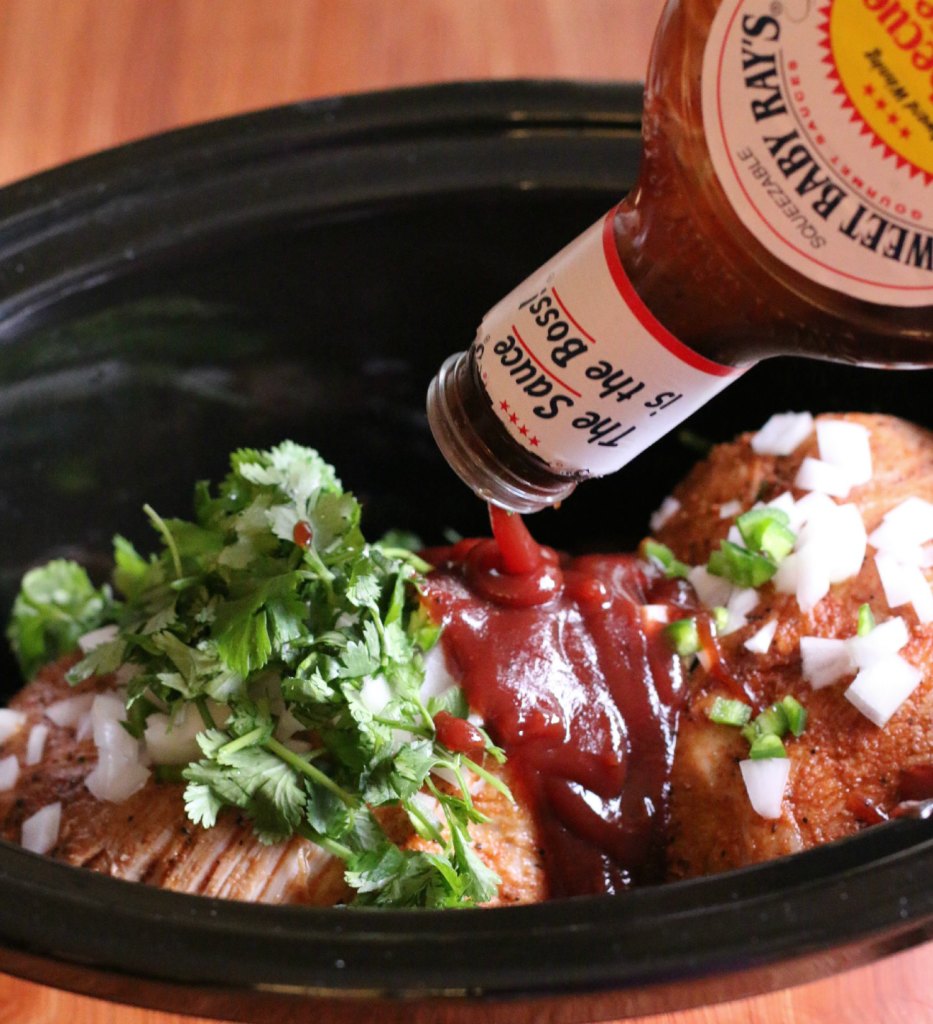 Sweet Baby Ray's Pulled Pork Chow Down
Prep time: 25 mins
Cook time: 8 hours
Total time: 8 hours 25 mins
5-6 pounds pork shoulder (I used 2 small roasts that equaled 6 pounds)
½ tsp. pepper
½ tsp. salt
½ tsp. onion powder
¼ tsp. garlic powder
1 tsp. paprika
2-3 Tbsp. cooking oil (vegetable or canola)
½ cup diced sweet onion
¼ cup chopped cilantro
2 tsp. diced jalapeno (leave out if you don't like spicy)
1 cup Sweet Baby Ray's Original Barbecue Sauce
1 cup Apple Cider
For Serving the Chow Downs:
Prepared Cornbread (I made a double batch of store bought cornbread mix in a 9x13 pan)
Sweet Baby Ray's Barbecue Sauce
Sour cream
Shredded sharp cheddar cheese
Diced sweet onion
In a small bowl combine the pepper, salt, onion powder, garlic powder and paprika. Remove the pork from its packaging and pat dry with a paper towel.
Sprinkle the seasoning mix you just made onto the pork roast.
Set a large skillet to medium-high heat.
Add enough oil to coat the bottom of the pan. Sear the roast on all sides.
Place the seasoned pork roast into a 6-quart slow cooker.
Add the onion, cilantro, jalapeno Sweet Baby Ray's Barbecue Sauce to the top of the roast. Add the apple cider around the roast.
Cover, and cook on LOW for 8 hours.
Shred the meat with 2 fork right in the slow cooker, discarding any fat.
Serve the shredded pork over cornbread topped with Sweet Baby Ray's Barbecue Sauce, sour cream, cheese, sweet onion, cilantro and jalapenos.
ENJOY!
Recipe by
The Magical Slow Cooker
at https://www.themagicalslowcooker.com/sweet-baby-rays-pulled-pork/