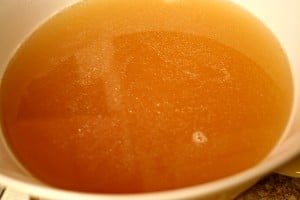 Prep time: 10 mins
Cook time: 8 hours
Total time: 8 hours 10 mins
Turkey Carcass Pieces
2 Carrots
2 Celery Sticks
½ Large White Onion
2 bay leaves
½ teaspoon black peppercorns
Water to cover
Fill half of a 6 quart slow cooker with pieces of the turkey carcass, I used the drumsticks, wings, and thighs.
Add the other ingredients, and fill with water, leaving about an inch of room on the top.
Cook on low for 8 to 10 hours.
Pull out the carcass pieces, and veggies with tongs, and discard.
Place a dishtowel or cheesecloth inside of a wire strainer, place the strainer over a large bowl. Pour the stock from the slow cooker through the strainer, and cloth.
Use stock within a few days or freeze.
Recipe by
The Magical Slow Cooker
at https://www.themagicalslowcooker.com/slow-cooker-turkey-stock/