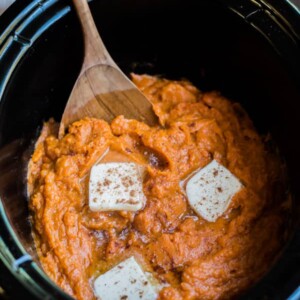 Slow Cooker Mashed Sweet Potatoes
Author: Sarah Olson
Prep time: 25 mins
Cook time: 4 hours
Total time: 4 hours 25 mins
6 sweet potatoes, peeled and diced (this was about 7 cups, measured)
½ cup salted butter (1 stick)
¼ cup water or apple juice
Add these items at the end
½ cup maple syrup
2 Tbsp. heavy cream
½ tsp. ground cinnamon
¼ tsp. ground nutmeg
¼ tsp. salt
Slow Cooker Size:
Add the peeled and diced sweet potatoes to the slow cooker. Slice the butter and place on top. Pour over the water.
Cover and cook on HIGH for 4 hours without opening the lid during the cooking time.
When the cooking time is done, add the maple syrup, heavy cream, cinnamon, nutmeg and salt. Using an electric mixer, beat until smooth OR use a potato masher and mash by hand.
Serve with additional butter if desired.
Enjoy!
Recipe by
The Magical Slow Cooker
at https://www.themagicalslowcooker.com/slow-cooker-mashed-sweet-potatoes/