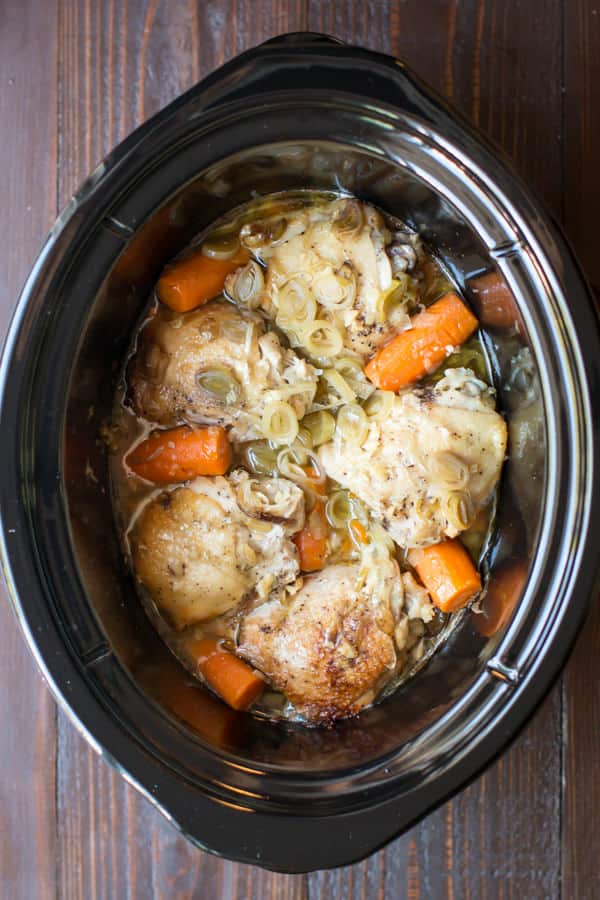 Author: Sarah Olson
Prep time: 15 mins
Cook time: 6 hours
Total time: 6 hours 15 mins
2.5 lbs. chicken thighs (about 5 chicken thighs)
cooking oil
5 carrots, peeled and cut into thirds
3 leeks sliced, divided (and rinsed after being sliced if they are sandy)
4 garlic cloves, minced
½ tsp. salt
¼ tsp. pepper
¼ cup salted butter, melted
Slow Cooker Size:
In a medium-sized pan set on medium high heat on the stove top add enough cooking oil to coat the pan. Brown the chicken on both sides. Remove from heat.
Add the carrots to the slow cooker and half the leeks. Add the chicken.
Sprinkle over the salt, pepper and garlic. Add the remaining leeks and pour over the butter.
Cover and cook on LOW for 6 hours without opening the lid during the cooking time.
Serve the chicken and carrots along side mashed potatoes or rice and drizzle over the sauce that is in the slow cooker.
Recipe by
The Magical Slow Cooker
at https://www.themagicalslowcooker.com/slow-cooker-leek-chicken/