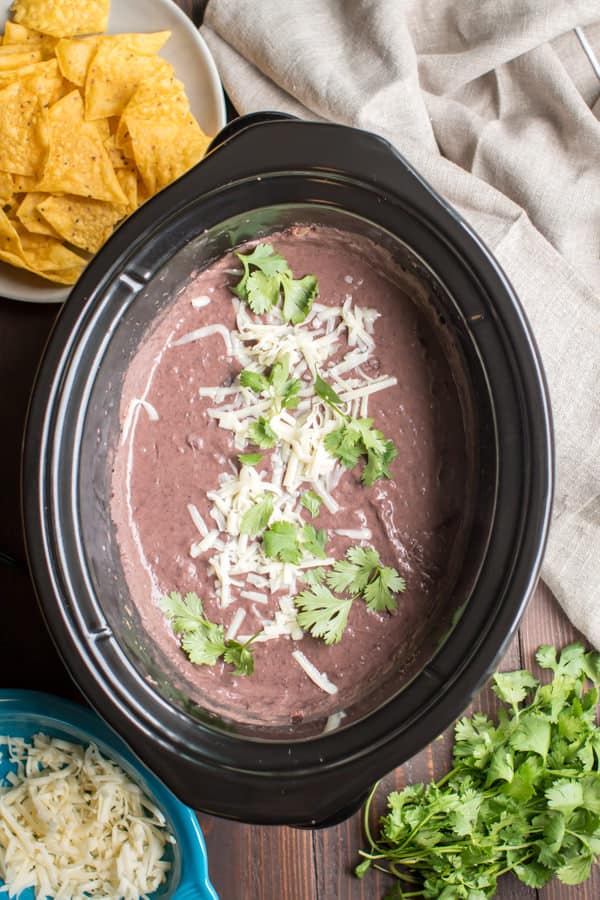 Slow Cooker Refried Black Beans
Author: Sarah Olson
Prep time: 20 mins
Cook time: 9 hours
Total time: 9 hours 20 mins
1 pound black beans (soaked overnight before starting recipe, see below)
1 large white onion, thick sliced
cooking oil
⅛ tsp. cayenne pepper
¼ tsp. black pepper
4 chicken bouillon cubes
2 whole garlic cloves
5 cups water
¼ cup butter (1/2 a stick)
Slow Cooker Size:
Soak the beans overnight in more than enough water to cover.
In the morning, drain the beans and add to the slow cooker.
In a large skillet set to medium high heat, add the cooking oil. Add the thick sliced onion rounds and brown them on both sides until they are really toasty. Add the onions to the slow cooker.
Add the cayenne pepper, black pepper, garlic cloves, chicken bouillon cubes and water. Stir.
Cover and cook on low for 9 hours.
When the cooking time is done, take out at least half of the juices from the beans, and set aside, you can use this if too much liquid was taken out.
You can either put the beans in a blender, mash by hand with a potato masher or use a emulsion blender like I did in my video. If your beans seem too stiff, add some of the reserved liquid.
I did not need to add any salt for my beans, but if you think they need a bit of salt this is the time to add it to taste.
Serve and enjoy!
Recipe by
The Magical Slow Cooker
at https://www.themagicalslowcooker.com/slow-cooker-refried-black-beans/