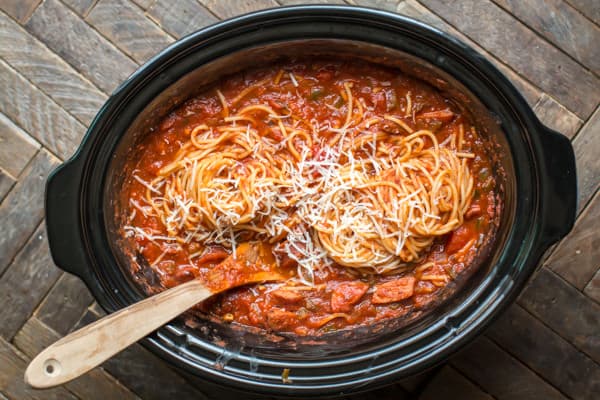 Easy Slow Cooker Spaghetti Dinner
Author: Sarah Olson
Prep time: 15 mins
Cook time: 8 hours
Total time: 8 hours 15 mins
Sauce ingredients
1 (14-oz.) pkg. smoked sausage or kielbasa, sliced
2 (24-oz.) jars marinara
1 (14.5-oz.) can diced tomato (do not drain)
1 green bell pepper, diced
1 small onion, diced
2 garlic cloves, minced
¼ tsp. pepper
2 tsp. dried leaf oregano
2 tsp. dried leaf basil
For serving:
1 lb. dried spaghetti, cooked according to package directions.
parmesan cheese
Slow Cooker Size:
Add everything to the slow cooker (except spaghetti noodles and cheese), stir.
Cover and cook on low for 8 hours.
Toward the end of the cooking time, prepare the noodles according to the package directions. Drain the noodles and add the to the sauce. Stir.
Serve the pasta topped with parmesan cheese and enjoy!
Turn off the slow cooker immediately after adding the noodles, they will continue to cook if left on and will turn mushy.
Recipe by
The Magical Slow Cooker
at https://www.themagicalslowcooker.com/easy-slow-cooker-spaghetti-dinner/