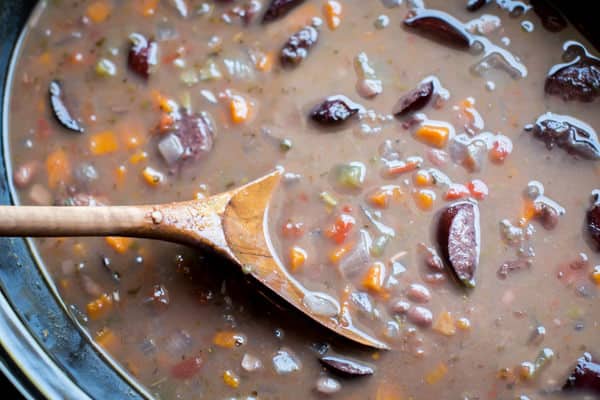 Slow Cooker Black Bean and Kielbasa Soup
Author: Sarah Olson
Prep time: 30 mins
Cook time: 9 hours
Total time: 9 hours 30 mins
1 (12-oz.) pkg. kielbasa, sliced
cooking oil
1 lb. dried black beans (soaked overnight, see below)
1 small white onion, diced
2 carrots, diced
2 celery stalks, diced
1 red bell pepper, diced
1-2 jalapenos, diced
2 heaping Tbsp. minced cilantro
2 garlic cloves, minced
¼ tsp. pepper
1 tsp. oregano
½ tsp. cumin
3 chicken bouillon cubes (the small ones)
1 (16-oz.) jar salsa
7 cups water
1 bay leaf
Slow Cooker Size:
Soak the beans overnight (at least 8 hours) in water, or use the quick soak method.
After the beans have soaked, drain them and add to the slow cooker.
Set a medium sized skillet over medium high heat on the stove top. Add a bit of cooking oil. Add the sliced kielbasa and brown them on both sides. Add to the slow cooker.
Add the remaining ingredients to the slow cooker. Stir.
Cover and cook on low for 8-9 hours without opening the lid during the cooking time.
Remove bay leaf and serve.
Enjoy!
Note that I didn't add any salt. Between the salsa and the chicken bouillon cubes, to my taste this did not need salt. Add salt to taste if desired.
Recipe by
The Magical Slow Cooker
at https://www.themagicalslowcooker.com/slow-cooker-black-bean-and-kielbasa-soup/