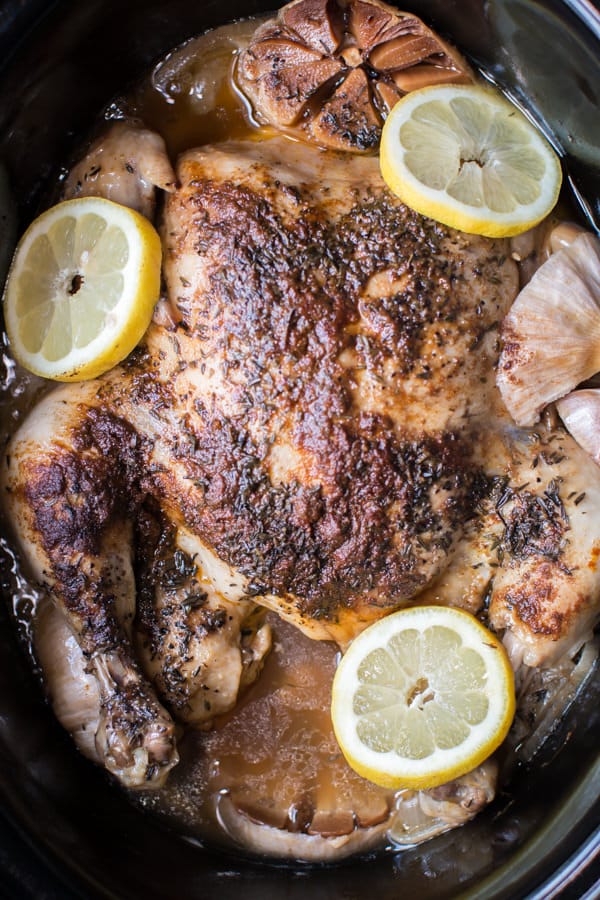 Slow Cooker Engagement Chicken with Gravy
Author: Sarah Olson
Prep time: 30 mins
Cook time: 6 hours
Total time: 6 hours 30 mins
2 large sweet onions, sliced
1 small whole chicken (about 5 pounds)
2 heads of garlic, cut in half
1 lemon
½ cup melted butter (1 stick)
½ tsp. salt
¼ tsp. pepper
1 tsp. dried thyme
1 tsp. paprika
1 cup dry white wine (I used chardonnay)
For the gravy
¼ cup flour
¼ cup grease (from under chicken after it's cooked)
2 cups broth (from under chicken after it's cooked)
Slow Cooker Size:
Remove any extra parts from the inside of the chicken and discard.
Add the onions to the slow cooker, and lay chicken over them.
Add the garlic head halves around the chicken wherever they fit.
Cut the lemon in half and squeeze the juices over the chicken.
Pour over the melted butter, then sprinkle over the salt, pepper, thyme and paprika.
Pour the wine down the side of the chicken.
Cover and cook on LOW for 6 hours, or 7 if your chicken is larger.
When the cooking time is done, remove the chicken to a serving platter, and strain out the onions and put them next to the chicken.
Let the juices from the chicken sit for a minute so the grease will rise to the top. Carefully spoon off the grease, you will need a ¼ cup for the gravy. And measure out 2 cups of the broth that's left in the slow cooker as well.
In a skillet on the stove top set to medium high heat, add the ¼ cup of grease. Stir in the flour with a whisk, keep whisking and let the flour and grease cook for 1 minute. Stir in the 2 cups of broth whisking constantly. Keep whisking until a smooth gravy forms, it will take about 5 minutes for the gravy to thicken.
Carve the chicken and serve with the onions and gravy.
Enjoy!
Recipe by
The Magical Slow Cooker
at https://www.themagicalslowcooker.com/slow-cooker-engagement-chicken/