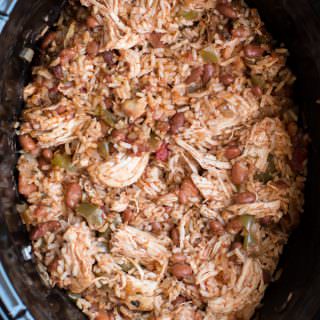 Slow Cooker One Pot Chicken Burrito Filling
Author: Sarah Olson
Prep time: 10 mins
Cook time: 6 hours
Total time: 6 hours 10 mins
1 small sweet onion, diced
1 green bell pepper, diced
1 (15-oz) can pinto beans, drained
2 Tbsp. chopped cilantro
½ tsp. salt
¼ tsp. pepper
2 tsp. chili powder
¼ tsp. cumin
1 (16-oz.) jar salsa (I used Newman's mild salsa)
1.5 - 2 lbs. boneless skinless chicken breasts
1.5 cups uncooked Minute® rice (ADD AT THE END)
For serving
tortillas
cheese
sour cream
salsa
Slow Cooker Size:
Add the onion, bell pepper, pinto beans, cilantro, salt, pepper, cumin, chili powder, and salsa.
Stir together.
Add the chicken breasts. DO NOT ADD RICE YET!
Cover and cook on LOW for 6 hours without opening the lid during the cooking time.
When the cooking time is done, shred the chicken with 2 forks. Add the minute rice and stir. Cover again. Turn the slow cooker onto high and cook for 20 minutes more. If your slow cooker had switched to the warm setting while you were gone during the day, you may need to cook the rice longer.
Serve on tortillas with desired toppings.
Recipe by
The Magical Slow Cooker
at https://www.themagicalslowcooker.com/slow-cooker-one-pot-chicken-burrito-filling/