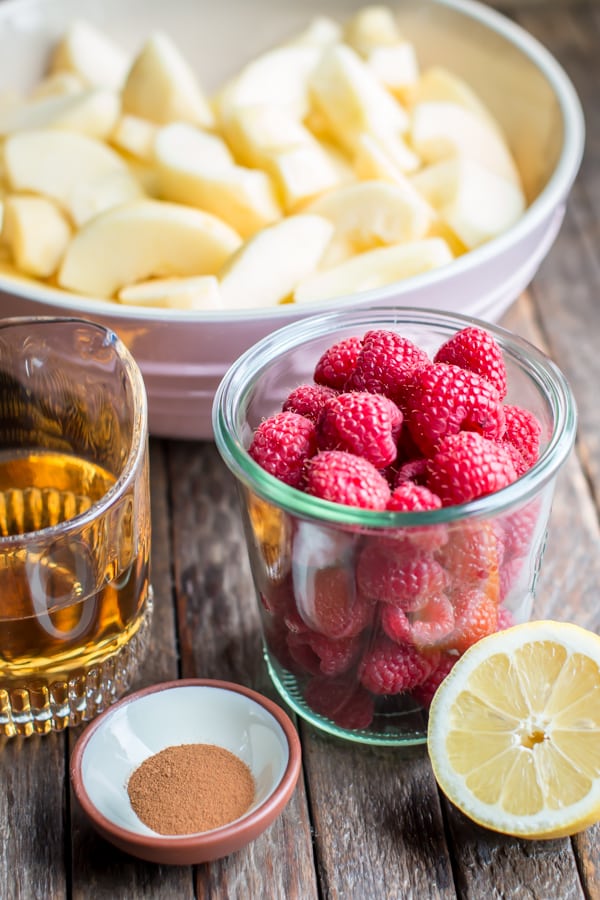 Slow Cooker Cinnamon Raspberry Applesauce
Author: Sarah Olson
Prep time: 25 mins
Cook time: 8 hours
Total time: 8 hours 25 mins
8 large apples (about 3 lbs.) I used Fuji
2.5 cups raspberries (about 1 12-ounce package)
½ tsp cinnamon
1 cup apple juice or apple cider
½ lemon
sugar to taste if desired
Peel, core and slice apples into eighths, add to the slow cooker.
Add the raspberries, cinnamon, apple juice and squeeze the lemon juice over.
Cover and cook on LOW for 8 hours without opening the lid during the cooking time.
Using a whisk, stir the sauce until a sauce forms.
Serve warm or refrigerate.
Enjoy!
I personally freeze extra applesauce. I am not a canning expert, I am unsure if this recipe is safe to can, please do your own research before canning this.
Recipe by
The Magical Slow Cooker
at https://www.themagicalslowcooker.com/slow-cooker-cinnamon-raspberry-applesauce/