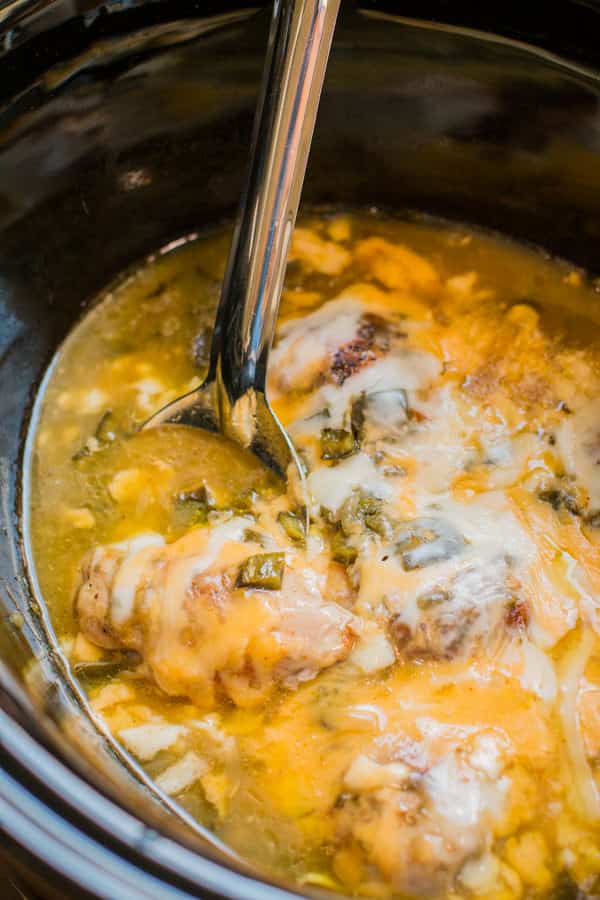 Slow Cooker Green Chile Cheesy Chicken
Author: Sarah Olson
Prep time: 10 mins
Cook time: 4 hours
Total time: 4 hours 10 mins
1.5-2 lbs. boneless skinless chicken thighs
½ tsp. salt
¼ tsp. pepper
1 tsp. chili powder
1.5 cups green salsa (I use Mrs. Renfros Jalapeno salsa, though a tomatillo salsa would work fine)
1 poblano pepper, diced
1.5 cups shredded Colby-Jack Cheese
Rice for serving
Slow Cooker Size:
Add the chicken to the slow cooker.
Sprinkle over the salt, pepper and chili powder.
Sprinkle over the diced poblano chile and pour over the salsa.
Cover and cook on HIGH for 4 hours, or about 6 on low would work fine too.
When the cooking time is done, sprinkle over the cheese.
Cover the slow cooker for about 10 more minutes or until the cheese is melted.
Serve over rice if desired. Enjoy!
Recipe by
The Magical Slow Cooker
at https://www.themagicalslowcooker.com/slow-cooker-green-chile-cheesy-chicken/